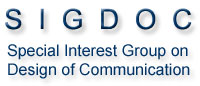 SIGDOC - Special Interest Group on Design of Communication
The ACM Special Interest Group for Design of Communication provides a forum for the design of information communication including interface elements, information architecture, information design, documentation, and user assistance. The SIG fosters the study and publication of processes, methods, and technologies for communicating and designing these artifacts. Members include technical communication professionals, usability specialists, information architects, software engineers, educators, researchers, web designers, system developers, computer scientists, information technology professionals, and managers responsible for researching, producing, and/or supervising the creation of user interfaces, information architecture, technical materials, websites, and social media.
SIGDOC benefits for FY 2018:
Member Benefits provided to SIGDOC Members:
Our quarterly publication, Communication Design Quarterly, available on the web site each quarter with archived editions available in the ACM DL.
Discounted registration at SIGDOC's annual conference and workshops.
Reduced registration at conferences held in cooperation with SIGDOC
Access to all SIGDOC content in the ACM Digital Library, including all past editions of Communication Design Quarterly, the Journal of Computer Documentation, newsletters, and SIGDOC conference and workshop proceedings.
SIGDOC-ANNOUNCE mailing listserv.
Community benefits provided by SIGDOC:
SIGDOC website, including Communication Design Quarterly's most recent issue and podcasts of interviews with experts in communication design
In cooperation sponsorship of interdisciplinary conferences
For undergraduate students, the opportunity to apply for a SIGDOC Undergraduate Scholarship
For graduate students, the chance to compete in the SIGDOC Graduate Competition
Rigo and Diana Awards
Interactions with SIGDOC's related communication design societies and conferences (such as, ATTW, CPTSC, STC, and IEEE PCS)
Broad professional contacts and valuable networking opportunities across industry and academia
Response to incoming communication design questions, research, and media inquiries.
Advocacy for communication design issues and assistance in the development of policies and procedures related to communication at the ACM, regional, national, and international level.
Support for local and student chapters