HOW TO START A SPECIAL INTEREST GROUP (SIG)
Process for Starting a SIG
Prior to submitting a formal proposal to the SIG Governing Board Executive Committee (SGB EC) it is mandatory that proposers provide some preliminary information on the potential SIG.
After SGB EC reviews the information, it will determine what the next steps are for the development process.
In some cases, a formal proposal will be requested and in others, proposers may be asked to work within an existing SIG for a period of time to determine the level of interest for the new specialty.
Preliminary Information Instructions
To get started, the following preliminary information / outline of the anticipated activities envisioned for the group should be sent to Donna Cappo.
The SGB EC will find it most helpful if your outline includes:
Primary focus of this special interest group with as much detail as possible
Primary audience/primary need to be served
Initial activity to be undertaken by the group (publication, conferences, workshop, etc.)
Overlap issues with other ACM SIGS
Listing of the core group of volunteer leaders that would lead the SIG
Please feel free to contact Donna Cappo if you have any questions.
For Practitioners
ACM Queue's "Research for Practice" serves up expert-curated guides to the best of computing research, and relates these breakthroughs to the challenges that software engineers face every day. This installment, "The DevOps Phenomenon" by Anna Wiedemann, Nicole Forsgren, Manuel Wiesche, Heiko Gewald and Helmut Krcmar, gives an overview of stories from across the industry about software organizations overcoming early hurdles of adopting DevOps practices, and coming out on the other side with tighter integration between software and operations teams, faster delivery times for new software features, and achieving higher levels of stability.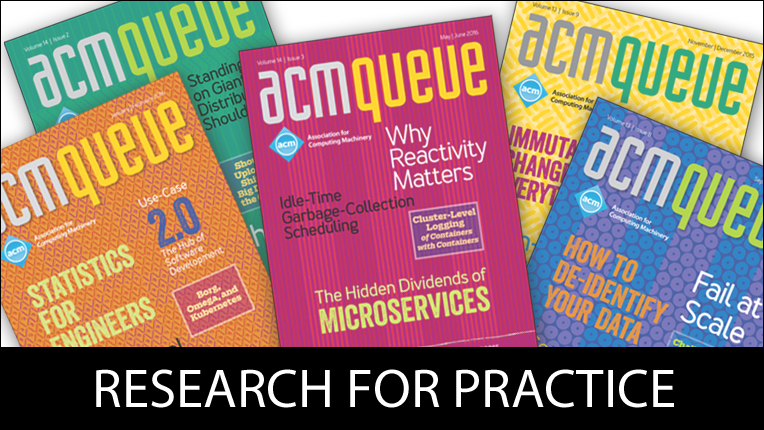 Publish Your Work
ACM's prestigious conferences and journals are seeking top-quality papers in all areas of computing and IT. It is now easier than ever to find the most appropriate venue for your research and publish with ACM.