What's up Lately at ACM India - Winter 2021 Edition
December 30, 2021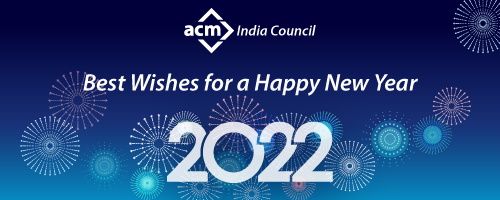 Dear friends @ ACM India,
Hope you all are enjoying the holiday season and looking forward to a truly happier and safer new year.
First of all, let me reiterate the request to provide feedback about ACM India's initiatives. The ACM India email is supposed to reach over 12,000 members and so far the response is barely 2% 🤔. We owe it to the volunteers of the initiatives to let them know how their efforts are perceived. It will take about 4-5 minutes, so if you are reading this and have not participated in the survey, please take those few minutes now to fill out the feedback form. The survey is anonymous and you don't need to be a member of ACM to participate.
Global visibility and recognition
Let me start this newsletter with a highly positive update about the increasing visibility of contributions from India at a global level. Congratulations to the following members from India who were recognized as ACM Distinguished Members for 2021 for their pivotal contributions to computing!
1. Balaraman Ravindran, IIT Madras
2. Ponnurangam Kumaraguru (PK), IIIT Hyderabad
3. Ramaswamy Govindarajan, IISc Bangalore
4. Ranjita Bhagwan, Microsoft Research India
5. Supratik Chakraborty, IIT Bombay
6. Ujjwal Maulik, Jadavpur University
7. Yogesh Simmhan, IISc Bangalore
Against the backdrop of maximum 2 nominations and very low success rate over the previous years, having 7 wins is an extraordinarily significant achievement. Another coveted list, that of ACM Fellows for 2021, will be announced in a couple of weeks; let's look forward to continued success there as well. Let's also thank the newly formed ACM India Committee of Fellows (CoF), comprising international and Indian ACM Fellows, which encouraged and shepherded most of the Distinguished Member and Fellow nominations from India this year.
Manish Gupta, our ACM Fellow council member and director of Google Research India, was a featured ACM member recently and also gave a talk on Human Inspired AI in the ACM TechTalks series.
Formalizing the focus on Diversity, Equity and Inclusion (DEI), ACM has recently formed the DEI Council. Hemangee Kapoor, ACM India Vice President and professor at IIT Guwahati, has been invited to be a member of this council. Let us wish her all the best and commit full support in not only representing the India region but also the overall mission of promoting DEI in all walks of our professional life.
The awards for this year go to…
This is the second year of acknowledging outstanding contributions from India through the prestigious ACM India professional awards. You may have seen the announcement of winners for the ACM India awards. Please join me in congratulating the award recipients:
Prateek Jain for ACM India Early Career Researcher (ECR) Award; sponsored by Persistent Foundation
Gargi Dasgupta for ACM India Outstanding Contributions in Computing by a Woman (OCCW) Award; sponsored by Google
C. V. Jawahar for ACM India Outstanding Contribution to Computing Education (OCCE) Award; sponsored by Microsoft Research India
We also thank the eminent international jury for selecting each winner from the list of all deserving candidates. You can find further details on the ACM India awards page, and on the Regional Awards page of ACM's main site.
Welcoming our new institutional partners
We continue getting excellent support from industry to our institutional partner program. What was mentioned as imminent in the previous edition of this newsletter has now become a reality: IBM India and Huawei Technologies have come on board at Gold tier and Facebook at Silver tier. Let's thank our new illustrious industry sponsors along with our existing Platinum tier partners Google, Icertis, Persistent Systems and TCS Research, and Silver tier partner Cisco.
A new partnership for reforestation
ACM India has partnered with 14 Trees Foundation, a charitable organization which focuses on restoring native green cover on ecologically degraded patches of barren land. Typically we offer a token of appreciation to the leaders of our initiatives; we have now started doing it in the form of a donation to 14 Trees to plant a tree in their name. This way we are doing our bit by joining the mission to build sustainable, carbon-footprint-neutral ecosystems. Very happy to see the whole hearted support from our initiative leaders in channelling it as a gift to Mother Earth.
A new education initiative
The Teaching Partnership Program (TPP) is our new initiative in education space. Through this program, experts from premier academic institutes and industry collaborate with faculty from top colleges to teach core or elective courses in the college. These experts work with the local faculty to give lectures and to offer suggestions on content, delivery and resources throughout the semester. Based on requests, ACM India chooses the experts and colleges, and even manages the expenses. More about it on the TPP home page.
Minigraphs launched
On 2 October we launched a new initiative, ACM India Minigraphs. A minigraph is a 20-25 page document, comprehensively covering one technology area, with a detailed introduction followed by a discussion of the main challenges and ending with pointers to further information. The first minigraph on "Privacy of Personal Information: Going Incog in a Goldfish Bowl" is available for download from the Minigraph home page. We have received very encouraging feedback on the initiative as well as the first minigraph, from within India as well as other parts of the world. The next minigraph will be released in the coming quarter. We would love your suggestions and feedback on this initiative; you can do that by writing to acmi.minigraphs@gmail.com.
Recent conferences and events
Our regular conference and event calendar went on as per schedule, with the 14th annual COMPUTE Conference focused on education (COMPUTE 2021), CSpathshala's 3rd Conference on Computational Thinking in Schools (CTiS 2021), ACM India Student Chapter Summit 2021, ACM-W India Celebration of Women in Computing (AICWiC 2021), and the ACM-W India Hackathon 2021.
And here is what's around the corner
The announcements of Doctoral Dissertation Award (DDA) recipient and results of Student Chapter Awards are quite imminent. ACM India has been conferring DDA on the best PhD dissertation in computing discipline from an Indian university since 2011, with TCS as the founding sponsor of the award. Best student chapter awards are given based on various parameters and are sponsored by Icertis.
The Winter Schools have become an integral part of our annual schedule. All four online schools are starting on Monday, 3 January 2022. This time again the topics are at the forefront of research areas: Algorithms, Quantum Computing, Security and Computer Systems, with the best minds in India coming together to deliver a semester-equivalent course. The registrations are already full for live and interactive participation, but the recordings will be available later for offline consumption as usual.
After a gap of almost a year, we are back with another four-day virtual bootcamp on 27-30 January 2022, this time on Digital Experiences. While the summer/winter schools are meant for students, the bootcamps are targeted at professionals typically early in their career. Experts from Accenture Innovation Labs and the Touch Lab at IIT Madras will be conducting this bootcamp, building technical know-how on Extended Reality (XR) and Multi-sensory Experiences. Please fill out the form if you are interested in attending.
ACM India's flagship conference Annual Event 2022, with the co-located ACM-W India Workshop 2022 and ARCS Symposium 2022, will take place on 9-12 February 2022. For those active in computing, whether students, academicians or industry professionals, these are really not-to-miss events each year. This time too, we have the good fortune of having eminent speakers like Turing Award 2021 laureate Alfred Aho, researchers from India and aboard including many ACM awardees, and the leadership of ACM HQ. And of course, the festivities will culminate in the awards function, where we felicitate the recipients of ACM India awards. The registration for the events will open soon, please stand by. Online participation is a given in the current circumstances, but we will take a call shortly whether hybrid mode of conducting them is safe and feasible at all.
Wrapping up
As usual, this is a summary of activities in the recent months and planned for near future. The simple purpose is to spread awareness and invite involvement in the activities which appeal to you, as a participant or contributor. This list is not exhaustive; there are plenty more events especially where we partner with other organizations such as the Special Interest Groups (SIGs), industry partners and academic institutions. One good way to find out about them is via the News/Updates section of the ACM India website.
Last but not least, please give feedback. The survey would be an effective way of doing it, but feel free to write to me as well.
Please take care and stay safe. Wish you a happy new year!
Regards,

Hemant
Hemant Pande
Executive Director, ACM India Council
hemant_pande@india.acm.org