ACM MemberNet - April 27, 2023
April 27, 2023
Welcome to the April 2023 edition of ACM MemberNet, bringing you the world of ACM and beyond. Explore the many facets of ACM with our newsletter of member activities and events. Read past issues of MemberNet online in our archive.
Read coverage of ACM in the news media.
Is there a person, event, or issue you'd like to see covered? Please email [email protected].
TOP STORIES
AWARDS
MEMBER RECOGNITION
SIG NEWS
SIG AWARDS
CONFERENCES AND EVENTS
PUBLIC POLICY
MEMBER PROGRAMS
LEARNING CENTER
EDUCATION
STUDENT NEWS
DISTINGUISHED SPEAKERS PROGRAM
MEETUPS
CHAPTERS NEWS
ACM-W NEWS
DIVERSITY, EQUITY, AND INCLUSION
PUBLISHING NEWS
SOCIAL MEDIA
ACM CAREER & JOB CENTER
---
TOP STORIES
Yael Tauman Kalai Receives 2022 ACM Prize in Computing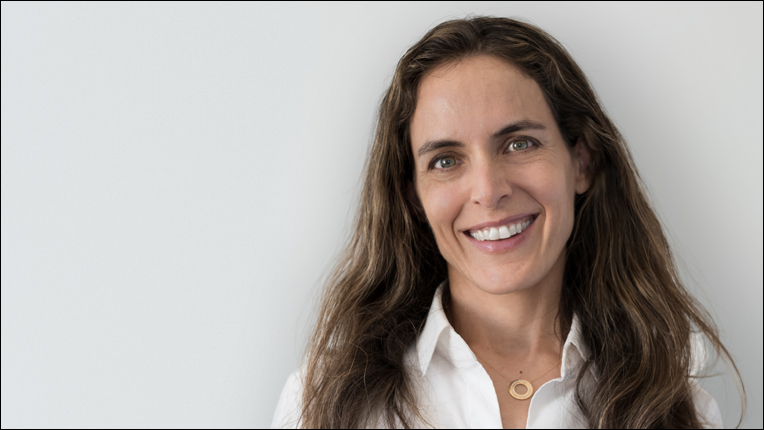 ACM has named Yael Tauman Kalai the recipient of the 2022 ACM Prize in Computing for breakthroughs in verifiable delegation of computation and fundamental contributions to cryptography. Kalai's contributions have helped shape modern cryptographic practices and provided a strong foundation for further advancements. Kalai has developed methods for producing succinct proofs that certify the correctness of any computation. This method enables a weak device to offload any computation to a stronger device in a way that enables the results to be efficiently checked for correctness.
Kalai is a Senior Principal Researcher at Microsoft Research and an Adjunct Professor at the Massachusetts Institute of Technology (MIT).
The ACM Prize in Computing recognizes early-to-mid-career computer scientists whose research contributions have fundamental impact and broad implications. The award carries a prize of $250,000, from an endowment provided by Infosys Ltd.
David Papworth Receives 2022 ACM Chuck Thacker Breakthrough in Computing Award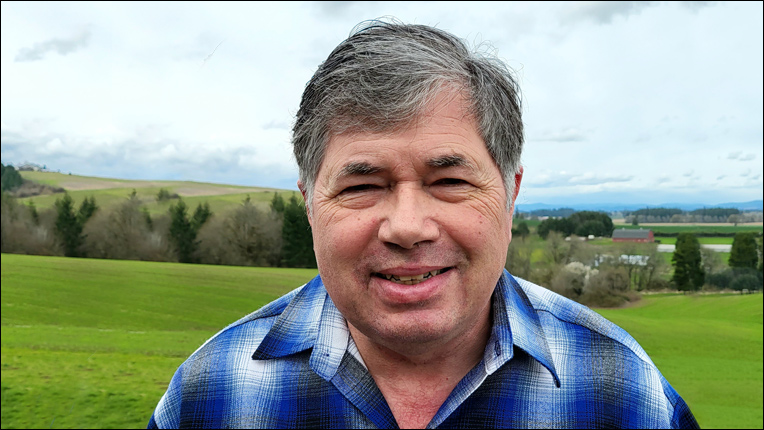 ACM has named David B. Papworth, formerly of Intel (retired), as the recipient of the 2022 ACM Charles P. "Chuck" Thacker Breakthrough in Computing Award. Papworth is recognized for fundamental groundbreaking contributions to Intel's P6 out-of-order engine and Very Long Instruction Word (VLIW) processors. Papworth was a lead designer of the Intel P6 (sold commercially as the Pentium Pro) microprocessor, which was a major advancement over the existing state-of-the-art not just for Intel but for the broader computer design community.
The ACM Charles P. "Chuck" Thacker Breakthrough in Computing Award recognizes individuals or groups who have made surprising, disruptive, or leapfrog contributions to computing ideas or technologies. Recipients of the award are expected to give the ACM Breakthrough Lecture at a major ACM conference. The award is accompanied by a $100,000 cash prize, with financial support provided by Microsoft.
Margo Seltzer Named 2023-2024 ACM Athena Lecturer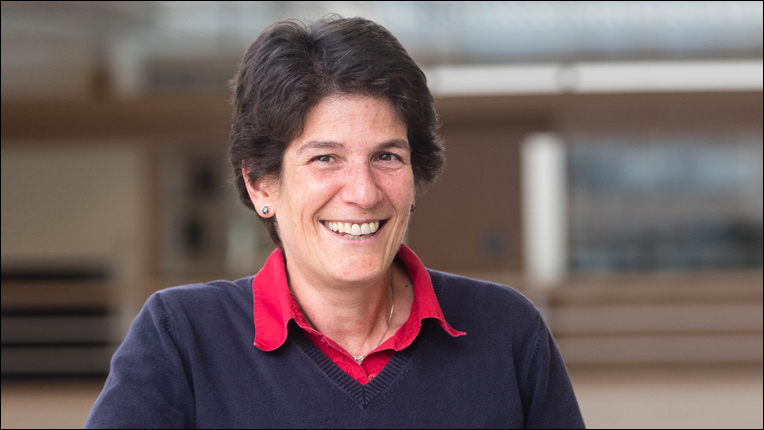 ACM has named Margo Seltzer, a Professor at the University of British Columbia, as the 2023-2024 ACM Athena Lecturer. Seltzer is recognized for foundational research in file and storage systems, pioneering research in data provenance, impactful software contributions in Berkeley DB, and tireless dedication to service and mentoring. Seltzer is the Canada 150 Research Chair and the Cheriton Family Chair in Computer Science at the University of British Columbia. She is also the Director of the Berkman Center for Internet and Society at Harvard University.
Initiated in 2006, the ACM Athena Lecturer Award celebrates women researchers who have made fundamental contributions to computer science. It includes a $25,000 honorarium provided by Two Sigma. The Athena Lecturer is invited to present a lecture at an ACM event.
Bob Metcalfe to Deliver His Turing Lecture at The Web Conference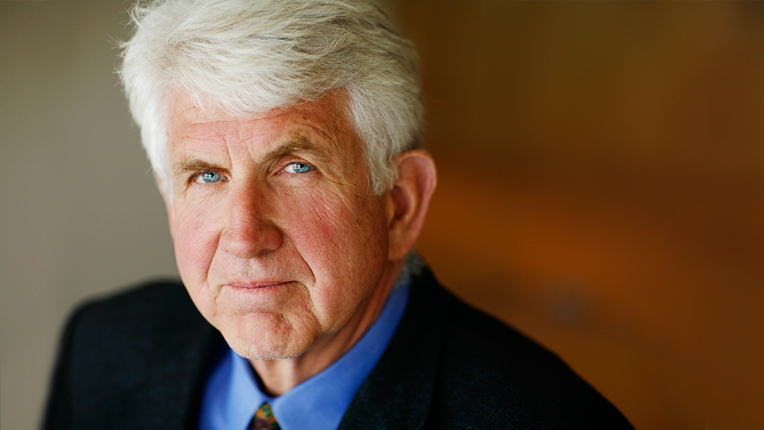 2022 ACM A.M. Turing Award recipient Bob Metcalfe will deliver his Turing Lecture, "Connectivity," at The Web Conference 2023 on Sunday, April 30, 5 pm CT (10 pm UTC). Metcalfe will examine the most important and impactful influence on the human condition in recent history—the Internet, which itself could not exist without Ethernet. He will also reminisce and reflect upon the history of Ethernet from its creation 50 years ago to a legacy that can still be found today.
The lecture will be available via livestream.
---
AWARDS
Call for Nominations for ACM Awards
Each year, ACM recognizes technical and professional achievements within the computing and information technology community through its celebrated Awards Program. ACM welcomes nominations for candidates whose work exemplifies the best and most influential contributions to our community, and society at large.
ACM seeks your help in building and diversifying the nomination pool for our ACM Awards. It is often the case that people wonder why a specific person who seems highly deserving has not received an ACM award. The common answer is that the person was never nominated.
Please take a moment to consider those individuals in your community who may be suitable for nomination. Refer to the award nominations page for nomination guidelines and the complete listing of Award Subcommittee Chairs and Members. Also keep in mind ACM's commitment to diversity, equity, and inclusion when nominating. Candidates for ACM Awards do not need to be members to be nominated.
The deadline for nominations for the main awards has passed. Other deadlines: ACM-IEEE CS George Michael Memorial HPC Fellowship, May 1; ACM-IEEE CS Ken Kennedy Award, June 30.
---
MEMBER RECOGNITION
Call for ACM Senior Member Nominations
The Senior Member advanced grade of membership recognizes ACM members with at least 10 years of professional experience and 5 years of continuous ACM Professional membership. Nominations are accepted on a quarterly basis. The deadline for nominations is June 3, 2023.
---
SIG NEWS
ACM SIG Election Dates
The following SIG elections will open on 28 April 2023.
SIGAPP
SIGEnergy
SIGOPS
SIGWEB
The following SIGs are holding elections until 1 June 2023 (16:00 UTC).
SIGCAS
SIGDOC
SIGEVO
SIGSPATIAL
The following SIGs are holding elections until 15 May 2023 (16:00 UTC).
SIGARCH
SIGMETRICS
SIGMICRO
For more information, visit the ACM SIG Elections page.
FCRC 2023, June 16–23, 2023
The 2023 ACM Federated Computing Research Conference will assemble a spectrum of affiliated research conferences and workshops into a week-long, co-located meeting in Orlando, Florida, USA. This model retains the advantages of the smaller conferences while at the same time facilitating communication among researchers in different fields of computer science and engineering.
Daily plenary speakers will be Kunle Olukoton (Stanford University), Margaret Martonosi (US National Science Foundation), 2012 A.M. Turing recipient Shafi Goldwasser (University of California Berkeley), Don Towsley (University of Massachusetts), and Torsten Hoefler (ETH Zurich). There will also be a plenary panel on "Reflecting on 50 Years of Computing Research, and Future Outlook," featuring Hagit Attiya (Technion), 2021 A.M. Turing Award recipient Jack Dongarra (University of Tennessee at Knoxville), Mary Hall (University of Utah), Lizy Kurian John (The University of Texas at Austin), and Guy L. Steele Jr. (Oracle Labs).
The technical program for each affiliated conference will be independently administered, and each is responsible for its own meeting's structure, content, and proceedings. To the extent facilities allow, attendees are free to attend technical sessions of other affiliated conferences co-located with their "home" conference.
SIG AWARDS
Best Paper Awards Given at Recent ACM SIG Conferences
ACM's Special Interest Groups (SIGs) regularly cite outstanding individuals for their contributions in 38 distinct technological fields. Some awards presented (or to be presented) at conferences:
You can find them all here.
---
CONFERENCES AND EVENTS
EuroSys 2023, May 8–12
EuroSys—the European chapter of ACM SIGOPS—is a premier conference on various aspects of systems software research and development, including its ramifications for hardware and applications. Topics of interest for the conference include operating systems, database systems, real-time systems, networked systems, and storage systems. Workshops include "Challenges and Opportunities of Efficient and Performant Storage Systems," "Edge Systems, Analytics and Networking," "Machine Learning and Systems," and more. The event is being held in Rome, Italy.
CPS-IoT Week 2023, May 9–12 (Hybrid)
CPS-IoT Week is the premier event on Cyber-Physical Systems and the Internet-of-Things. It brings together five top conferences, HSCC, ICCPS, IoTDI, IPSN, and RTAS, multiple workshops, tutorials, and competitions. Keynote speakers this year are Janos Sztipanovits (Vanderbilt University), John A. Stankovic (University of Virginia), and Mani Srivastava (UCLA). This will be a hybrid event, but participants are highly encouraged to attend in-person. The event will be held in San Antonio, Texas, USA.
---
PUBLIC POLICY
Join a HotTopics Webinar on Generative AI—May 3, 2023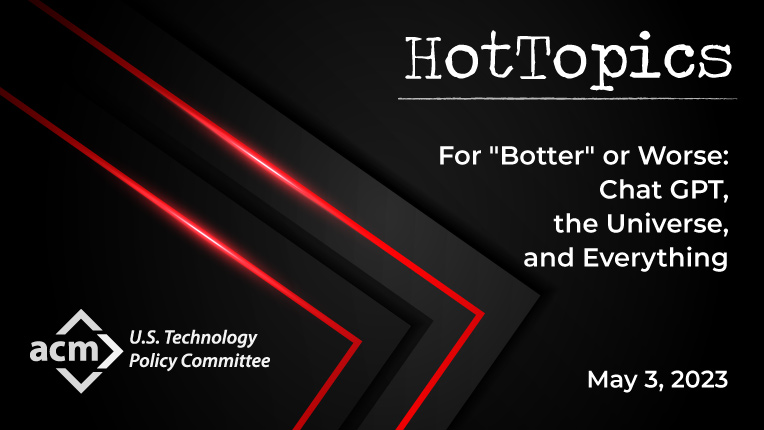 Groundbreaking. Existential threat. Educational crisis. Investment bonanza. Double-edged sword. Impressive but still flawed.
These are a few of the first ten descriptors appearing in the results of a recent web search for "ChatGPT." Like almost no other technological development in recent memory, the seemingly sudden explosion of OpenAI's breakthrough "generative AI" software onto the world stage has illuminated computing's centrality to myriad spheres of daily life. But what really is generative AI and what's to be done with, to, and about it as its use—for better, worse, and other—accelerates around the globe? Our expert panel—Jeanna Matthews (Moderator), Paul DeMarinis, Ravi Jain, and Alejandro Saucedo—will dive into these questions, many more, and take yours too. Don't miss the next USTPC HotTopics webinar, "For 'Botter' or Worse: Chat GPT, the Universe, and Everything," on Wednesday, May 3, 10:30 am ET (2:30 pm UTC).
Register for the webinar here.
Connect with ACM's Tech Policy Groups!
To learn more about upcoming programs and the work of ACM's Technology Policy groups, follow @USTPC and @EuropeTPC on Twitter. If you're interested in contributing to the work of ACM's Europe or US Technology Policy Committees, please email [email protected].
---
MEMBER PROGRAMS
ACM Congratulates Our Third Quarter Top Ambassadors
The Ambassadors for ACM program rewards ACM members like you for encouraging new members to join. Your first-hand experience with ACM's valuable career development and continuous learning programs makes you a perfect envoy to share your ACM experiences with prospective members. The Ambassadors for ACM program offers opportunities for you to earn new prizes, rewards, and bonus gifts with each referral. Submit the ACM Referral Form, and your referrals can join ACM at a special discount rate. Our members are our greatest asset. Your support of ACM is critical to our continuing efforts to advance computing as a science and a profession. Please consider becoming an Ambassador for ACM.
ACM is pleased to announce the following top recruiters in the Ambassadors for ACM member recruitment program for the third quarter of the 2022-2023 program year:
January: Sameer Faisal
February: Srinand S
March: Jitendra Agrawal
Featured Member Benefit: Group Level Term Life Insurance
Whether you are considering your first insurance policy or are reviewing your insurance portfolio, you're probably asking yourself questions such as "How much do I need?" "What kind of policy is best?" and "Which company should I buy from?" There's no question buying life insurance, like any other experience, can be more than a bit daunting.
This is where you have an advantage as an ACM member. With the Group Level Term Life Insurance program, you can take advantage of securing a policy whether you're adding to your current coverage or beginning new coverage. You'll find members-only rates, flexible benefit amounts and an overall program designed specifically for ACM members.
Visit ACMinsure.com or call 1-800-503-9230, to help ensure that your family has the financial security they need—when they need it the most.
ACM Academic Department Membership Option
The ACM Academic Department Membership option allows universities and colleges to provide ACM Professional Membership to their faculty at a greatly reduced collective cost. ACM offers a membership for academic department faculty at the cost of $49 per person, more than half off the standard ACM professional membership fee of $99 per year. Through this program, each faculty member will receive all the benefits of individual professional ACM membership, including Communications of the ACM, member rates to ACM Special Interest Group conferences, member subscription rates to ACM journals, and much more. To learn more, visit the ACM Academic Department Membership page or contact Cindy Ryan.
---
LEARNING CENTER
ACM ByteCast Interviews Holly Urban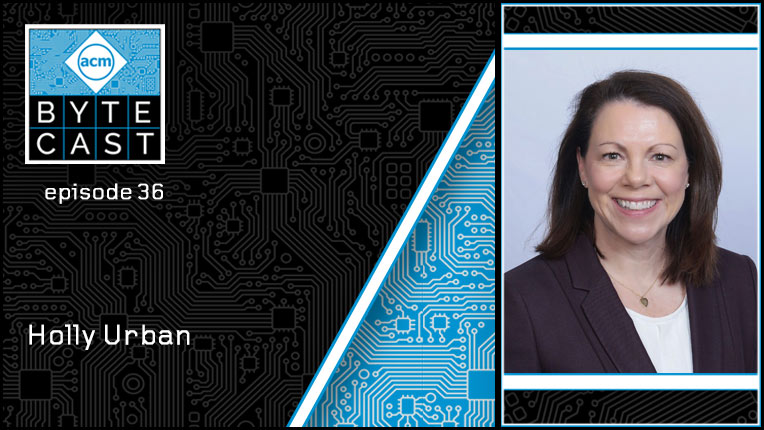 ACM ByteCast is ACM's series of podcast interviews with researchers, practitioners, and innovators who are at the intersection of computing research and practice. In this episode—part of a special collaboration between ACM ByteCast and the American Medical Informatics Association (AMIA)'s For Your Informatics podcast—hosts Sabrina Hsueh and Sullafa Kadura welcome Holly Urban, a pediatrician and clinical informaticist. Most recently, Urban was Chief Medical Informatics Officer (CMIO) at Oracle Cerner before recently starting a new role as VP of Clinical Product Design at CliniComp. In the interview, she describes how she became interested in medical informatics, product design, and management, talks about transitioning from her role as CMIO at Oracle Cerner, the importance of data literacy, and more
Listen to ACM ByteCast interviews here, or wherever you get your podcasts.
View On Demand—ACM TechTalk With Steve McConnell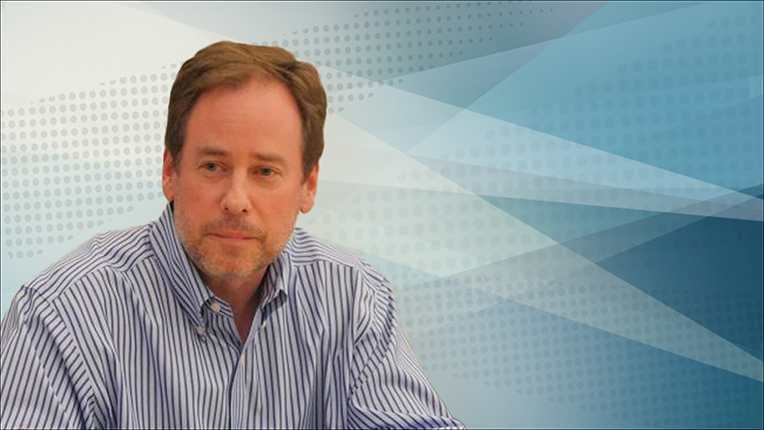 View the TechTalk, "Individual Contributor to Software VP: Four Career Transitions, Many Challenges," with Steve McConnell, CEO and Chief Software Engineer at Construx Software–now on demand. In this session, the award-winning author of Code Complete describes the detailed challenges involved in each transitioning from I.C. to technical lead, then to manager, then to director, and ultimately to VP. He also discusses the key factors needed to navigate each transition successfully, presenting a holistic model for understanding how roles, responsibilities, and skills must evolve as a software professional's career progresses.
Register to view the TechTalk here.
ACM TechTalk With Matt Welsh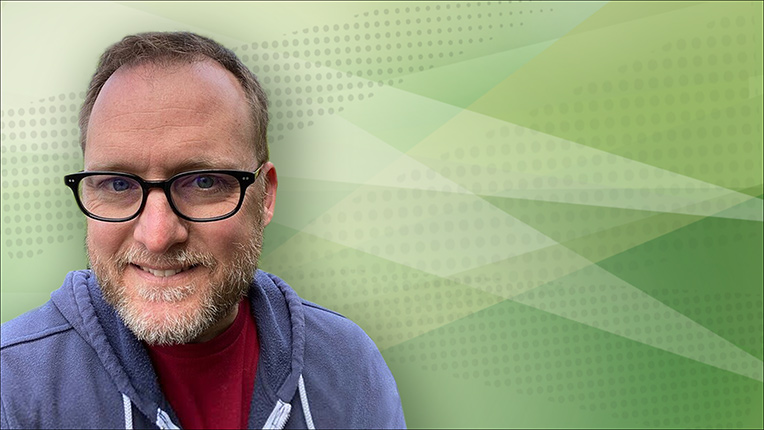 View the TechTalk, "Large Language Models and The End of Programming," with Matt Welsh, CEO and co-founder of Fixie. The field of Computer Science is headed for a major upheaval with the rise of large AI models such as ChatGPT, and a future in which it will no longer be necessary to write computer programs. Welsh believes that most software will eventually be replaced by AI models that, given an appropriate description of a task, will directly execute that task without requiring the creation or maintenance of conventional software. This talk will explore the implications of this prediction, drawing on recent research into the cognitive and task execution capabilities of large language models.
Register to view the TechTalk here.
Visit the TechTalks Archive for our full archive of past TechTalks.
---
EDUCATION
Join the ACM2Y Executive Board
ACM2Y, a group for those interested in computing education in two-year programs, is now accepting nominations for its Executive Board. If you've been wanting to get involved in an ACM group and have an interest in two-year computing education programs, or you know someone who is, please nominate them or yourself. This is a great way to meet others and serve our community. There are 11 positions on the board which meets approximately six times a year, and the term for board members is two years (July 1, 2023–June 30, 2025).
2023 Computer Science Curriculum Guidelines Revision
A joint task force of ACM, the IEEE Computer Society, and the Association for the Advancement of Artificial Intelligence (AAAI) is currently revising the Computer Science curricula guidelines which were last updated in 2013. The task force is updating the knowledge model and designing a complementary competency model of the curricula. It invites computer science professionals to provide feedback and suggestions on all aspects of the curricula. It also invites nominations and self-nominations of reviewers for the current version of the report.
For additional information and to contribute to this effort, visit the CS2023 website.
EngageCSEdu Instructional Materials Now Available in ACM DL
EngageCSEdu publishes high-quality, engaging, classroom-tested Open Educational Resources (OER's) for computer science education that have been contributed by various authors and covering a growing number of topics including an Ethics & Computing Repository designed to aid studying or teaching courses involving ethical issues related to computing. Several of the EngageCSEdu resources are now available in ACM's Digital Library, as well as in published collections:
All issues both published and upcoming can be found here.
---
STUDENT NEWS
Upcoming ACM Student Research Competitions: Submission Deadlines
ACM Student Research Competitions (SRCs) offer a unique forum for undergraduate and graduate students to present their original research at well-known ACM-sponsored and co-sponsored conferences before a panel of judges and attendees. The most recent SRC winners were presented at SAC 2023. The next conferences accepting submissions are:
Graduating Students Eligible for Special Transition Rate
ACM offers a special ACM Professional Membership for $49 USD (regularly $99) to help graduating students make the transition to professional careers, and take advantage of continuous learning opportunities, including free online books and courses and access to ACM's Career & Job Center. This one-year-only transition rate includes all the benefits of Professional Membership plus the option of purchasing a Digital Library subscription for $50. Recent graduates can access this special transition offer through ACM's convenient online renewal form, or by following the instructions on the paper renewal form. For more information, visit the Reasons to Transition to Professional Membership page.
---
DISTINGUISHED SPEAKERS PROGRAM
About the ACM Distinguished Speakers Program
Book the speaker for your next event through the ACM Distinguished Speakers Program (DSP) and deliver compelling and insightful content to your audience. ACM will cover the cost of transportation for the speaker to travel to your event. Our program features renowned thought leaders in academia, industry, and government speaking about the most important topics in the computing and IT world today. Our booking process is simple and convenient.
See ACM Distinguished Speakers in action on our Flickr page.
Featured ACM Distinguished Speaker: Kiran Gunnam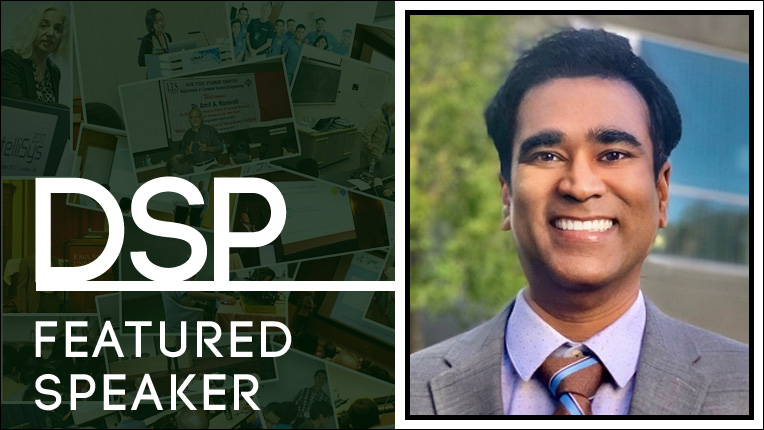 Kiran Gunnam is an innovative technology leader with vision and passion who effectively connects with individuals and groups. His breakthrough contributions are in the areas of advanced error correction systems, storage-class memory systems, and computer vision-based localization and navigation systems. He has also helped drive organizations to become industry leaders through ground-breaking technologies. Gunnam has 86 issued US patents and 100+ patent applications/invention disclosures on algorithms, architectures, and real-time low-cost implementations. His lectures include "Co-Design of Algorithms and Architectures for Machine Learning Inference at the Edge for Video Analytics," "Domain Specific Accelerator (DSA) architectures for Signal Processing, Communications and Machine Learning," and more. He is available to speak through the ACM Distinguished Speaker Program.
For more information about Gunnam, please visit his DSP speaker information page.
---
MEETUPS
ACM Local Meetups connect smart technical people at local city events. They are informal groups that meet regularly to discuss a diverse array of computing topics. The following local ACM Meetups have been scheduled:
View the Chicago Meetup with Walsh here
ACM Local Meetups
Youngstown: NEOACM REMOTE General Assembly Meeting, May 7
This is our Remote General Assembly Meeting. There will be reports from the treasurer, secretary, and committee heads. We will also have article discussions and lightning talks.
Kansas City: ACM - Kansas City Meeting, May 11
This meeting will focus on tools. Austin Morgan, Lead Engineer at Garmin, will speak on Robot Framework and his favorite keyboard. Feel free to bring some tool examples that make your daily grind a little more pleasant.
San Francisco: Human-Centered Design for VR Training, May 17
Jason Jerald, CEO, NextGen Interactions, will talk about designing for training results where VR can add the most value.
ACM Local Meetups are active in Atlanta, Boston, Chicago, Kansas City, Los Angeles, Melbourne, Mumbai, New York City, Pittsburgh, Raleigh, Rio de Janeiro, Sacramento, San Francisco, Surabaya, Washington DC, and Youngstown. If you are interested in organizing a Meetup in your locale, please contact Andrew Conklin.
---
CHAPTERS NEWS
Welcome New ACM Chapters
Chapters are the "local neighborhoods" of ACM. The regional ACM Professional, Student, ACM-W, and Special Interest Group (SIG) chapters around the globe involve members locally in competitions, seminars, lectures, workshops, and networking opportunities. ACM welcomes the new chapters that were chartered March 21 through April 14, 2023:
ACM Student Chapters:
CCSU ACM Student Chapter, New Britain, Connecticut, USA
Columbus State University ACM Student Chapter, Columbus, Georgia, USA
DIET ACM Student Chapter, Visakhapatnam, India
DJS ACM SIGAI Student Chapter, Mumbai, India
Jacksonville University ACM Student Chapter, Jacksonville, Florida, USA
Matoshri ACM Student Chapter, Nashik, India
PRPCEM ACM-W Student Chapter, Amravati, India
Ramaiah Institute of Technology ACM Student Chapter, Bangalore, India
Regent University ACM SIGGRAPH Student Chapter, Virginia Beach, Virginia, USA
Rollins College ACM Student Chapter, Winter Park, Florida, USA
Saint Peter's University ACM Student Chapter, Jersey City, New Jersey, USA
Symbiosis University Indore ACM Student Chapter, Indore, India
Trident ACM Student Chapter, Bhubaneswar, India
UAGro ACM Student Chapter, Chilpancingo, Mexico
University of Alabama ACM-W Student Chapter, Tuscaloosa, Alabama, USA
Vellore Institute of Technology University, Chennai Campus ACM-W Student Chapter, Kancheepuram, India
XIM University ACM Student Chapter, Bhubaneswar, India
---
ACM-W NEWS
ACM-W Europe 10-year Anniversary: Dorota Filipczuk
This year marks the 10th womENcourage celebration, and ACM-W Europe is so excited to share the stories of this event had so far while looking forward to bigger, greater, and more exciting celebrations to come. And appreciation must be shown to those that have volunteered to support each other and network together to promote women in all aspects of the computing field. This month thanks go to Dorota Filipczuk, who is part of the womENcourageTM Steering Committee and has served as Hackathon Chair in the celebration for several years. Learn more about Filipczuk and her efforts here.
Telling Our Stories: Amalia Cid Blasco
Each year, a gathering of incredible women can be found at the womENcourage celebrations, and participants are encouraged to tell their stories in blog posts. This tradition continues in 2023 with Amalia Cid Blasco, who studied Computer Science at University Carlos III of Madrid and is now an Artificial Intelligence and Data Consultant at HPE. Read more about Blasco's story here.
womENcourage: Trondheim, Norway, 20-22 September 2023
The 10th ACM Celebration of Women in Computing: womENcourage 2023 will take place at the Norwegian University of Science and Technology (NTNU) in Trondheim, Norway, on 20-22 September, 2023. The theme of the conference is "Computing Connecting Everyone." Open to all genders, womENcourage was initiated by ACM-W Europe and aimed at connecting women from diverse technical disciplines and encouraging them to pursue their education and profession in computing. WomENcourage brings together women in the computing profession and related technical fields to exchange knowledge and experience and provide special support for women who are pursuing their academic degrees and starting their careers in computing. Through a program packed with insightful topics and engaging educational and networking activities, womENcourage provides a unique experience of the collective energy, drive, and excellence that professional women share to support each other.
ACM Scholarships for Women Computing Students to Attend Research Conferences
With Research Computer Science Conference Scholarships, ACM-W provides support for women undergraduate and graduate students in computer science and related programs to attend research computer science conferences around the world. This exposure to computing research can inspire a student to continue onto the next level of their academic or professional career. The ACM-W scholarships are divided between scholarships of up to $600 for intra-continental conference travel, and scholarships of up to $1,200 for intercontinental conference travel. Scholarship applications are evaluated in six groups each year, in order to distribute awards across a range of conferences. Learn more about ACM-W scholarships and how to apply here.
Join ACM-W's Membership Email List
Did you know that ACM-W offers a general email distribution list for its members? This ACM-W public list is a communication channel for disseminating general information about ACM-W, bulletins, and upcoming events, which can be joined here. Also read the ACM-W Connections newsletter for updates on ACM-W programs, local celebrations, scholarships and awards, chapters, and more.
---
DIVERSITY, EQUITY, AND INCLUSION
View On Demand: Diversity, Equity, and Inclusion in Computing Education Webinar with Mehran Sahami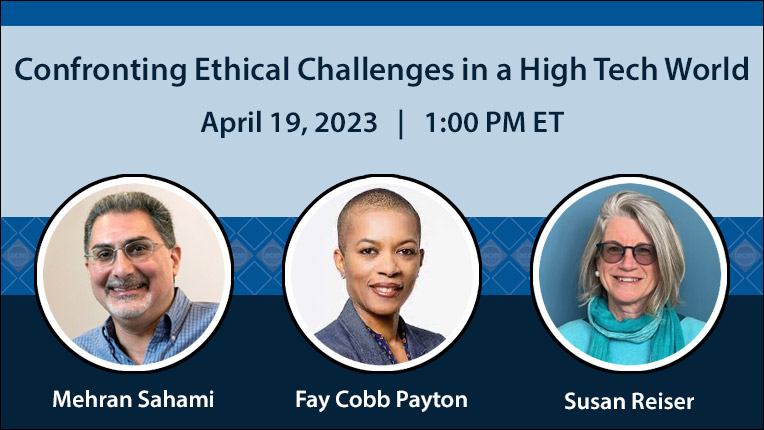 Machine Learning has tremendous potential for developing tools to improve efficiency and accuracy in decision-making. However, ML also has the potential to lead to outcomes that reinforce human biases, disproportionately impact vulnerable populations, and violate notions of privacy. View the panel "Confronting Ethical Challenges in a High-Tech World," with Mehran Sahami and moderators Fay Cobb Payton and Susan Reiser as they explore some of the promise and perils that arise from Machine Learning to understand both some of the ethical issues and competing value trade-offs at stake.
---
PUBLISHING NEWS
acmqueue: "More Than Just Algorithms"
A discussion with Alfred Spector, Peter Norvig, Chris Wiggins, Jeannette Wing, Ben Fried, and Michael Tingley
Dramatic advances in the ability to gather, store, and process data have led to the rapid growth of data science and its mushrooming impact on nearly all aspects of the economy and society. Data science has also had a huge effect on academic disciplines with new research agendas, new degrees, and organizational entities. The authors of a new textbook, Data Science in Context: Foundations, Challenges, Opportunities, share their ideas about the impact of the field on nearly all aspects of the economy and society.
New ACM Journals Open for Submissions
ACM Journal on Responsible Computing (JRC) will publish high-quality original research at the intersection of computing, ethics, information, law, policy, responsible innovation, and social responsibility from a wide range of convergent, interdisciplinary, multidisciplinary, and transdisciplinary perspectives. The journal welcomes papers using any or a combination of computational, conceptual, qualitative, quantitative, and other methods to make contributions to knowledge, methods, practice, and theory, broadly defined.
ACM Journal on Autonomous Transportation Systems (JATS) aims to cover topics in design, analysis, and the control of autonomous transportation systems. The area of autonomous transportation systems is at a critical point where the issues of data, models, computation, and scale are increasingly important. Multiple disciplines are approaching the problems of traffic operations, road safety, sustainability, and efficient road traffic and vehicle management which require communication cooperation. Interdisciplinary research in communications and networking, control systems, machine learning, traffic engineering, transportation systems, and unmanned aerial systems are also of interest.
ACM Open: Sixteen Spanish Institutions Sign Agreements
ACM is delighted to announce our first ACM Open agreement in Spain. Sixteen Spanish institutions have signed onto ACM Open. Through these agreements, researchers and students at participating institutions receive unlimited access to the ACM Digital Library and have the opportunity to publish an unlimited number of research articles with Open Access.
Please join us in welcoming the following universities to the ACM Open program: National Distance Education University, Universidad Pública de Navarra, Universidad de Cadiz, Universidad de Extremadura, Universidad de Valladolid, Universidad Pablo de Olavide, Universitat d'Alicante, Universidad Alcalá de Henares, University of Almeria, University of Cantabria, University of Jaén, Universidad Jaume I, University of Las Palmas de Gran Canaria, University of Valencia, and University of Vigo.
ACM Open is ACM's transformative open access publishing model for transitioning ACM to become a sustainable open access publisher with the goal of making research publications in the ACM Digital Library fully open access upon publication. A full list of institutions that have signed on to the ACM Open program can be found here.
---
SOCIAL MEDIA
Celebrate Asian Pacific American Heritage Month with ACM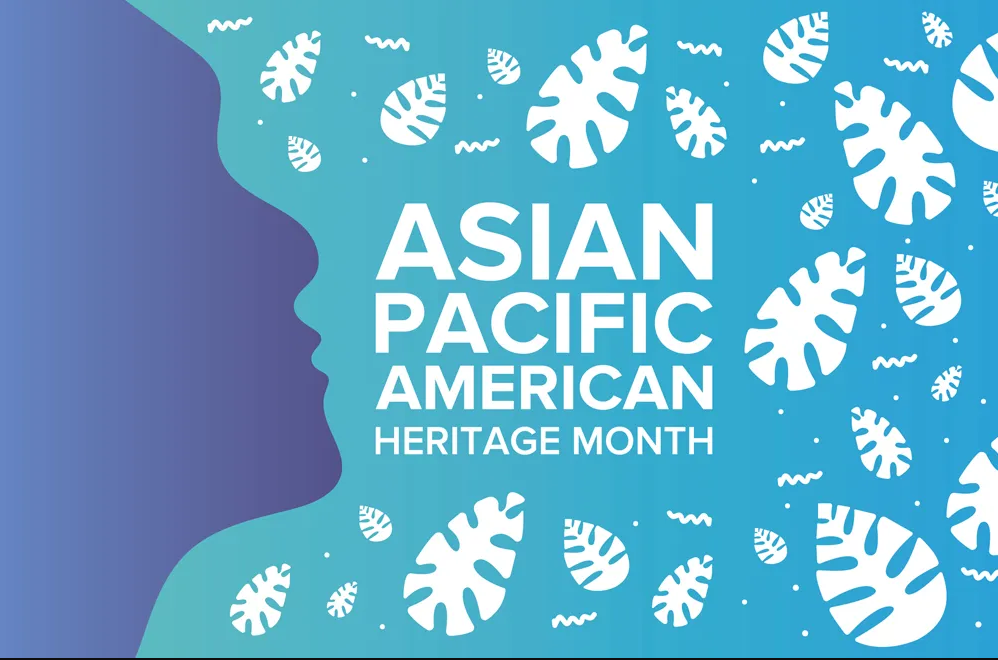 Over the course of May, ACM will spotlight Asian American and Pacific Islander pioneers and luminaries in computing whose contributions have shaped the world we live in. Follow the campaign through ACM's social media channels and share your AAPI computing heroes with ACM!
---
ACM CAREER & JOB CENTER
ACM Career & Job Center Connects You With Career Opportunities
Connecting with the right employers in computing can be a daunting task. Thankfully, the world's leading companies, colleges and universities come to the ACM Career & Job Center to find the best candidates. By creating an account on the ACM Career and Job Center, you'll gain access to a wide range of tools to help you find the perfect job:
For any assistance with the ACM Career and Job Center, please contact ACM's Advertising Sales Manager, Ilia Rodriguez.
---
Copyright © 2023, ACM, Inc.