ACM MemberNet - October 26, 2023
October 26, 2023
Welcome to the October 2023 edition of MemberNet, bringing you the world of ACM and beyond. Explore the many facets of ACM with our newsletter of member activities and events. Read past issues of MemberNet online in our archive.
Read coverage of ACM in the news media.
Is there a person, event, or issue you'd like to see covered? Please email [email protected].
TOP STORIES
AWARDS
MEMBER RECOGNITION
SIG AWARDS
CONFERENCES AND EVENTS
PUBLIC POLICY
MEMBER PROGRAMS
LEARNING CENTER
EDUCATION
STUDENT NEWS
DISTINGUISHED SPEAKERS PROGRAM
MEETUPS
CHAPTERS NEWS
ACM-W NEWS
DIVERSITY, EQUITY, AND INCLUSION
PUBLISHING NEWS
SOCIAL MEDIA
ACM CAREER & JOB CENTER
---
TOP STORIES
Vint Cerf and Hari Balakrishnan Receive Marconi Society Awards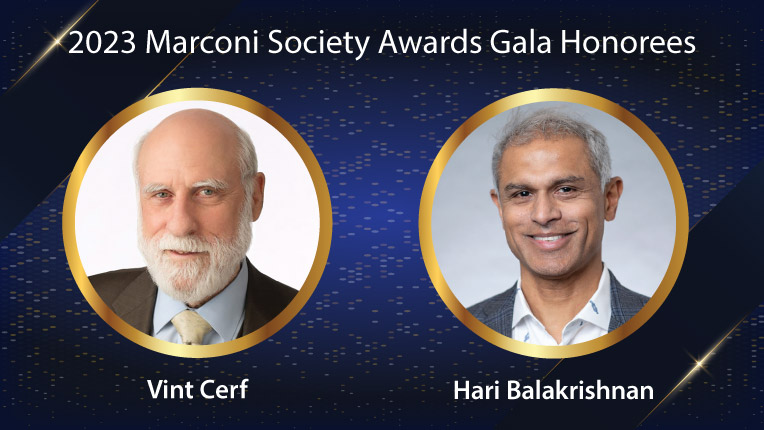 2004 A.M Turing Award recipient Vinton ("Vint") G. Cerf has received the 2023 Marconi Society Lifetime Achievement Award for decades of selfless devotion to the advancement of the Internet, its technologies, and numerous supportive organizations, including the Marconi Society. This award acknowledges Cerf's numerous contributions to the society we all live in today. The Marconi Society Lifetime Achievement Award recognizes individuals with an established history of distinguished work who, during their lifetimes, have made creative contributions and positive impact to the field of communications and to the development of the careers of others.
ACM Fellow Hari Balakrishnan has received the 2023 Marconi Prize for the broad impact to society of his fundamental discoveries in wired and wireless networking, mobile sensing, and distributed systems. By focusing his research on the application of technology to solve large societal problems, Balakrishnan's work has made millions of people safer and has made the Internet and wireless communications more efficient and robust. The Marconi Prize is the flagship award of the Marconi Society, given annually to innovators who have made significant contributions to increasing digital inclusivity through the advancement of information and communications technology.
ACM CEO Vicki Hanson to Receive HCI Medal for Societal Impact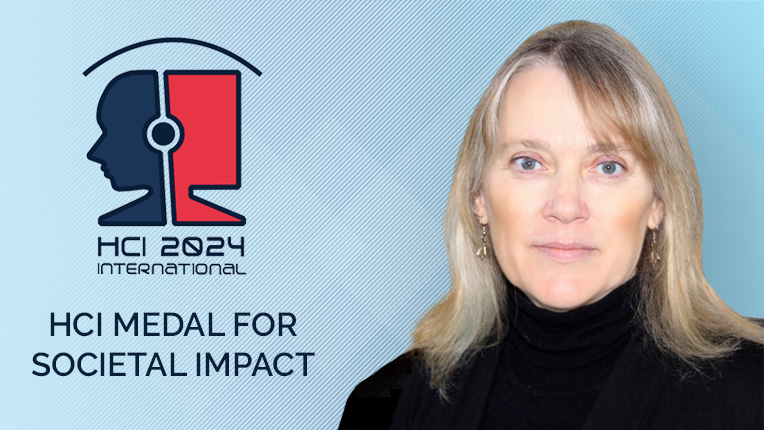 The HCI International 2024 Conference has announced that ACM CEO Vicki Hanson has been chosen to receive the 2024 HCI Medal for Societal Impact. The HCI Medal for Societal Impact was established in 2022 to be awarded to distinguished academics, researchers, or professionals in recognition of the impact of their work in the field of human-computer interaction on society. The medal will be conferred during the conference Opening Plenary Session, to be followed by the Keynote speech. The conference will take place June 29–July 4, 2024, in Washington DC.
Juan Gilbert Honored with National Medal of Technology and Innovation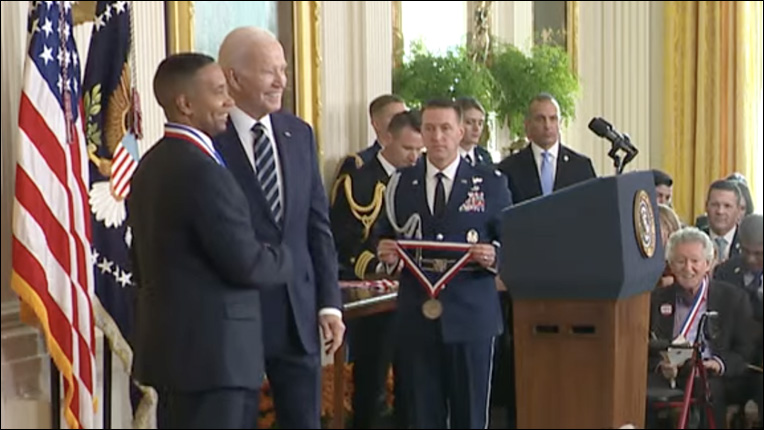 President Joe Biden honored University of Florida computer science professor and ACM Fellow Juan Gilbert at the White House with the National Medal of Technology and Innovation for pioneering a universal voting system that makes voting more reliable and accessible for everyone and for increasing diversity in the computer science workforce. The National Medal of Technology and Innovation, or NMTI, is the nation's highest honor for technological achievement, bestowed by the president of the United States on leading innovators for their outstanding contributions to America's economic, environmental and social well-being. As a computer scientist, educator, and researcher, Gilbert has dedicated much of his career to finding ways to improve election technology, with the ultimate goal of protecting democracy.
You can view the event here
.
---
AWARDS
Keshav Pingali Recognized with Ken Kennedy Award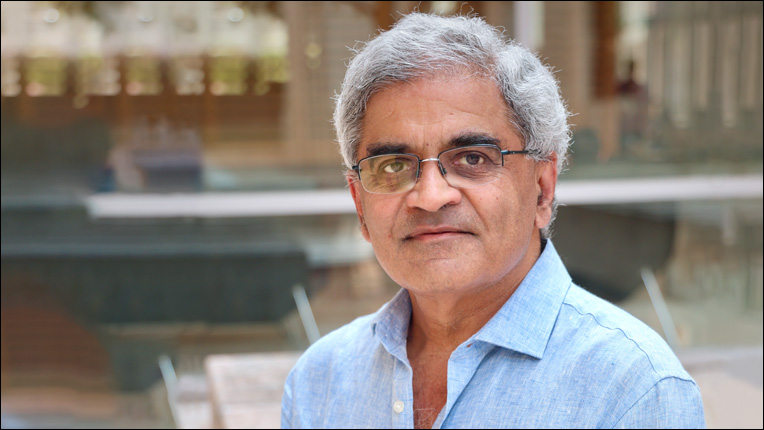 ACM has named Keshav Pingali, the W.A. "Tex" Moncrief Chair of Grid and Distributed Computing at the University of Texas at Austin, as the recipient of the 2023 ACM-IEEE CS Ken Kennedy Award. The Ken Kennedy Award recognizes groundbreaking achievements in parallel and high-performance computing. Pingali is cited for contributions to high-performance parallel computing for irregular algorithms such as graph algorithms. The award will be formally presented to Pingali in November at The International Conference for High Performance Computing, Networking, Storage and Analysis (SC23).
Call for Nominations for ACM Awards
Each year, ACM recognizes technical and professional achievements within the computing and information technology community through its celebrated Awards Program. ACM welcomes nominations for candidates whose work exemplifies the best and most influential contributions to our community, and society at large.
ACM seeks your help in expanding and diversifying the nomination pool for our ACM Awards. It is often the case that people wonder why a specific person who seems highly deserving has not received an ACM award. The common answer is that the person was never nominated.
Please take a moment to consider those people in your community who may be suitable for nomination. Refer to the award nominations page for links to individual award pages, where you will find nomination requirements, deadlines, and Award Subcommittee Members. Keep in mind ACM's commitment to diversity, equity, and inclusion when nominating. While candidates for advanced member grades (Fellow or Distinguished Member) must be ACM members, candidates for ACM Awards do not need to be members to be nominated. Nominations for most awards are due December 15, 2023.
---
MEMBER RECOGNITION
Call for ACM Senior Member Nominations
The Senior Member advanced grade of membership recognizes ACM members with at least 10 years of professional experience and 5 years of continuous ACM Professional membership. Nominations are accepted on a quarterly basis. The deadline for nominations is December 3, 2023.
---
SIG AWARDS
Best Paper Awards Given at Recent ACM SIG Conferences
ACM's Special Interest Groups (SIGs) regularly cite outstanding individuals for their contributions in 38 distinct technological fields. Some awards presented (or to be presented) at conferences:
You can find them all here.
---
CONFERENCES AND EVENTS
SC23, November 12–17
At the International Conference for High Performance Computing, Networking, Storage and Analysis, invited talks will show how translational research and technologies and their applications address some of the most complex challenges of our time. Tutorials and workshops include "High Performance Python for Science at Scale," "Networking Technologies for High-Performance Computing: Principles and Solutions," "Unlocking the Potential of HPC in the Google Cloud with Open-Source Tools," and more. Keynote speaker is Hakeem Oluseyi (Astrophysicist, Former Space Science Education Lead for NASA) The event will be held in Denver, Colorado, USA.
SIGSPATIAL 2023, November 13–16
The ACM SIGSPATIAL International Conference on Advances in Geographic Information Systems provides a forum for original research contributions covering all conceptual, design, and implementation aspects of geospatial data ranging from applications, user interfaces, and visualization to data storage and query processing and indexing. Workshops include "Analytics for Big Geospatial Data," "Geocomputational Analysis of Socio-Economic Data," "AI-Driven Spatio-Temporal Data Analysis for Wildlife Conservation," and many more. Keynotes speakers are Carlo Ratti (MIT) and Arne Biastoch (GEOMAR Helmholtz Centre for Ocean Research). The event is being held in Hamburg, Germany.
CSS 2023, November 26–31
The ACM Conference on Computer and Communications Security is the flagship annual conference of the Special Interest Group on Security, Audit, and Control, whose mission is to develop the information security profession by sponsoring high quality research conferences and workshops. Workshops will include "Encrypted Computing & Applied Homomorphic Cryptography," "Secure and Trustworthy Superapps," "Artificial Intelligence and Security," "Cryptography Applied to Transparency Systems," "Robust and Trusted Internet Geolocation," and more. Keynote speakers are Michael Reiter (Duke University) and Lorrie Faith Craynor (Carnegie Mellon University). The event will be held in Copenhagen, Denmark.
ICAIF 2023, November 27–29
The ACM International Conference on AI in Finance is a peer-reviewed scholarly conference that brings together researchers from academia, government and industry to share challenges, advances, and insights on the impact of artificial intelligence and machine learning in finance. Workshops include "AI Safety and Robustness in Finance: Will AI Make or Break the Next Generation Financial Systems?" "Machine Learning for Investor Modelling and Recommender Systems," "Synthetic Data for AI in Finance," "AI in Africa for Sustainable Economic Development," Women in AI and Finance," and more. The event will be held in Brooklyn, New York, USA.
---
PUBLIC POLICY
Global AI Regulatory Initiatives the Focus of Latest HotTopics Webinar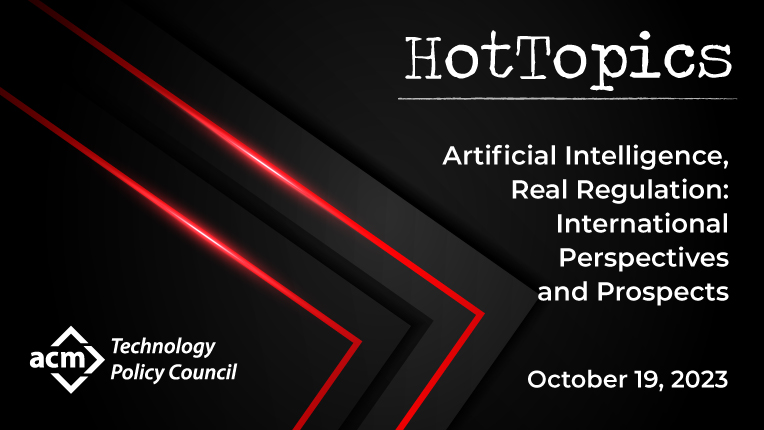 Sponsored by ACM's global Technology Policy Council (TPC) and moderated by its Vice Chair, Michel Beaudouin-Lafon, "Artificial Intelligence, Real Regulation: International Perspectives and Prospects" was the subject of the latest ACM HotTopics webinar this month. Archived in full online, the lively 90-minute session featured: Juha Heikkila, a top staff advisor to European Commission leadership on AI matters; former ACM president, Europe Technology Policy Committee member, and UK government advisor Dame Wendy Hall; and USTPC member, OECD Group of Experts member, and CAIDP Executive Director and Founder Marc Rotenberg.
The past, present, and potential future of efforts in Europe, the UK, and US to establish regula­tory "guardrails" for the development and deployment of AI systems was addressed, as were the origins and sociotechnical implications of these transformative systems. The session also showcased ACM TechBriefs, including the latest on generative AI, and the recent TPC-endorsed Principles for the Development, Deployment, and Use of Generative AI Technologies authored jointly by ACM's Europe and US Technology Policy Committees.
Also this month:
USTPC released a timely Statement on Development and Use of Generative AI Content Detection Systems as more and more educational institutions, employers, and businesses of all kinds scramble for way to authenticate content and detect possible fraud facilitated by more and more powerful generative AI programs. For more, see ACM's press release about the new Statement
USTPC submitted technical guidance to the US Department of Justice on how to make government websites more accessible to everyone and called on the Department to broaden its rulemaking proceeding to develop similar binding regulations for all websites
Europe TPC commented to the European Commission on "Draft G7 Guiding Principles for Organizations Developing Advanced AI Systems," also highlighting the new generative AI Principles linked above.
Connect with ACM's Tech Policy Groups!
To learn more about upcoming programs and the work of ACM's Technology Policy groups, follow @USTPC and @EuropeTPC on Twitter. If you're interested in contributing to the work of ACM's Europe or US Technology Policy Committees, please email [email protected].
---
MEMBER PROGRAMS
ACM Congratulates Our First Quarter Top Ambassadors
The Ambassadors for ACM program rewards ACM members like you for encouraging new members to join. Your first-hand experience with ACM's valuable career development and continuous learning programs makes you a perfect envoy to share your ACM experiences with prospective members. The Ambassadors for ACM program offers opportunities for you to earn new prizes, rewards, and bonus gifts with each referral. Submit the ACM Referral Form, and your referrals can join ACM at a special discount rate. Our members are our greatest asset. Your support of ACM is critical to our continuing efforts to advance computing as a science and a profession. Please consider becoming an Ambassador for ACM.
ACM is pleased to announce the following top recruiters in the Ambassadors for ACM member recruitment program for the first quarter of the 2023-2024 program year:
July: Adnan Ashraf
August: Sunil Singh
September: Ayush Goyal
Your Exclusive ACM Member Benefit: LTCRplusSM
The ACM Insurance Program—in partnership with Long-Term Care Resources (LTCR)—is offering you access to an EXCLUSIVE Long-Term Care Benefit Program called LTCRplusSM. This program is a benefit to ACM members and their families, so members may use it on behalf of their spouse, parents, in-laws or any other family member.
Request your free benefit guide or call 844-582-7587 for more information today.
ACM Academic Department Membership Option
The ACM Academic Department Membership option allows universities and colleges to provide ACM Professional Membership to their faculty at a greatly reduced collective cost. ACM offers membership for academic department faculty at the cost of $49 per person, more than half off the standard ACM professional membership fee of $99 per year. Through this program, each faculty member will receive all the benefits of individual professional ACM membership, including Communication of the ACM, member rates to ACM Special Interest Group conferences, member subscription rates to ACM journals, and much more. To learn more, visit the ACM Academic Department Membership page or contact Cindy Ryan.
---
LEARNING CENTER
ACM Skills Bundle Add-On
ACM has created a new Skills Bundle Add-on providing unlimited access to ACM's collection of thousands of online books, courses, and training videos from O'Reilly, Skillsoft Percipio, and Pluralsight on the latest technologies and most in-demand job skills, and popular vendor certifications. The new Skills Bundle Add-on is available to paid Professional Members only, with course levels spanning Beginner, Intermediate, and Advanced, and including learning paths and exam preparation tracks for some of today's hottest certifications such as AWS, Microsoft Azure, Google Cloud Platform, Kubernetes, Tableau, and more. To add the Skills Bundle to your existing Professional Membership, visit the ACM subscription page or contact Member Services.
ACM ByteCast Interviews Regina Barzilay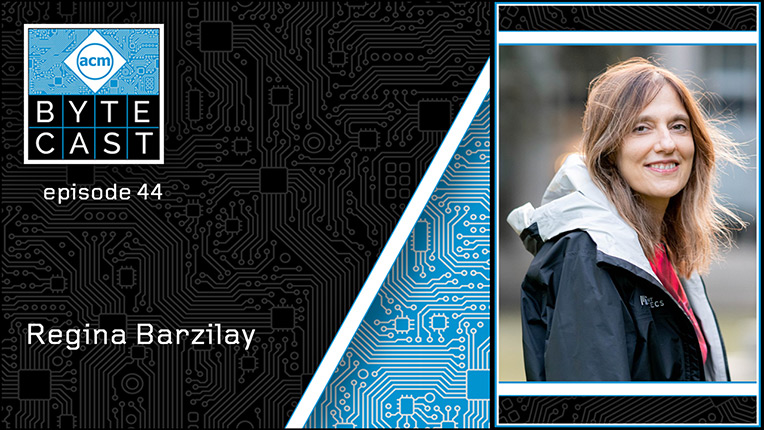 In this episode of ACM ByteCast, part of a special collaboration between ACM ByteCast and the American Medical Informatics Association (AMIA)'s For Your Informatics podcast, hosts Sabrina Hsueh and Adela Grando welcome Regina Barzilay, a School of Engineering Distinguished Professor of AI & Health in the Department of Computer Science at the Massachusetts Institute of Technology, and the AI Faculty Lead at MIT Jameel Clinic. She develops machine learning methods for drug discovery and clinical AI. In the past, she worked on natural language processing.
Barzilay describes her career journey and how a personal experience with the healthcare system led her to work on an AI-based system for the early detection—and prediction of—breast cancer, explains why entering the interdisciplinary field of clinical AI is so challenging, offers valuable advice on how to overcome some of these challenges, talks about inequity in medicine, and more.
ACM ByteCast Interviews Eugenio Zuccarelli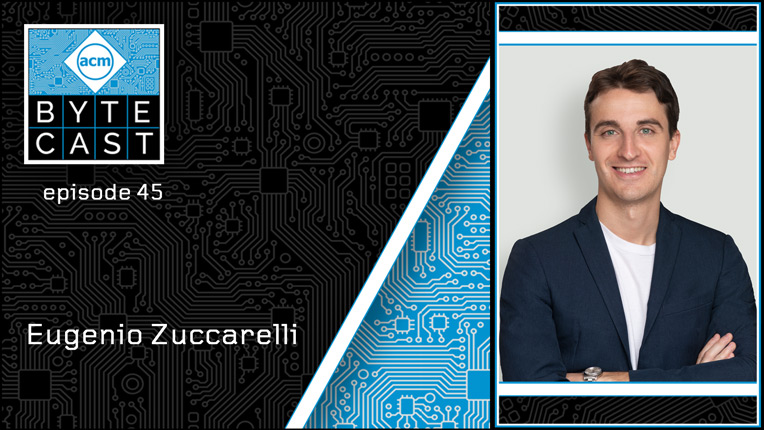 In this episode of ACM ByteCast, Rashmi Mohan hosts Eugenio Zuccarelli, Data Science Manager at CVS Health, where he leads innovation efforts for complex chronic care. He's a business-focused data science leader who has worked for other Fortune 500 companies across several industries, including healthcare analytics, automotive, financial, and fintech. He has also worked in the COVID-19 Policy Alliance task force using analytics to fight COVID-19 and develop policy recommendations for The White House and finding solutions to fight the pandemic.
Zuccarelli discusses how early passions in engineering, technology, and robotics led him to work in AI and data science, and a lack of the human component in these fields has driven his work. He describes his work on MIT Media Lab's Project US, which uses AI and advanced biosignal processing to help people become more effective and empathetic leaders and organizations make tangible progress towards their HR goals, how that research shifted when COVID hit and people worked from home, and much more.
Listen to ACM ByteCast interviews here, or wherever you get your podcasts.
ACM TechTalk: "The (Medium Term) Future of Evolutionary Architecture"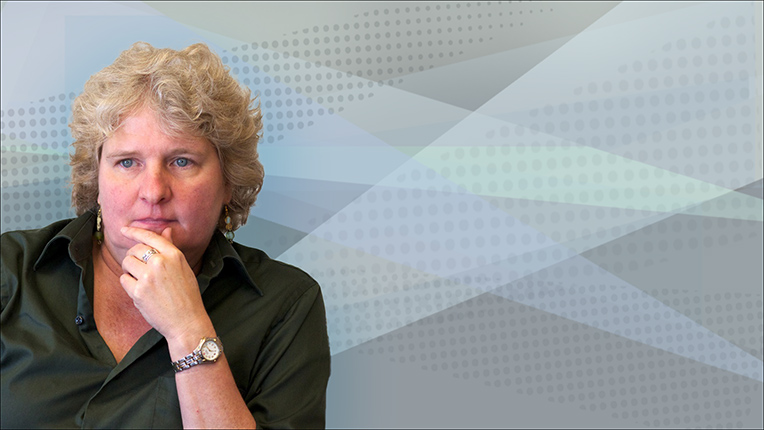 Register now for the next free ACM TechTalk, "The (Medium Term) Future of Evolutionary Architecture," presented on Thursday, November 2 at 12:00 pm ET (6:00 pm UTC) by Rebecca Parsons, CTO-Emerita at ThoughtWorks. Vanya Seth, Head of Technology for ThoughtWorks India, will moderate the questions and answers session following the talk. A major premise underlying Evolutionary Architecture is that not only will things change, but we can't predict how they will change. While this premise makes predicting anything problematic (at best), it can be postulated how the principles and practices of Evolutionary Architecture may change in the near medium term. This talk will first introduce Evolutionary Architecture and then examine some possible futures for the principles and practices of Evolutionary Architecture, specifically addressing changes that might arise from innovations in AI, observability, and new architectural approaches.
Register to view the TechTalk here.
Visit the TechTalks Archive for our full archive of past TechTalks.
---
EDUCATION
EngageCSEdu Instructional Materials—Volume 2 Added
EngageCSEdu publishes high-quality, engaging, classroom-tested Open Educational Resources (OER's) for computer science education that have been contributed by various authors and covering a growing number of topics. Several of the EngageCSEdu resources—including the newly added Volume 2—are now available in ACM's Digital Library, as well as in published collections:
All issues both published and upcoming can be found here.
ACM Ethics in Computing Education: Misinformation
Hosted by EngageCSEdu, The Ethics & Computing Repository is designed to aid studying, or teaching courses, involving ethical issues related to a broad range of computing topics. It is a collection of articles, mainly from popular media and many of them recent. Each month MemberNet will feature a different subject in ethics and computing, offering a variety of articles, reports, and other interesting and informative items for readers to explore.
This month, the focus is "Misinformation." Titles under this category include "YouTube Bans All Anti-Vaccine Misinformation," "The Pros and Cons of Health Websites," and more.
---
STUDENT NEWS
Upcoming ACM Student Research Competitions: Submission Deadlines
ACM Student Research Competitions (SRCs) offer a unique forum for undergraduate and graduate students to present their original research at well-known ACM-sponsored and co-sponsored conferences before a panel of judges and attendees. The most recent SRC winners were presented at ESWEEK 2023. The next conferences accepting submissions are:
Graduating Students Eligible for Special Transition Rate
ACM offers a special ACM Professional Membership for $49 USD (regularly $99) to help graduating students make the transition to professional careers, and take advantage of continuous learning opportunities, including free online books and courses and access to ACM's Career & Job Center. This one-year-only transition rate includes all the benefits of Professional Membership plus the option of purchasing a Digital Library subscription for $50. Recent graduates can access this special transition offer through ACM's convenient online renewal form, or by following the instructions on the paper renewal form. For more information, visit the Reasons to Transition to Professional Membership page.
---
DISTINGUISHED SPEAKERS PROGRAM
About the ACM Distinguished Speakers Program
Book the speaker for your next event through the ACM Distinguished Speakers Program (DSP) and deliver compelling and insightful content to your audience. ACM will cover the cost of transportation for the speaker to travel to your event. Our program features renowned thought leaders in academia, industry, and government speaking about the most important topics in the computing and IT world today. Our booking process is simple and convenient.
See ACM Distinguished Speakers in action on our Flickr page.
Featured ACM Distinguished Speaker: Junying Chen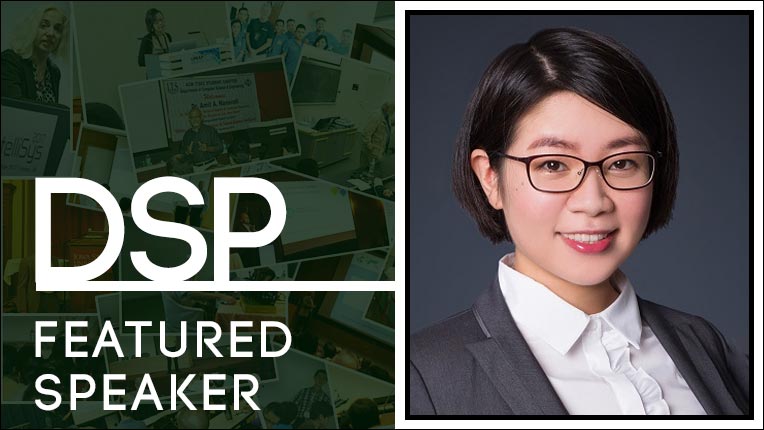 Junying Chen received the B.E. degree in electronic and information engineering from Zhejiang University, Hangzhou, China, in 2007, and the Ph.D. degree in electrical and electronic engineering from The University of Hong Kong, Hong Kong, China, in 2013. She is currently an Associate Professor with the School of Software Engineering, South China University of Technology. She is the Assistant Director of the Key Laboratory of Big Data and Intelligent Robot of the Ministry of Education , the Principal Investigator of the Intelligent Medical Image Processing Laboratory of KLBDIR , the Core Member of the research team of intelligent software and robots in SCUT, and the Associate Director of the Executive Committee in the Faculty Congress of SSE. Her lectures include "Research Progress and Application of Lightweight Neural Networks," and "Research and Medical Application of Vision Transformer and Capsule Network Models." She is available to speak through the ACM Distinguished Speaker Program.
For more information about Chen, please visit her DSP speaker information page.
MEETUPS
ACM Local Meetups
ACM Local Meetups connect smart technical people at local city events. They are informal groups that meet regularly to discuss a diverse array of computing topics. The following local ACM Meetups have been scheduled:
Youngstown: NEOACM REMOTE General Assembly Meeting, November 5
This is a monthly meeting where there will be reports from the treasurer, secretary, and committee heads. There will also have article discussions and lightning talks.
Kansas City: ACM Kansas City Meeting, November 9
This is the monthly meeting where a specific topic is presented, and an informal general discussion occurs after.
ACM Local Meetups are active in Atlanta, Boston, Chicago, Kansas City, Los Angeles, Melbourne, Mumbai, New York City, Pittsburgh, Raleigh, Rio de Janeiro, Sacramento, San Francisco, Surabaya, Washington DC, and Youngstown. If you are interested in organizing a Meetup in your locale, please contact Andrew Conklin.
---
CHAPTERS NEWS
Welcome New ACM Chapters
Chapters are the "local neighborhoods" of ACM. The regional ACM Professional, Student, ACM-W, and Special Interest Group (SIG) chapters around the globe involve members locally in competitions, seminars, lectures, workshops, and networking opportunities. ACM welcomes the new chapters that were chartered September 15 through October 13, 2023:
ACM Student Chapters:
Ave Maria University ACM Student Chapter, Ave Maria, Florida, USA
BVDUDET ACM Student Chapter , Kharghar, Navi Mumbai, India
Columbia University ACM Student Chapter, Kew Gardens, New York, USA
CU Denver ACM Student Chapter, Denver, Colorado, USA
DCE ACM Student Chapter, Gurugram, India
IIITD ACM SIGCHI Student Chapter, Delhi, India
JUST ACM Student Chapter, Irbid, Jordan
Northeastern University Silicon Valley ACM-W Student Chapter, San Jose, California, USA
PMU ACM Student Chapter, Khobar, Saudi Arabia
Purdue University Northwest ACM Student Chapter, Hammond, Indiana, USA
SBJITMR Nagpur ACM Student Chapter, Nagpur, India
SCETW ACM-W Student Chapter, Hyderabad, India
Texas Christian University ACM Student Chapter, Fort Worth, Texas, USA
UAFS ACM Student Chapter, Fort Smith, Arkansas, USA
ACM Professional Chapters:
Kiel ACM-W Chapter, Kiel, Germany
Jammu and Kashmir ACM Chapter, Jammu, India Professional
Dunedin ACM-W Chapter, Dunedin, New Zealand
---
ACM-W NEWS
ACM-W Scholarships History Project
ACM-W scholarships have been instrumental in providing crucial support for women in computer science and related fields, enabling them to attend pivotal computing research conferences. These scholarships have not only paved the way for educational growth but also fostered diverse and impactful careers. The Scholarships History project team followed up on the historical scholarship data since its inception in 2006 to do a longitudinal assessment of the impact of the scholarship on the educational trajectory and career path of our scholars. Join us as we explore the history, impact, and future of the ACM-W Scholarship program.
ACM Scholarships for Women Computing Students to Attend Research Conferences
With Research Computer Science Conference Scholarships, ACM-W provides support for women undergraduate and graduate students in computer science and related programs to attend research computer science conferences around the world. This exposure to computing research can inspire a student to continue onto the next level of their academic or professional career. The ACM-W scholarships are divided between scholarships of up to $600 for intra-continental conference travel, and scholarships of up to $1,200 for intercontinental conference travel. Scholarship applications are evaluated in six groups each year, in order to distribute awards across a range of conferences. Learn more about ACM-W scholarships and how to apply here.
Introducing Stories From the First Student Chapter Buddies
ACM-W has started a new campaign. The aim of this campaign is to encourage all ACM-W chapters to partner with other ACM-W chapters to become a Buddy for collaborative works—and already there is one student chapter buddy and one professional chapter buddy. This month you can learn more about ATU ACM-W Student Chapter at Atlantic Technological University, Ireland, and ACM Bilkent at Bilkent University, Turkey, which have become the first student chapter buddies.
The Beginnings—Dreams Come True
With the 10th womENcourage anniversary having happened this year, this milestone is being acknowledged with a series of blogs from past chairs who organized this event successfully so far. This issue, you'll hear from Reyyan Ayfer, who is the founder member of ACM-W Europe and the womENcourage celebration.
Join ACM-W's Membership Email List
Did you know that ACM-W offers a general email distribution list for its members? This ACM-W public list is a communication channel for disseminating general information about ACM-W, bulletins, and upcoming events, which can be joined here. Also read the ACM-W Connections newsletter for updates on ACM-W programs, local celebrations, scholarships and awards, chapters, and more.
---
DIVERSITY, EQUITY, AND INCLUSION
Apply to Join LEVEL UP Regional Workshops
Computing education continues to face challenges around inclusion, diversity, equity, and accessible learning, and we believe change is possible through a coordinated effort among engaged computing leaders and faculty. The goal of the LEVEL UP project—a combined initiative of ACM, CRA and IEEE-CS—is to build consensus around a united vision of inclusive undergraduate computing education. Through collaboration with a respected advisory board of computing educators and professionals from across the country, LEVEL UP will chart a pathway that undergraduate computing programs can implement to offer inclusive computing courses and opportunities where all students feel welcome and thrive.
Learn more about the workshops and apply here.
---
PUBLISHING NEWS
Ceasing Print Editions for ACM Journals and Transactions
ACM has made the decision to cease print publication for ACM's journals and transactions as of January 2024. The magazines Communications of the ACM, ACM InRoads, interactions, and XRDS: Crossroads will continue in print. There were several motivations for this change: ACM wants to be as environmentally friendly as possible; print journals lack the new features and functionality of the electronic versions in the ACM Digital Library; and print subscriptions, which have been declining for years, have now reached a level where the decision to sunset print made perfect sense. Ultimately, this will be to the benefit of the community, enabling ACM to focus efforts on enhancing the electronic versions of the publications where they can have the greatest impact.
acmqueue: "Halfway Around the World - Learn the Language, Meet the People, Eat the Food"
Kode Vicious answers a reader's question about how to handle a 6-month stint in another country. Not only do different cultures treat different features differently, but they also treat each other differently. You can try to ask the locals, although people generally are so enmeshed in their own cultures that they have a hard time explaining them to others. It's best to observe with an open mind, watch how your new team reacts to each other and to you, and then ask simple questions when you see something you don't understand.
ACM Journals Seeking Editors-in-Chief
IEEE/ACM Transactions on Networking (TON) is seeking a new Editor-in-Chief for a two–year term starting on July 1, 2024. The term is renewable for two additional years. Please submit nominations by November 15, 2023. For more information and to read the full call, please visit the call page.
ACM Transactions on Privacy and Security (TOPS) is seeking a new Editor-in-Chief. This is a voluntary position with a term beginning February 1, 2024. Nominations should include a vita along with a brief statement of why the nominee should be considered. Nominations are due November 27, 2023, although nominations will be accepted until the position is filled. For more information, please visit the call page.
ACM Transactions on Knowledge Discovery from Data (TKDD) is seeking a new Editor-in-Chief starting on January 1, 2024. Nominations should include a vita along with a brief statement of why the nominee should be considered. Nominations are due November 30, 2023, although nominations will continue to be accepted until the position is filled. For more information please visit the call page.
ACM Transactions on Sensor Networks (TOSN) is seeking a new Editor-in-Chief. Nominations are due November 30. The EiC appointment may be renewed at most one time. This is a voluntary position, but ACM will provide appropriate administrative support. For more information please visit the call page.
ACM Transactions on Human-Robot Interaction (THRI) is seeking a new Editor-in-Chief starting on January 1, 2024. This is a voluntary position, but ACM will provide appropriate administrative support. Nominations are due December 15, 2023, although nominations will continue to be accepted until the position is filled. For more information please visit the call page.
ACM Open: Educational and Industry Leaders Sign Agreements
ACM is delighted to announce we have reached several new ACM Open agreements since our last MemberNet update. Through these agreements, researchers at participating institutions receive unlimited access to the ACM Digital Library and have the opportunity to publish an unlimited number of research articles Open Access.
Please join us in welcoming the following institutions to the ACM Open program: Wheaton College in Illinois; Universidad Complutense de Madrid in Spain; and Shenzhen MSU-BIT University in China.
We are also happy to announce new ACM Open agreements with ExxonMobil, with the U.S. General Services Administration (GSA), and with Oracle. We thank these institutions for their support of our publishing program.
ACM Open is ACM's transformative Open Access publishing model for transitioning ACM to a sustainable Open Access publisher with the goal of making research publications in the ACM Digital Library fully Open Access upon publication. A full list of the more than 800 institutions that have signed on to the ACM Open program can be found here.
---
SOCIAL MEDIA
ACM Celebrates Global Diversity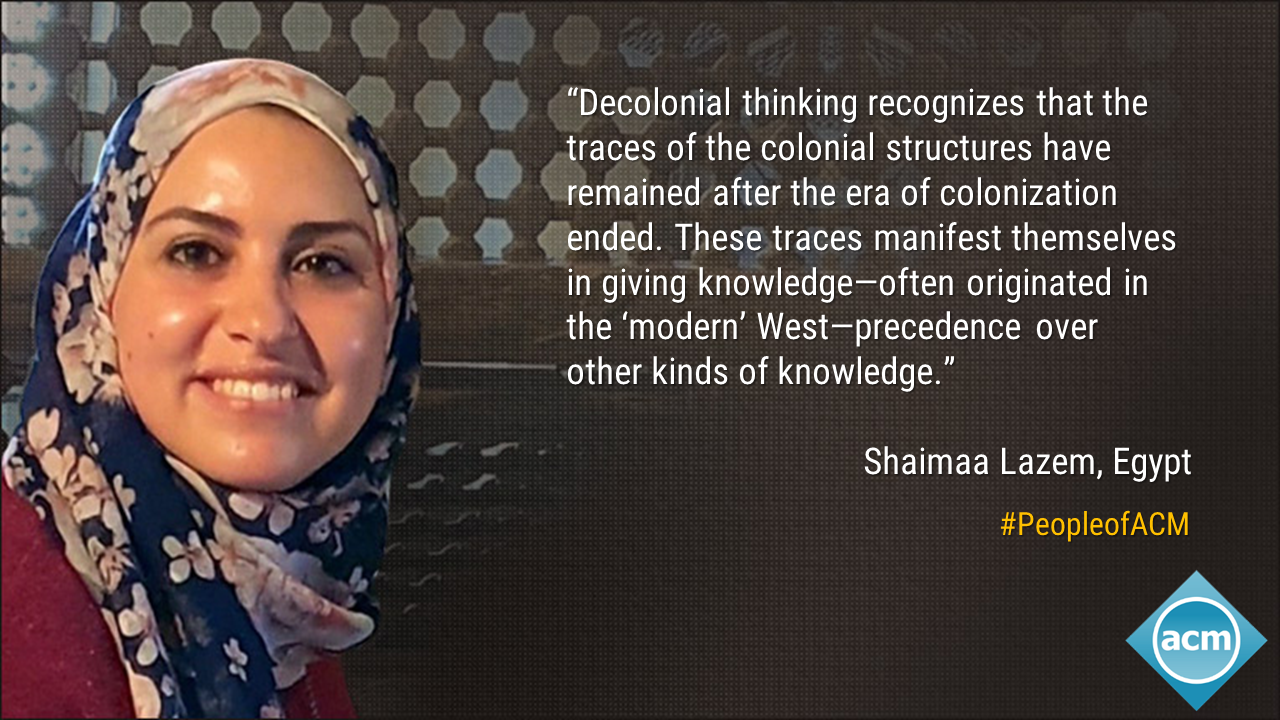 Global Diversity Awareness Month is here! At ACM, we've always been keenly aware of the value of having a vibrant global community. This October, we invite you to revisit some of our conversations with #PeopleofACM from around the world in the past 12 months.
---
ACM CAREER & JOB CENTER
ACM Career & Job Center Connects You With Career Opportunities
Connecting with the right employers in computing can be a daunting task. Thankfully, the world's leading companies, colleges and universities come to the ACM Career & Job Center to find the best candidates. By creating an account on the ACM Career and Job Center, you'll gain access to a wide range of tools to help you find the perfect job:
Finding a Job - Use the job search tools to find a job that matches your search criteria.
Create and Manage Email Alerts - Stay on top of the latest job openings. Receive an email when new jobs match your search criteria.
Create/Post Resumes - Get noticed by employers. Create or upload a resume with our easy-to-use tools so employers can get in touch with you.
View Saved Jobs - Save jobs that interest you, add notes, share with friends, and track your applications to keep on top of your job search.
For any assistance with the ACM Career and Job Center, please contact ACM's Advertising Sales Manager, Ilia Rodriguez.
---
Copyright © 2023, ACM, Inc.