Ideas for Chapter Activities
The kinds of activities a chapter can undertake are endless, depending on the creativity and interest of each group. Here are a few examples of social and professional activities that may be of interest to your group:
Distinguished Speakers Program/ Lectures - Invite one of ACM's Distinguished Speakers to speak with your chapter on a topic of your choice. Plan the event with other local organizations and publicize it well to recruit a big audience or even new chapter members. https://speakers.acm.org/.
Volunteer Experience Enhancement – Show your chapter officers and volunteers you appreciate them by providing exclusive and unique experiences on a monthly or quarterly basis. Some options include, social lunches, museum or facility tours, and leadership development lessons. This will create a valuable volunteer experience, enhancing recruitment and retention of volunteers for your chapter.
Panel Discussions and Roundtables - Invite three or four people from the technology workforce or organize the event with members from your chapter. This will encourage discussions and exchange of ideas and opinions.
Screenings - Screening of past ACM/SIG DVDs, ie: SIGGRAPH Computer Animation Festival, Electronic Theater, etc. This is also an opportunity to screen locally created short films or preview new animated movies.
Joint Meetings - Joint meetings are a great way to interact with local professionals. They are also an opportunity for Professional Chapters to meet with local Student Chapters to teach and advise.
Mixers/ Social Events - Host an event, dinner, or dessert party where the main purpose is to meet and greet. Encourage others to interact and exchange thoughts and ideas. For a change of pace, these events can be hosted at bowling alleys, bars, restaurants or at a park on a nice day.
Sports Teams - Enlist your chapter in a local sporting league. This will promote unity and bonding among chapter members, as well as encourage friendly competition!
Holiday Parties - Celebrate the holidays together with food, drinks, games and prizes! A great chance to get to know all the members and officers better.
How-to Presentations - Have an expert in a specific field demonstrate and teach. How-to's can range from anything including "How to fix a resume" to "How to use Photoshop," and more! The sky is the limit.
Fundraising - Fundraising is a great way to earn money for your chapter to help with conference fees, etc. Raffles, dance-a-thons, coffee and donut sales, are just a few great ways.
BYO_ - Bring your own (fill in the blank). This is a great opportunity to show case hidden talent. Individuals can showcase their art work, computer graphics/programs, or independent films!
Conferences - Sponsor or co-sponsor a conference with a local non-profit organization. A conference is an excellent platform for researchers in all current areas of information technology to present their latest research findings, as well as an open forum for networking and exchanging of ideas.
App Workshops - There are hundreds of thousands of apps available in the app market and the numbers are ever increasing. What makes an app good, and how can we quantify that? Host a talk that explores these questions and use example apps to illustrate relevant features.
Philanthropies and Community Service Days – Select some local philanthropic organizations and volunteer to help, either by raising money, participating in individual events that the charities sponsor, or organizing a people‐in‐computing team to contribute to the success of a fundraising activity. Events include walks for cancer, blood drives, etc. Volunteer at the local humane shelter, soup kitchen, nursing home, etc.
Last Updated July 2022
Written by leading domain experts for software engineers, ACM Case Studies provide an in-depth look at how software teams overcome specific challenges by implementing new technologies, adopting new practices, or a combination of both. Often through first-hand accounts, these pieces explore what the challenges were, the tools and techniques that were used to combat them, and the solution that was achieved.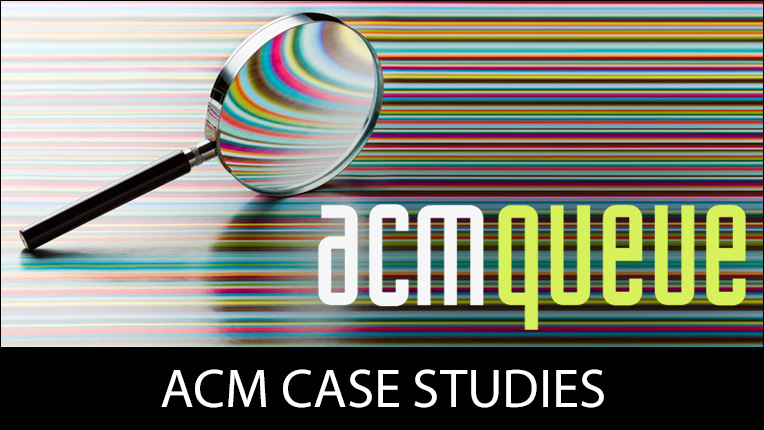 Career Resource
ACM offers lifelong learning resources including online books and courses from Skillsoft, TechTalks on the hottest topics in computing and IT, and more.