ACM Chapter Member News
June 26, 2012
Welcome to the June 2012 edition of ACM Chapter Member News
Chapters are the "local neighborhoods" of ACM. Our Professional and Student chapters worldwide serve as nodes of activity for ACM members and the computing community at large, offering seminars, lectures, and the opportunity to meet peers and experts in many fields of interest. With over 650 active chapters worldwide, we would like to take the time now to connect with all of you, and bring you a few of the ACM Highlights.
HEADLINES AT A GLANCE:
---
ACM has collaborated withIEEE-CSto share their invited speaker programs.
If you are organizing an ACM chapter, conference, or event, and would like to host a speaker from IEEE-CS's DVP, just follow the instructions athttp://www.computer.org/portal/web/chapters/dvpand be sure you identify yourself as an ACM Chapter.
For more information, please click the link below:http://www.acm.org/acm-ieeecs-coop/shared-speakers-program
---
Your Annual Reports are due
Chapters must complete their Annual Report for the fiscal yearJuly 1, 2011-June 30, 2012. To access your chapter's administrative interface, enter your username and password here:https://services.acm.org/public/chapters/chapterprofile/chapteradmin.cfm
If you have forgotten your username or password, please follow the link below:https://accounts.acm.org/signin.cfm?r=1
In addition, you may notice the Annual Report looks a bit different from years past. ACM has been working hard to serve our chapters in the best way possible and this new release provides a user friendly interface which allows full editing of your information until submission. SIGGRAPH Chapters will find additional questions at the end of their report that must be completed as well.
Any questions, please contact[email protected].
---
ACM Student Chapter Excellence Awards
ACM is proud to announce the 2011–2012 Student Chapter Excellence Award Winners:
Congratulations to all the winners, and thank you to all who participated
ACM Student Chapter Excellence Awards
---
"Each year, thousands of industry professionals, academics and enthusiasts attend the SIGGRAPH Conference and have the opportunity to meet students who are anxiously approaching graduation and the prospect of finding a job in the field of computer graphics and interactive techniques. Student attendees are nervous, but shouldn't be - they are one of the most important constituencies at the conference.
A top priority for many attendees at the conference has to do with getting a job or improving their skills. The SIGGRAPH Conference features the greatest annual collection of hiring managers for the industry. As a student or recent graduate attendee, you have a golden opportunity to seek out jobs. However, the value of the conference to new members of our community goes far beyond the immediate gratification of a job offer. SIGGRAPH is the place where student members can begin to build their professional networks, learn about industry standards, and best of all, make friends that you may only see once a year but that you can e-mail, talk and interact with over the other 51 weeks of the year.
There are several conference programs students should keep a keen eye on. While the keynote presentation and talks by big production companies are very popular, networking is king for students. Spend time on the Exhibition floor warming up by asking obscure booths what they do, then work your way to the companies you'd like career options at. Instead of asking recruiters for jobs (like the masses), try learning something from them and collecting a business card. They can be cool people, and often help recruiters at other companies. The Job Fair is even more important to visit, but keep in mind that you probably won't snag an interview at the conference unless you've been in contact with the company beforehand. Birds of a Feather sessions are another fantastic way to mingle and find out about special interests in smaller groups.
ACM SIGGRAPH Chapters are the best way to get connected with your local community. Students attending the conference who may want to start a chapter should make a point of attending the Professional and Student Chapters Start-Up Meeting at 12:30pm on Wednesday, August 8th in the International Resources Center. Likewise, established and prospective student chapters, as well as curious individuals, should plan to attend the Student Chapters Business Meeting at 2:30pm on Monday, August 6th in the ACM SIGGRAPH Theater in the ACM SIGGRAPH Village.
On behalf of the ACM SIGGRAPH Professional and Student Chapters Committee and the SIGGRAPH Conference, we look forward to seeing you in Los Angeles this August"
-AJ Christensen, SIGGRAPH Student Chapters Subcommittee Chairhttp://s2012.siggraph.org/
---
Welcome to Our Newest Chapters
Outstanding Chapter Activities:University of Peloponnisos ACM Student Chapter
Outstanding Community Service:University of Central Florida ACM Student Chapter
Outstanding Recruitment Program:University of Tehran ACM Student Chapter
Outstanding School Service:NUST SEECS ACM Student Chapter
Outstanding Chapter Website:Ain Shams University ACM Student Chapter

AGI-CSE ACM Student Chapter- Hyderabad, India (Student)
Bharath University ACM Student Chapter- Chennai, India (Student)
Bilkent ACM SIGCSE Chapter Ankara- Turkey (Professional)
Butte College ACM Student Chapter- Oroville, CA, USA (Student)
Capitulo de Programadores Universitarios ACM Student Chapter- Arteaga, Coahuila, Mexico (Student)
CSUSM ACM Student Chapter- San Marcos, CA, USA (Student)
CWRU ACM Student Chapter- Cleveland, OH, USA (Student)
IKDD ACM Chapter- Gurgaon, Haryana, India (Professional)
Indira Gandhi Institute Of Technology ACM Student Chapter- Old Delhi, India (Student)
ITU ACM Student Chapter- San Jose, CA, USA (Student)
IUPUI ACM-W Student Chapter- Indianapolis, IN, USA (Student)
JIIT ACM Student Chapter- NOIDA, India (Student)
Kitchener / Waterloo ACM SIGGRAPH Chapter- Waterloo, ON, Canada (Professional)
Lewis University ACM Chapter- Romeoville, IL, USA (Student)
METU-CENG ACM Student Chapter- Ankara, Turkey (Student)
Morrison University ACM Student Chapter- Reno, NV, USA (Student)
MTSU ACM SIGGRAPH Student Chapter- Murfreesboro, TN, USA (Student)
MUET ACM Student Chapter- Jamshoro, Pakistan (Student)
NC State University ACM SIGDOC Student Chapter- Raleigh, NC, USA (Student)
NYCHES ACM SIGUCCS Chapter- Rochester, NY, USA (Professional)
Salem International University ACM Student Chapter- Salem, W. Virginia, USA (Student)
SCU ACM-W Student Chapter- Santa Clara, CA, USA (Student)
SJBIT ACM Student Chapter- Bangalore, India (Student)
South Asian University ACM Student Chapter- New delhi, India (Student)
UAA ACM Student Chapter- Anchorage, AK, USA (Student)
University of Canberra ACM Student Chapter- Canberra, ACT, Australia (Student)
UPRM-ECE ACM Student Chapter- Mayaguez, PR, USA (Student)
UWW ACM-W Student Chapter- Whitewater, WI, USA (Student)
Velammal Inst of Tech IT ACM Student Chapter- Chennai, India (Student)
Publish Your Work
ACM's prestigious conferences and journals seek top-quality papers in all areas of computing and IT. It is now easier than ever to find the most appropriate venue for your research and publish with ACM.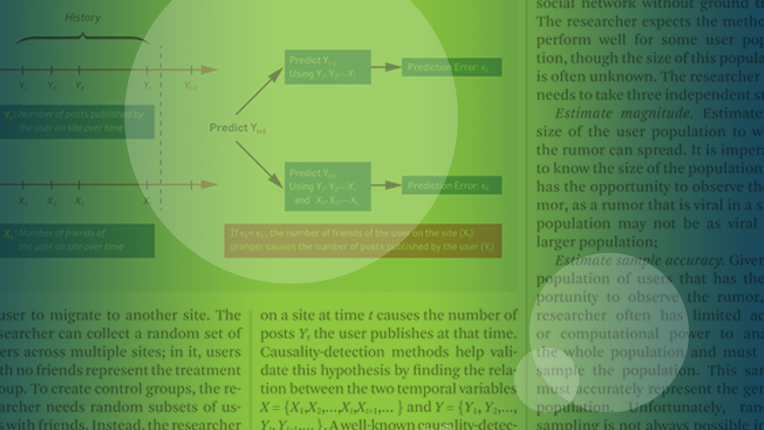 Written by leading domain experts for software engineers, ACM Case Studies provide an in-depth look at how software teams overcome specific challenges by implementing new technologies, adopting new practices, or a combination of both. Often through first-hand accounts, these pieces explore what the challenges were, the tools and techniques that were used to combat them, and the solution that was achieved.