Chapter Member Newsletter
ACM Chapter Member News | September 2020
Welcome to the September 2020 edition of the ACM Chapter Member News.
Chapters are the "local neighborhoods" of ACM. Our Professional and Student chapters worldwide serve as nodes of activity for ACM members and the computing community at large, offering seminars, lectures, and the opportunity to meet peers and experts in many fields of interest. With over 1000 active chapters worldwide, we would like to take the time now to connect with all of you, and bring you a few ACM Highlights.
HEADLINES AT A GLANCE:
---
If your chapter hasn't already submitted its ACM Annual Report, please do so. The report is for the fiscal year 2020 (July 1, 2019 - June 30, 2020).
To complete the report online, you must log in with your unique chapter web account at http://www.acm.org/chapters/chapters/interface. Please note, your chapter web account is entirely separate from your personal web account and should be accessible to all officers. If you are unsure of your chapter web account or need to reset the password, please follow this link: https://www.acm.org/chapters/web-account-links.
Please also take this time to update your chapter's contact information, including your membership list (under the Chapter Members tab) and officers (under the Chapter Officers tab.) You can utilize our edit features to extend memberships, update email addresses, or cancel past members who are no longer part of your chapter. Keeping your membership list current and up to date is important. It ensures that all members receive the maximum benefits they are entitled to and are kept aware of all the latest ACM happenings and resources.
---
Chitkara ACM Student Chapter
On July 11th, the Chitkara ACM Student Chapter organized a webinar on "Data Analytics Aspects for Business Transformation". Mr. Shailesh Giri, AVP data analytics EXL, was the guest speaker and created an interactive session on this exuberant topic. Various aspects of data analysis in business were discussed along with its impact on students and universities. Also, various scientist profiles and stories were shared.

Attendees took keen interest in the session and discussed different building blocks of analytics. The participants were filled with excitement and gained valuable knowledge from the workshop. The event received tremendous positive feedback.
Lander College for Women ACM Student Chapter
At Lander College for Women, their ACM chapter has two primary goals: to enrich students' career readiness by providing opportunities not offered in the classroom, and to foster a sense of community among students interested in computer science. When the pandemic hit and they were transferred to remote learning model for their curricular coursework, it was clear to them that their chapter needed to adapt in a similar manner in order to ensure continuity of their activities, and, even more importantly, to preserve the ambition and unity of their small and very passionate community of young women. In order to accomplish this, the chapter officers set out to create a virtual event which would get everyone involved in practicing for what is, arguably, the greatest source of anxiety for aspiring software engineers: technical interviews. Utilizing Gayle Laakmann McDowells's classic, Cracking the Coding Interview, one student acted as the "interviewer' posing the problem and coaching the others through developing an algorithm to solve it. Participants really appreciated getting to practice for an essential part of their career journeys while interacting with fellow students and sharing the satisfaction of solving a challenging problem. The chapter hopes that they can soon hold these events with everyone physically present, but until then, they are looking forward to continuing these events virtually, perpetuating their sense of community even as they are scattered throughout the country.
ACM congratulates both chapters on their great work!
If your chapter would like to be featured in the chapter spotlight, please email [email protected] with a description of your recent event.
---
Welcome to Our Newest Chapters
Cleveland State University ACM Student Chapter - Cleveland, OH (Student)
Federal University of Technology Minna ACM Student Chapter - Minna, Nigeria (Student)
GMRIT ACM-W Student Chapter - Rajam, India (Student)
Hibernia ACM-W Chapter - Dublin, Ireland (Professional)
IIT Hyderabad ACM Student Chapter - Hyderabad, India (Student)
Kharkiv Information & Communication Technologies ACM-W Chapter - Kharkiv, Ukraine (Professional)
Marymount University ACM-W Student Chapter - Arlington, VA (Student)
Saint Vincent College ACM Student Chapter - Latrobe, PA (Student)
Sydney ACM SIGCHI Chapter - Darlington, Australia (Professional)
Tuskegee University ACM Student Chapter - Tuskegee, AL (Student)
University of Alberta ACM Student Chapter - Edmonton, Canada (Student)
University of Central Florida ACM Student Chapter - Orlando, FL (Student)
---
Not an ACM Member yet? Whether you are a student or a professional, ACM has great benefits to offer you. Read all about ACM's many benefits and membership options.
---
Chapter and Chapter Member Benefits
Be sure to take advantage of the benefits ACM Chapters and ACM Chapter Members receive.
Read up on Professional Chapter Benefits and Resources, Professional Chapter Member Benefits, Student Chapter Benefits and Resources, and Student Chapter Member Benefits.
Written by leading domain experts for software engineers, ACM Case Studies provide an in-depth look at how software teams overcome specific challenges by implementing new technologies, adopting new practices, or a combination of both. Often through first-hand accounts, these pieces explore what the challenges were, the tools and techniques that were used to combat them, and the solution that was achieved.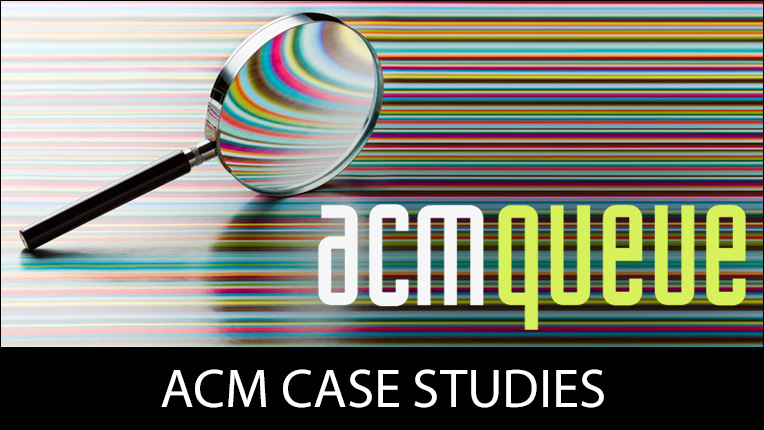 Career Resource
ACM offers lifelong learning resources including online books and courses from Skillsoft, TechTalks on the hottest topics in computing and IT, and more.