Chapter Member Newsletter
ACM Chapter Member News | December 2020
Welcome to the December 2020 edition of the ACM Chapter Member News.
Chapters are the "local neighborhoods" of ACM. Our Professional and Student chapters worldwide serve as nodes of activity for ACM members and the computing community at large, offering seminars, lectures, and the opportunity to meet peers and experts in many fields of interest. With over 1000 active chapters worldwide, we would like to take the time now to connect with all of you and bring you a few ACM Highlights.
HEADLINES AT A GLANCE:
---
Hour of Code
The Hour of Code is a global movement designed to generate excitement in young people about programming and technology. Games, tutorials, and other events are organized during Computer Science Education Week around the world. ACM would like to congratulate all the ACM chapters that are took part this year. You can find the complete list of chapters who participated at: https://www.acm.org/chapters/students/csedweek2020
Chapter Officers and Members Lists
We understand that this has been a difficult time for everyone due to COVID-19. We ask that all chapters take a few minutes to ensure their chapter officers and chapter members lists are completed.
You may do so by logging into the Chapter Administration Interface with your Chapter Web Account at: http://www.acm.org/chapters/chapters/interface. Alternatively, you may send local_activities@hq.acm.org your members list in CSV format (last name, first name, email address, and affiliation), or officers list and we can upload it for you.
---
BITS, Pilani - Dubai ACM Student Chapter
CS Essentials was a webinar conducted by the BITS, Pilani - Dubai ACM Student Chapter. The event introduced core essential skills and tools one would need to start their journey into the world of computer science. They began by introducing new members to their open source library for undergraduate students called "Openlib. CS", which has vast resources that students can use for their courses. They gave students a broad introduction about operating systems, as they are likely to switch while working. They took an approach to take a few career fields, namely, web development, application development, software development, cybersecurity analysis, data science, graphic designing, game development, and blockchain development. The organizers highlighted a roadmap of skills the participants will have to acquire to excel in that field. As competitive programming is on the rise in this age of programming, the chapter gave the students an idea about how to get started with it and the major competitions that take place every year. The webinar gave students a much deeper look into the field of computer science, and a will for them to explore and learn more about it.
VIT University ACM Student Chapter
Learn to Augment was a one-of-a-kind workshop that allowed 100 participants to travel to another world - all with the magic of Augmented Reality! The event took place on October 4th and started with an enriching session on Facebook's Spark AR software. This was followed by a mini-hack where participants made new and innovative Instagram filters. The chapter received many promising entries that displayed unmatched creativity, out of which the best ones took home exciting cash prizes!
University of Pennsylvania SIGGRAPH Chapter
The SIGGRAPH Alumni Speaker Series is a sequence of events coordinated by the University of Pennsylvania's SIGGRAPH Chapter, which highlights incredible individuals who studied at UPenn and are now working in the Computer Graphics industry. The most recent Speaker Series event took place on November 13th, where two alumni shared their story as visual development artists in the animation industry. Some topics these two alumni discussed included an overview of what visual development is, their education and career paths, their process for creating beautiful artwork, and mainly what it is truly like pursuing a visual development role at a feature animation studio. In addition, this event also helped guide current UPenn students in landing amazing career opportunities as well as in learning helpful tips on portfolios, resumes, and various projects students can pursue during college. Finally, this event also served as a great source of inspiration for many students, as they were able to hear from individuals who were in their shoes once, whom now have their dream role and are making a strong impact on the CG community. The UPenn SIGGRAPH Chapter hopes to host impactful Alumni Speaker Series like these for many years to come!
ACM congratulates all three chapters on their great work!
If your chapter would like to be featured in the chapter spotlight, please email local_activities@acm.org with a description of your recent event.
---
Welcome to Our Newest Chapters
Algorithms for Astronomy ACM Chapter - Oakwood, OH (Professional)
Arizona State University ACM Student Chapter - Tempe, AZ (Student)
BMU ACM Student Chapter - Gurgaon, India (Student)
CBU ACM-W Student Chapter - Memphis, TN (Student)
CSUMB ACM-W Student Chapter - SEASIDE, CA (Student)
Florida Gulf Coast University ACM Student Chapter - Fort Myers, FL (Student)
Izmir University of Economics ACM Student Chapter - Balcova, Turkey (Student)
Kollam ACM Chapter - Kollam, India (Professional)
NJIT ACM SIGCHI Student Chapter - Newark, NJ (Student)
NUCES Chiniot - Faisalabad ACM Student Chapter - Faisalabad, Pakistan (Student)
San Antonio ACM Chapter - San Antoni, TX (Professional)
SAWIS ACM Chapter - Rabat, Morocco (Professional)
Shaw University ACM Student Chapter - Raleigh, NC (Student)
Surabaya ACM SIGCHI Chapter - Surabaya, Indonesia (Professional)
UNC Chapel Hill ACM Student Chapter - Chapel Hill, NC (Student)
Universidad Panamericana ACM-W Student Chapter - Mexico City, Mexico (Student)
University of Mauritius ACM Student Chapter - Reduit, Mauritius (Student)
University of New Orleans ACM-W Student Chapter - New Orleans, LA (Student)
University of York UK ACM Student Chapter - York, United Kingdom (Student)
University of York UK ACM-W Student Chapter - York, United Kingdom (Student)
UPC ACM Student Chapter - Lima, Peru (Student)
---
Not an ACM Member yet? Whether you are a student or a professional, ACM has great benefits to offer you. Read all about ACM's many benefits and membership options.
---
Chapter and Chapter Member Benefits
Be sure to take advantage of the benefits ACM Chapters and ACM Chapter Members receive.
Read up on Professional Chapter Benefits and Resources, Professional Chapter Member Benefits, Student Chapter Benefits and Resources, and Student Chapter Member Benefits.
Written by leading domain experts for software engineers, ACM Case Studies provide an in-depth look at how software teams overcome specific challenges by implementing new technologies, adopting new practices, or a combination of both. Often through first-hand accounts, these pieces explore what the challenges were, the tools and techniques that were used to combat them, and the solution that was achieved.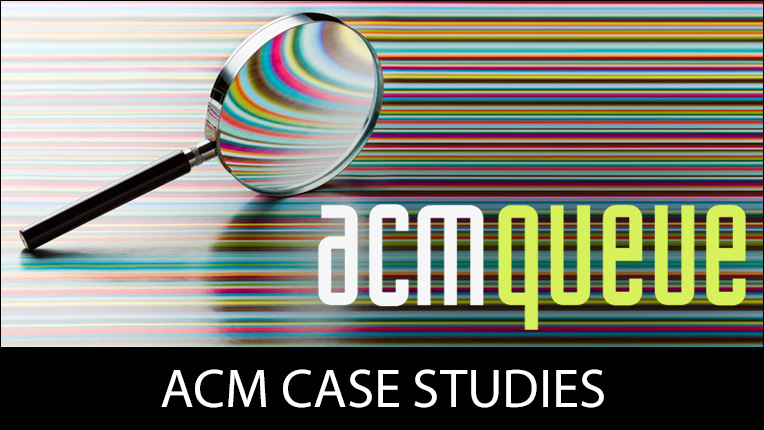 Career Resource
ACM offers lifelong learning resources including online books and courses from Skillsoft, TechTalks on the hottest topics in computing and IT, and more.