Chapter Member Newsletter
ACM Chapter Member News | December 2021
Welcome to the December 2021 edition of the ACM Chapter Member News.
Chapters are the "local neighborhoods" of ACM. Our Professional and Student chapters worldwide serve as nodes of activity for ACM members and the computing community at large, offering seminars, lectures, and the opportunity to meet peers and experts in many fields of interest. With 1000 active chapters worldwide, we would like to take the time now to connect with all of you, and bring you a few ACM Highlights.
HEADLINES AT A GLANCE:
---
In this edition of the chapter newsletter, we would like to share with you some personal experiences and memories of chapter officers from around the world:
Ankit Sandeep from the National Institute of Technology Karnataka, Surathkal ACM Student Chapter:
"One of my favorite experiences thus far happened in a social initiative for our chapter. We had been conducting weekly classes to teach underprivileged children across Karnataka the basics of computer science for a few months. We decided to conduct a fun session one week and play some online games like Pictionary. It was a very memorable evening with a lot of laughs. Seeing the kids happy at the end of the class was extremely heartwarming."
Luis Llanos from the Universidad del Norte ACM Student Chapter:
"I joined the Universidad del Norte ACM Student Chapter in 2019. At that time, I knew little and I was very afraid to go out in public. In 2020, I began participating more and became a key supporter for the chapter and by 2021 I was elected as the Treasurer. This has been an unforgettable experience and I am eager to continue developing my skills and helping others."
Caitlin Swanson from the University of Southern California ACM Student Chapter:
"I joined ACM at the University of Southern California when I was a freshman in 2018. I didn't know many people in computer science, I was confused by the internship recruiting process, and I wasn't sure what classes to register for. Through the ACM Chapter, I was able to connect with other students who are enthusiastic about computer science. Our chapter holds mock interviews and internship panels to help students connect with companies and narrow down which part of computer science they enjoy. I met mentors that gave me tips about the best classes to register for and the best spots on campus. Joining ACM transformed my university experience."
---
RGIPT ACM Student Chapter
The RGIPT ACM Student Chapter held the first international level technological fest at their institute. COSMOSx-2021 was conducted from October 22-24 as a departmental fest of CSE, EE, and Math. The chapter was driven to enhance career-oriented learning. The fest included keynote sessions by speakers from eminent organizations (like NASA, AWS, and Oracle), standard flagship competitions (like ICPC-style Coding Competition, security-based capture the flag contest, thorough workshops), and fun-based competitive events testing technological aptitude. With the participation of over 500 attendees from around Asia, Europe and America, COSMOSx-2021 turned out to be one of the most successful events of the RGIPT ACM Student Chapter.
Melbourne ACM SIGCHI Chapter
In October 2021 the Melbourne ACM SIGCHI Chapter invited PhD candidates from across Australia, who had a paper accepted at CHI 2021 in Japan, to present their paper online to the national HCI community. The invitations and advertising for the seminar went out through the Melbourne ACM SIGCHI Chapter, the Sydney ACM SIGCHI Chapter and connected colleagues in Queensland and Adelaide, offering PhD candidates the opportunity to present their research in this forum to the local community.
There were two consecutive panel sessions, one focusing on qualitative research, the other on quantitative research, with 4 x 5-minute paper presentations in each session, including a 10-minute panel discussion with those 4 authors and the audience at the end of each session.
The PhD presenters were Filip Bircanin and Jessie Oliver from Queensland University of Technology, Paul Schlosser from University of Queensland, Khushnood Naqshbandi and Marius Hoggenmueller from University of Sydney, Adam Drogemuller from University of South Australia, and Leona Holloway, Samuel Reinders and Kadek Satriadi from Monash University. Topics covered issues such as designing with people with disabilities, citizen science and nature, augmented reality supporting work, online communities, graphical and data visualizations, and accessible interface prototyping.
VIGNAN's IIT ACM Student Chapter
On September 14-15 VIGNAN's IIT ACM Student Chapter held Webhack 2021, a college level initiative to provide students a platform to solve some of the UI problems thus inculcating a culture of product innovation and a mindset of problem-solving. This event is a competitive one in which students across various branches work in groups on software or hardware products, with the goal of creating a functioning product at the end of the event. The participants kicked-off the event and everyone worked on their challenges. The recruiters interacted with the students and guided them whenever necessary. This event was a great success as every team was able to produce good results. You can find more information about this event at: https://vignanvizag.acm.org/events/webhack_2021/webhack_2021.html.
Sacramento ACM Chapter
The Sacramento ACM Chapter organized the 4th Future Worlds Symposium, held virtually on October 8th and 9th 2021 via Zoom. Digital technologies are opening up a new paradigm for the future world, fast transforming our society. Intelligent Homes, Smart Buildings, Intelligent Transportation Systems, Autonomous Cars and Automated Factories are opening up new possibilities for how we interact with the world in our daily lives.
The Opening Vision for Smart Transportation Workshop was presented by Walt Fehr, Technical Advisor, USDOT, Volpe Center, which included a progressive Concept Lab development discussion by Asfand Siddiqui, Connected & Automated Vehicle Infrastructure Development Branch Chief, California DoT, Caltrans, Neena Maldikar, Product Manager, Edge Software Hub, Intel and Dr Harsh Verma, Chair, Sacramento ACM Chapter, Intel Innovator, IOT Advisory Board Member, Intel Corporation & Consultant, World Bank.
The Industry Keynote was given by Stefan Schwab, CEO, Siemens Comfy, while a keynote on Digital Transformation for Government - The What, How, Now and the Future, was presented by Ajay Gupta, Chief Digital Transformation Officer, DMV, State of California.
ACM Distinguished Speakers, Michalis Vlachos, Professor, University of Lausanne, Dr. Eunice Sari, CEO & Co-Founder, UX Indonesia, Geeta Chauhan, AI Partner Engineering Head, Facebook AI and Dr Lauren Maffeo, Civic Tech Service Designer, Steampunk spoke virtually from across the world from Switzerland, Australia, Santa Clara and Maryland, US, sessions moderated by Casey Mohan, President, American Marketing Association, Sacramento Chapter and Peter Velasquez, Vice-President, ACM Student Chapter Vice-President, CSUS.
Chapter Treasurer Mike Brady moderated and supported the student presentations on Day 2. The Symposium included a round-table discussion on challenges faced by transit sector and PeopleSense technology, facilitated by Todd Morril, Faculty Director, NSF I-Corps Bay Area.
Congratulations to all these chapters for producing fantastic events.
If your chapter would like to be featured in the chapter spotlight, please email local_activities@acm.org with a description of your recent event.
---
Welcome to Our Newest Chapters
Ajman University ACM Student Chapter - Ajman, United Arab Emirates (Student)
Ashland University ACM Student Chapter - Ashland, OH (Student)
BMSTU ACM Student Chapter - Moscow, Russian Federation (Student)
Brisbane ACM SIGCHI Chapter - Brisbane, Australia (Professional)
BYU-Hawaii ACM Student Chapter - Laie, HI (Student)
CCET ACM-W Student Chapter - Chandigarh, India (Student)
Colombo ACM Chapter - Sri Lanka, Sri Lanka (Professional)
Defiance College ACM Student Chapter - Defiance, OH (Student)
Egyptian Chinese University ACM Student Chapter - Cairo, Egypt (Student)
Extended Reality ACM SIGCHI Chapter - Gainesville, FL (Professional)
Fayetteville State University ACM-W Student Chapter - Fayetteville, NC (Student)
FDU ACM Student Chapter - Teaneck, NJ (Student)
Franklin University ACM Student Chapter - Columbus, OH (Student)
Galgotias University ACM Student Chapter - Greater Noida, India (Student)
IISERB ACM Student Chapter - Bhopal, India (Student)
Illinois State University ACM Student Chapter - Normal, IL (Student)
Jinnah University for Women ACM-W Student Chapter - Karachi, Pakistan (Student)
Karnavati University ACM Student Chapter - Gandhinagar, India (Student)
Krishna Engineering College ACM Student Chapter - Ghaziabad, India (Student)
Metaverse ACM SIGCHI Chapter - Virtual Chapter, Turkey (Professional)
NSRIT ACM Students Chapter - Visakhapatnam, India (Student)
Oriental OCT ACM Chapter - Bhopal, India (Student)
UAO ACM Student Chapter - Oaxaca, Mexico (Student)
UAO ACM-W Student Chapter - Oaxaca, Mexico (Student)
UDC ACM-W Student Chapter - Washington, DC (Student)
Wabash College ACM Student Chapter - Crawfordsville, IN (Student)
---
Not an ACM Member yet? Whether you are a student or a professional, ACM has great benefits to offer you. Read all about ACM's many benefits and membership options.
---
Chapter and Chapter Member Benefits
Be sure to take advantage of the benefits ACM Chapters and ACM Chapter Members receive.
Read up on Professional Chapter Benefits and Resources, Professional Chapter Member Benefits, Student Chapter Benefits and Resources, and Student Chapter Member Benefits.
Written by leading domain experts for software engineers, ACM Case Studies provide an in-depth look at how software teams overcome specific challenges by implementing new technologies, adopting new practices, or a combination of both. Often through first-hand accounts, these pieces explore what the challenges were, the tools and techniques that were used to combat them, and the solution that was achieved.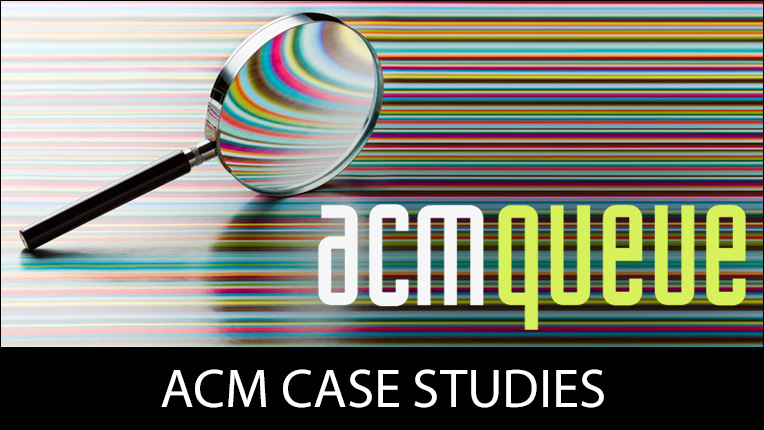 Career Resource
ACM offers lifelong learning resources including online books and courses from Skillsoft, TechTalks on the hottest topics in computing and IT, and more.