Chapter Member Newsletter
ACM Chapter Member News | September 2022
Welcome to the September 2022 edition of the ACM Chapter Member News.
Chapters are the "local neighborhoods" of ACM. Our Professional and Student chapters worldwide serve as nodes of activity for ACM members and the computing community at large, offering seminars, lectures, and the opportunity to meet peers and experts in many fields of interest. With over 1100 active chapters worldwide, we would like to take the time now to connect with all of you, and bring you a few ACM Highlights.
HEADLINES AT A GLANCE:
---
AR's Overdue
Chapters were required to submit their 2022 Annual Reports by August 31st. Thank you to all those Chapters who have done so. Any active Chapter who has neglected to file this report is scheduled to be put on probation, while Chapters on probation are scheduled to be de-chartered on November 1st. If you would like to keep your Chapter active, be sure to complete this Annual Report before November.
To complete the report online, you must log in with your unique Chapter web account at https://services.acm.org/chapter_admin. Please note, your Chapter web account is entirely separate from your personal web account.
If you are unsure of your Chapter web account or need to reset the password, please visit: https://www.acm.org/chapters/web-account-links. If you have any questions, please do not hesitate to contact local_activities@acm.org.
UPE Winners
In the search for excellence and professional commitment to the computing and information technology fields, The Executive Council of Upsilon Pi Epsilon (UPE) and the Association for Computing Machinery (ACM) are proud to announce the 2022 UPE ACM Student Chapter Scholarship Award Winners.
Thank you to everyone who applied. Congratulations to the following winners:
Shirley Fong - Simmons University
Aditya Giri - Manipal University, Jaipur
Rachael Harris - Allegheny College & Carnegie Mellon U
Leah Kazenmayer - The College of New Jersey
Hannah Halin Kim - Duke University
Luke Williams - University of Kentucky
---
ACM would like to congratulate chapters for organizing the following successful events. If your chapter would like to be featured in the chapter spotlight, please email local_activities@acm.org with a description of your recent event.
GGSIP University USS ACM Student Chapter - (Delhi, India)
GGSIP University USS ACM Student Chapter has conducted a month-long community learning program in "Say the Skill". The program included training of 4 modern skills for the students of GSSIPU: DSA, Graphic Design, Web3, and Cyber Security. Unlike many theoretical bootcamps, this program encouraged learning by doing as students were encouraged to build products out of the technology they are learning. It also encouraged community learning and learning in public and hence, promoting the motto of "Advancing Computing as a Science and Profession". With over 100 students putting their time and effort in across tracks, our mentors guided them through 4 weeks to build a stronger computing community. The top performers were rewarded with certificates as a mark of appreciation.
Saudi Arabia ACM Chapter - (Riyadh, Saudi Arabia)
Businesses around the world face challenges and risks as a result of dynamic economic and market conditions. The effectiveness of internal control structures designed to manage risks should be continuously assessed. In order for an organization's governance structures to be sustainable, stakeholders must be held more accountable. CYBEX PSU and the Saudi Arabia ACM Professional Chapter KSA jointly conducted an instructor-led training program on ISO 27001 to address external and internal influences, governance, risk management, and compliance. This program was attended by 19 security professionals, including Chief Technology Officers, Chief Information Officers and students, who could assist their organizations in implementing ISO27001 in order to provide information that supports organizations' performance and adaptability as their environments change rapidly. Training was conducted between June 19, 2022 and June 23, 2022, from 5:00 p.m. to 9:00 p.m. KSA time. Participants received certificates of participation and attendance.
Sarajevo ACM-W Chapter - (Sarajevo, Bosnia and Herzegovina)
On June 23, 2022, the Sarajevo ACM-W Chapter celebrated International Women in Engineering Day. The chapter organized two workshops at the International University of Sarajevo. In the first workshop, participants were introduced to IT Networking concepts. Dr. Amal Mersni introduced participants to the Cisco Packet Tracer software tool and helped them to create a simulated home network. Senior Assistant Nesibe Merve Husejnovi and students, Denis Suljakovic, Sara Filekovic, and Muhamed Imamovic, helped participants with the device connection and solving connectivity issues. The second workshop covered the introduction to the microcontroller (Arduino) and the connection between the electronic components and the microcontroller and the code. Masters student, Farah Memic, introduced the participants to the Arduino microcontroller, components, and Arduino IDE. Students, Sejla Salihovic and Ilma Kliko, helped with the connection of the components on the breadboard and with the Arduino.
GMRIT ACM Student Chapter - (Srikakulam District, India)
Deep Datathon 2.O is a 10-hour internal hackathon in which each team consists of 4 members. In Deep Datathon 2.O all the teams are provided with a categorical dataset which consists of URLs. The respective teams must build a machine learning model. Through this model building, the participants learn about textual data pre-processing and analysis. It is a golden opportunity for all the students to showcase their talents and to upskill. The evaluation took place based on the MCC score at last through a dashboard like interface. The participants submitted their work in the interface and it evaluated the accuracy and MCC score and accordingly ranked each work in the dashboard. Marks were also allocated for deployment and for sharing the project in the GitHub.
Brisbane ACM SIGCHI Chapter - (Brisbane, Australia)
The design professions continue to play a crucial role in the Australian Innovation Agenda and contribute significantly to the Australian economy and the community. Yet, advocating for the importance of design in tackling pressing issues facing society has never been more urgent. While the design industry landscape is diverse and reflects the plurality of design practices, professions and methods, design advocacy may require a unified voice that is loud and clear amidst other public and commercial interests competing for the attention of stakeholders, policy makers and funding bodies. At this Brisbane ACM SIGCHI Chapter event, a panel of peak industry body representatives and academic experts gathered to explore the state of play in Australia's design industry landscape and debate current and emerging issues facing the future of design in Australia.
The panel discussion grew out of this recently published paper by the organizers of the event: Matthews, Ben, Doherty, Skye, Johnston, Jane, & Foth, Marcus (2022) The publics of design: Challenges for design research and practice. Design Studies, 80, Article number: 101106.
Farmingdale State College ACM-W Student Chapter - (New York, USA)
Farmingdale State College hosted the second annual 2022 Summer (Re)Orientation for Women Computing Students. As part of a broader Women in Computing campaign to improve the women students' experience at Farmingdale State College (FSC) where womens enrollment in computing degrees has been historically low, FSC hosted its second annual Summer (Re)Orientation Program for Women Computing students on August 25, 2022. The recently approved Farmingdale State College ACM-W Student Chapter advisors and officers were instrumental in the planning and success of the event. A total of 34 women students including several male students representing other computing related clubs attended. The full day event included breakfast and lunch with table topics, a scavenger hunt, a technical workshop titled "Android app development with Kotlin," a faculty-led panel discussion "What is tech?," and ended with a team building activity. The goal of the (Re)Orientation program is for women students to have the opportunity to meet and bond with each other prior to the start of classes in a fun and engaging way.
UCSC ACM Student Chapter - (Colombo, Sri Lanka)
The UCSC ACM Student Chapter in collaboration with the NOI Scientific Committee organized the National Olympiad of Informatics (NOI) in July, at the University of Colombo School of Computing, Sri Lanka. It was organized with the aim of selecting the Sri Lankan Delegation for the 34th International Olympiad in Informatics. Ten talented competitors selected from a qualifier round of about fifty competitors competed by showcasing their algorithmic and logical thinking skills to secure their spot in the delegation. The event was successfully concluded after selecting the top four competitors for the delegation. The Chapter received positive feedback from the competitors, parents, and faculty and looks forward to organizing an even better iteration of the same in the coming year.
Nederland ACM SIGCHI Chapter - (Amsterdam, Netherlands)
On June 22, 2022, the Nederland ACM SIGCHI Chapter organized Dutch Post-CHI 2022, which was held at Centrum Wiskunde & Informatica (CWI) in Amsterdam. The event attracted around 55 attendees, with a program covering 16 researchers based in the Netherlands, who presented their accepted CHI 2022 papers, late-breaking works, courses, and workshop papers. We had an exciting keynote by one of the chapters early co-founders and this year's SIGCHI Lifetime Practice Award awardee, Dr. Steven Pemberton. It was a full day packed with research, networking, dinner and drinks, and meeting old and new friends. It marked the unofficial start of a full year of celebrations for the 25th anniversary of the Nederland ACM SIGCHI chapter. Read more on our blog post.
Blog post: https://chinederland.nl/2022/06/dutch-post-chi-2022/
Event website: https://cwi-dis.github.io/dutch-chi/
JMI University ACM-W Student Chapter - (New Delhi, India)
We are pleased to share that our student chapter conducted an online Career Guidance Session in July 2022 for engineering students on their path to software engineering roles. The guest speakers for our event were JMI alumni, Ms. Fakeha Rahman, currently a software engineer at Google who had previously interned at Amazon, and Ms. Firdausia Fatima who is currently a Strategic Cloud Engineer at Google and previously interned at Coding Ninjas as well as Mix.org. The speakers shared insights into their experiences and gave valuable preparation strategies. They guided students on how to practice Data Structures and Algorithms, study about Operating Systems and Networks, and highlighted the entire interview structure. The students learned from the speakers inspiring journeys and had the opportunity for a Q&A towards the end of the event.
---
Welcome to Our Newest Chapters
Assiut University ACM Student Chapter - Asyut, Egypt (Student)
Bangalore ACM Chapter - Bangalore, India (Professional)
Barcelona ACM-W Chapter - Barcelona, Spain (Professional)
Costa Rica ACM SIGCHI Chapter - Cartago, Costa Rica (Professional)
CU Colorado Springs ACM Student Chapter - Colorado Springs, USA (Student)
DBCE Goa ACM Student Chapter - Margao, India (Student)
De La Salle University ACM Student Chapter - Manila, Philippines (Student)
EEC ACM Student Chapter - Chennai, India (Student)
Farmingdale State College ACM-W Student Chapter - Farmingdale, USA (Student)
FICT ACM SIGCHI Chapter - Dili, Timor-Leste (Professional)
GVPCDPGC ACM Student Chapter - Visakhapatnam, India (Student)
IIT Hyderabad ACM-W Student Chapter - Hyderabad, India (Student)
Jadavpur University ACM Student Chapter - Kolkat, India (Student)
JMI University ACM-W Student Chapter - New Delhi, India (Student)
MANIT ACM Student Chapter - Bhopal, India (Student)
Mutah University ACM Student Chapter - karak, Jordan (Student)
NYU Tandon School of Engineering ACM-W Student Chapter - Brooklyn, USA (Student)
PIET ACM Student Chapter - Panipat, India (Student)
SIT Nagpur ACM Student Chapter - Nagpur, India (Student)
Texas Tech University CR ACM Student Chapter - San Jose, Costa Rica (Student)
Universidad Panamericana Aguascalientes ACM-W Student Chapter - AGUASCALIENTES, Mexico (Student)
University of Calgary ACM-W Student Chapter - Calgary, Canada (Student)
University of Delaware ACM Student Chapter - Newark, USA (Student)
University of Rochester ACM Student Chapter - Rochester, USA (Student)
VNITSW ACM-W Student Chapter - Guntur, India (Student)
---
Not an ACM Member yet? Whether you are a student or a professional, ACM has great benefits to offer you. Read all about ACM's many benefits and membership options.
---
Chapter and Chapter Member Benefits
Be sure to take advantage of the benefits ACM Chapters and ACM Chapter Members receive.
Read up on Professional Chapter Benefits and Resources, Professional Chapter Member Benefits, Student Chapter Benefits and Resources, and Student Chapter Member Benefits.
Written by leading domain experts for software engineers, ACM Case Studies provide an in-depth look at how software teams overcome specific challenges by implementing new technologies, adopting new practices, or a combination of both. Often through first-hand accounts, these pieces explore what the challenges were, the tools and techniques that were used to combat them, and the solution that was achieved.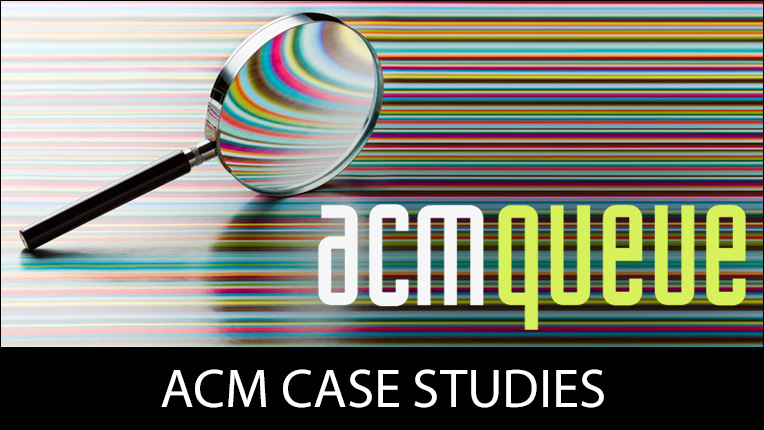 Career Resource
ACM offers lifelong learning resources including online books and courses from Skillsoft, TechTalks on the hottest topics in computing and IT, and more.