The best way to recruit chapter members, and new members for ACM as well, is through personal contact. No quantity of mailings can be as effective as personal contact.
The first source of potential chapter members is ACM and ACM SIG members in your area. ACM headquarters can send a message via listserv to members in the appropriate area detailing your chapter's activities and mission.
Your professional associates are also potential members. Opportunities for professional growth and networking abound in local chapters of ACM, and many of your colleagues and associates would find the contacts and activities highly rewarding.
Many other sources of members surround you, and all should be explored. Companies using computers or dealing in technology services have personnel who are potential members. Local colleges and high schools have staff members interested in or active in computing.
Why I Belong to ACM
Hear from Bryan Cantrill, vice president of engineering at Joyent, Ben Fried chief information officer at Google, and Theo Schlossnagle, OmniTI founder on why they are members of ACM.
For Practitioners
ACM Queue's "Research for Practice" is your number one resource for keeping up with emerging developments in the world of theory and applying them to the challenges you face on a daily basis. RfP consistently serves up expert-curated guides to the best of CS research, and relates these breakthroughs to the challenges that software engineers face every day. In this installment of RfP is by Nitesh Mor, a PhD candidate at UC Berkeley working on the next generation of globally distributed computer systems with a special focus on data security and privacy. Titled "Edge Computing," this RfP gives an overview of some of the most exciting work being done in the area of computing infrastructures and applications. It provides an academic view of edge computing through samples of existing research whose applications will be highly relevant in the coming years.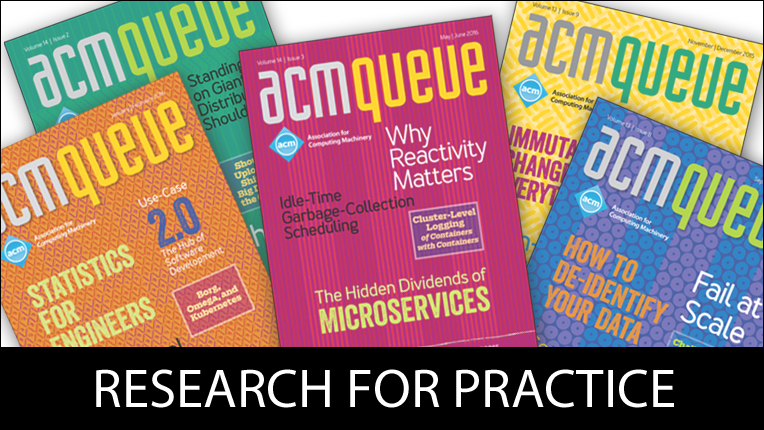 Written by leading domain experts for software engineers, ACM Case Studies provide an in-depth look at how software teams overcome specific challenges by implementing new technologies, adopting new practices, or a combination of both. Often through first-hand accounts, these pieces explore what the challenges were, the tools and techniques that were used to combat them, and the solution that was achieved.