The Exascale Report
ACM members save $188 on a subscription to The Exascale Report, a publication focusing on exascale levels of computation, the next great challenge and breakthrough in High Performance Computing.
The Exascale Report is pleased to offer a special, discounted subscription rate to all ACM members. Exascale is an important and pivotal discussion topic that will affect many of us who work in the global ecosystem of advanced computing, affecting key areas such as hardware, software, memory, networking, storage, applications, visualization, and others.
Individual subscriptions are discounted to ACM members and cost only $100/year (a savings of $188 over the regular price) and run for 12 months from date of purchase. Be sure to select "ACM Discounted Annual Subscription" as your subscription option and enter your ACM member number.
Go to http://theexascalereport.com/content/2012/special-offer-acm-members to subscribe and to learn more about this publication.
ACM Queue's "Research for Practice" is your number one resource for keeping up with emerging developments in the world of theory and applying them to the challenges you face on a daily basis. In this installment, Dan Crankshaw and Joey Gonzalez provide an overview of machine learning server systems. What happens when we wish to actually deploy a machine learning model to production, and how do we serve predictions with high accuracy and high computational efficiency? Dan and Joey's curated research selection presents cutting-edge techniques spanning database-level integration, video processing, and prediction middleware. Given the explosion of interest in machine learning and its increasing impact on seemingly every application vertical, it's possible that systems such as these will become as commonplace as relational databases are today.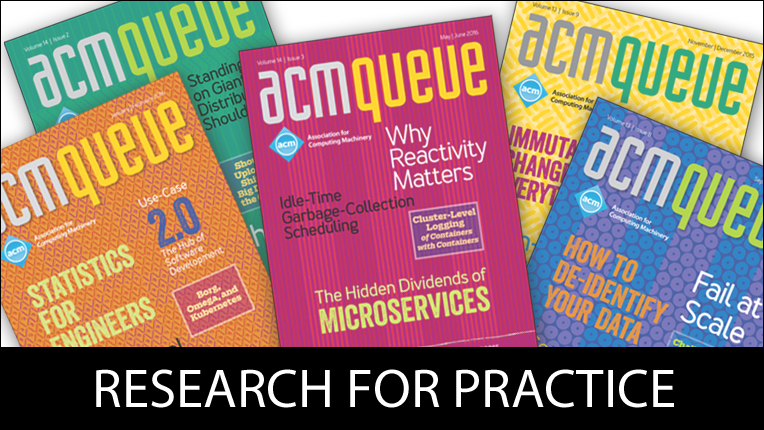 Career Resource
ACM offers lifelong learning resources including online books from Safari, online courses from Skillsoft, webinars on the hottest topics in computing and IT, and more.