Special Member Rates - Developing Countries
Membership Application for Individuals Residing in Economically Developing Countries
In an effort to fulfill ACM's mission of disseminating computing and information technology ideas, techniques and discoveries, as widely as possible, ACM has developed a special set of membership dues (based on the World Bank GNI per capita Atlas method data) for both professionals and students, and Digital Library subscription pricing affordable to individuals residing in economically developing countries.
Instructions:

Please click on the type of membership that applies to you -- Professional or Student -- and select your country of residence:
Professional
Student
Complete the Professional or Student Membership Application and pay using a credit card, or print the form and fax or mail it in to us:

Association for Computing Machinery, Inc.
General Post Office
P.O. Box 30777
New York, NY 10087-0777 USA
Fax: +1-212-944-1318
Tel: +1-212-626-0500
For Practitioners
ACM Queue's "Research for Practice" serves up expert-curated guides to the best of computing research, and relates these breakthroughs to the challenges that software engineers face every day. This installment, "The DevOps Phenomenon" by Anna Wiedemann, Nicole Forsgren, Manuel Wiesche, Heiko Gewald and Helmut Krcmar, gives an overview of stories from across the industry about software organizations overcoming early hurdles of adopting DevOps practices, and coming out on the other side with tighter integration between software and operations teams, faster delivery times for new software features, and achieving higher levels of stability.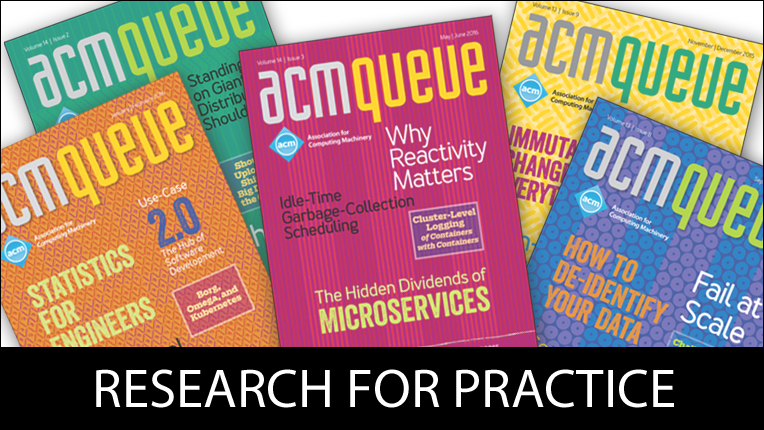 Career Resource
ACM offers lifelong learning resources including online books from O'Reilly, online courses from Skillsoft, TechTalks on the hottest topics in computing and IT, and more.