PACM Production Information
Role of SIG Vendor in Proceedings of the ACM (PACM) Publication
Utilize the Conference Management System of (SIG) choice.

The ACM preferred CMS' are: HotCRP, EasyChair, and PCS.

Ensure that all authors use the journal template selected by the respective PACM title.

A title can choose to use either the current ACM large or the ACM small format:

http://www.acm.org/publications/authors/submissions
Facilitate eRights management, which entails:

Collating all necessary copyright information in the ACM .csv file format and uploading the file into the ACM eRights system.
Following up with authors to ensure timely completion of their ACM eRights forms. Note: At this time, ACM will not accept research article materials until all eRights forms have been completed.

Collect materials from editors and authors. This task includes:

Creating a folder for each article. It should be named according to the conference acronym and the unique paper ID (e.g. mobilehci16-252), and contain the following sub-folders:

Source (e.g. mobilehci16-252.zip, mobilehci16-252.docx)
Pdf (e.g. mobilehci16-252.pdf)
Optional: Supplements (e.g. mobilehci16-252.mp4, mobilehci16-252.ppt, mobilehci16-252.jpg)

Example Structure:
mobilehci16.zip

mobilehci16-paper_id.zip

source

<something>.tex
…
images
<supporting_files>
<something>.docx

pdf

<something>.pdf (Camera ready PDF)

supplements

abcd.mp4 presentation.ppt
image-1.jpg
README

Checking that all camera-ready PDFs display the correct rights statements, based on the eRights process in task #3.
Formatting front and back matter files, which include table of contents, editorial statement, and (optional) author index; note that both inside and outside cover content are excluded from this – please refer to "Role of ACM/ACM Vendor" below.
Combining front/back matter and all article file collections into a single zip folder. This zip folder should be named according to the acronym of the event, with no spaces or special characters added (e.g. mobilehci16).

Deliver materials to ACM (at least) three weeks prior to proposed publication date. FTP upload instructions will be sent via email after review and approval of all eRights forms.
Role of ACM Vendor
Paginate issue from cover to cover using ACM journal specifications

.
Role of ACM
Prepare both inside and outside covers:

Inside front cover – displays information about editorial board membership (provided to ACM by editors).
Inside back cover – displays subscription information (provided by ACM following editorial review).
A Note on Timelines
While ACM does not officially impose deadlines, please be aware that processing for publication in the ACM DL takes 2-3 weeks. If an issue must be published in the ACM DL by a certain date, all materials should therefore be submitted to ACM at least 2-3 weeks before that date. Because all eRights forms must first be reviewed after author completion, the vendor should strive to have all eRights forms completed at least one week prior to the target submission date.
Proceedings of the ACM on Programming Languages (PACMPL) is a Gold Open Access journal publishing research on all aspects of programming languages, from design to implementation and from mathematical formalisms to empirical studies. Each issue of the journal is devoted to a particular subject area within programming languages and will be announced through Calls for Papers.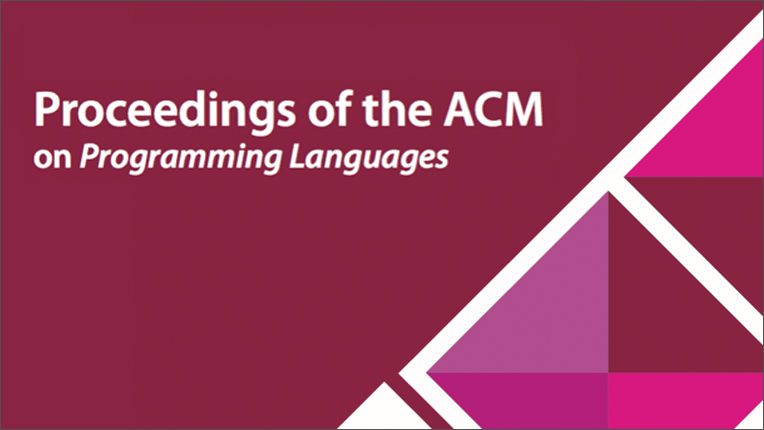 Proceedings of the ACM on Interactive, Mobile, Wearable and Ubiquitous Technologies (IMWUT) is a premier journal for research relevant to the post-PC era. IMWUT covers a broad range of topics and includes research contributions in systems and infrastructures, new hardware and sensing techniques, and studies of user experiences and societal impact.