Our vendor list represents companies ACM has done business with. We cannot warranty or guarantee their work, but believe them to be reputable and honest in their business relationships.
Service
Company
Contact

Audio Visual

CEAVCO

phone: 303-539-3500

Gateway Production Services

phone: 605-366-3944

Presentation Technologies

Michael Dowling

phone: 908-453-2400

Badges

Conference Badge

Pricing: Print Your Own (.25 per badge)

Printed & Assembled in Holders (1.79 per badge +.99 per lanyard)

Discounts for events with 400+ attendees

Cart/Captioning

(Sign Language Interpreter)

AML-Global

American Sign Language Services

phone: 800-951-5020

Brewer & Darrenougue

Overseas Interpreting LTD

(American Sign Language, British Sign Language, International Sign, English, French)

Phone (London): +44 7803 362 493

Phone (Paris): +33 651 53 34 24

SLS Sign Language Services Inc

(American Sign Language and Video Conferencing Services)

phone: 905-873-9927

Childcare

KiddieCorp

phone: 800-942-9947

Conference Management

Executivevents

phone: 888-254-9128

CTE Conference Technology Enhancements. Inc

phone: 847-957-4200

Conference Management

(Australia)

ICE Australia International Conferences & Events

Promotional Items

HM Marketing

phone: 732-661-9797

Brown & Bigelow

phone: 631-242-3450

Bluestone Marketing

phone: 303-527-0900

Registration

(Onsite Management)

Executivevents

phone: 888-254-9128

Video Capture and Livestreaming

Focal Point Productions Inc

phone: 410-701-0377
For Practitioners
ACM Queue's "Research for Practice" is your number one resource for keeping up with emerging developments in the world of theory and applying them to the challenges you face on a daily basis. RfP consistently serves up expert-curated guides to the best of CS research, and relates these breakthroughs to the challenges that software engineers face every day. In this installment of RfP is by Nitesh Mor, a PhD candidate at UC Berkeley working on the next generation of globally distributed computer systems with a special focus on data security and privacy. Titled "Edge Computing," this RfP gives an overview of some of the most exciting work being done in the area of computing infrastructures and applications. It provides an academic view of edge computing through samples of existing research whose applications will be highly relevant in the coming years.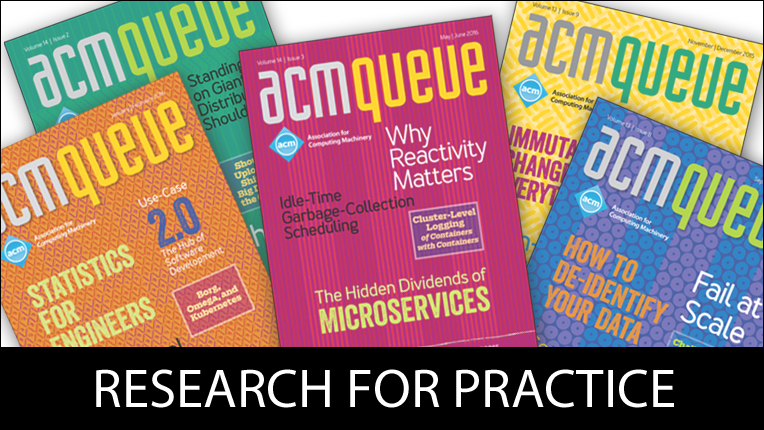 Why I Belong to ACM
Hear from Bryan Cantrill, vice president of engineering at Joyent, Ben Fried chief information officer at Google, and Theo Schlossnagle, OmniTI founder on why they are members of ACM.
Written by leading domain experts for software engineers, ACM Case Studies provide an in-depth look at how software teams overcome specific challenges by implementing new technologies, adopting new practices, or a combination of both. Often through first-hand accounts, these pieces explore what the challenges were, the tools and techniques that were used to combat them, and the solution that was achieved.