When planning an event, it is very important to note when action needs to take place on certain tasks in order to complete milestones in a timely manner. ACM has created a "Timeline for Action" as a reference guide for conference leaders. Using this timeline as a guide throughout the planning process will help organizers have a smooth planning experience, and avoid a last minute rush for contracts, payments, orders, and registration.
18 Months Pre-Conference

Appoint committee members
Submit PAF (Preliminary Approval Form)

14 Months Pre-Conference

Work with ACM site selection coordinator on venue/hotel contracting
Submittal/Approval of TMRF (Technical Meeting Request Form)
Create website

12 Months Pre-Conference

Finalize venue/hotel contract
Schedule tutorials and exhibits

10 Months Pre-Conference

Distribute Call for Papers

9 Months Pre-Conference

Solicit for corporate support
Request access to view conference bank account from Conference Operations Liaison

6 Months Pre-Conference

Accept papers/notify authors
Submit preliminary session/function schedule to hotel

5 Months Pre-Conference

4 Months Pre-Conference

Open registration
Authors complete e-right forms and provide papers

3 Months Pre-Conference

Food & beverage, av needs determined and submitted to hotel
Select social events and secure contracts
Submit program ad to ACM publications (CACM, MemberNet, etc)

2 Months Pre-Conference

Prepare proceedings
Prepare plaques and certificates
Finalize food & beverage, audio visual

1 Month Pre-Conference

Finalize program
Deadline for submitting files for Digital Library availability on first day of event

1 Week Pre-Conference

Prepare badges
Pre-conference meeting to finalize food & beverage, audio visual/submit final guarantee numbers to hotels and functions
Final program and proceedings ready

1 Month Post-Conference

Submit remaining bills/reimbursements to ACM for payment
Finalize outstanding corporate support payments
Students submit for travel grant payments

2 Months Post-Conference

Start working with Conference Closing Coordinator to review and finalize financials

No Later Than 120 Days Post-Conference

Prepare final financial report with ACM closing coordinator
For Practitioners
ACM Queue's "Research for Practice" is your number one resource for keeping up with emerging developments in the world of theory and applying them to the challenges you face on a daily basis. RfP consistently serves up expert-curated guides to the best of CS research, and relates these breakthroughs to the challenges that software engineers face every day. In this installment of RfP is by Nitesh Mor, a PhD candidate at UC Berkeley working on the next generation of globally distributed computer systems with a special focus on data security and privacy. Titled "Edge Computing," this RfP gives an overview of some of the most exciting work being done in the area of computing infrastructures and applications. It provides an academic view of edge computing through samples of existing research whose applications will be highly relevant in the coming years.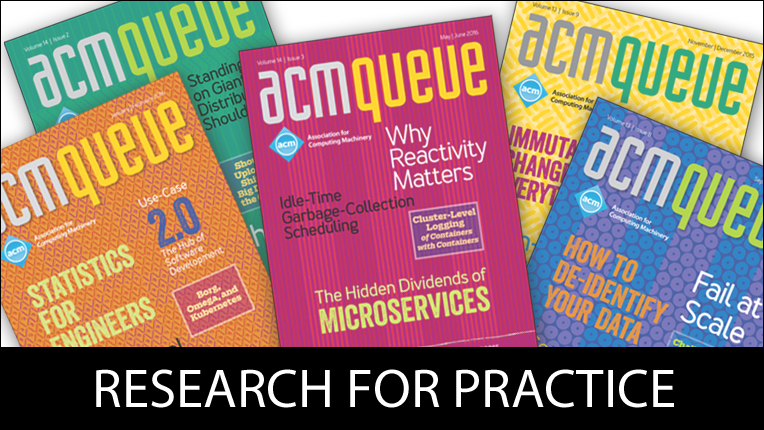 Why I Belong to ACM
Hear from Bryan Cantrill, vice president of engineering at Joyent, Ben Fried chief information officer at Google, and Theo Schlossnagle, OmniTI founder on why they are members of ACM.
Written by leading domain experts for software engineers, ACM Case Studies provide an in-depth look at how software teams overcome specific challenges by implementing new technologies, adopting new practices, or a combination of both. Often through first-hand accounts, these pieces explore what the challenges were, the tools and techniques that were used to combat them, and the solution that was achieved.