SIGWEB Viability Report - August 2005
Peter J. Nürnberg
Chair, SIGWEB
background
founded c. 15 years ago as SIGLINK
changed name to SIGWEB in 1998
members from different fields
(computer science, literary studies, library studies)
members from different professions
(academics, professionals, writers)
common member themes:

Doug Englebart's vision of augmenting the human intellect
Vannevar Bush's vision of building tools that fit the way people think
fora
HT: Hypertext Conference
JCDL: Joint Conference on Digital Libraries
DocEng: Symposium on Document Engineering
ICSOC: International Conference on Service Oriented Computing
up-to-now
membership:

significant slippage through June 2004
stabilized recently
reflects dropping conference attendance

money:

3-year moving average stable at c. $155K
current fund balance reflects conference difficulties in FY 05

fora:

attendance slowly slipping in "core" fora
attendance improving at new fora
present
recent new elections

old XC now in new, non-XC positions
new XC contains mix of new, long-time volunteers

working on new long-term sponsorship/support agreements

WWW starting 2007 (agreed in principle)
ICWE starting 2006 (agreed in principle)
CIKM starting 2006(?) (talks underway)

working on stronger ties to regional groups

GI-Hypertextsysteme (Germany)
SBC-Multimedia/Hypermedia (Brazil)
future
more work in electronic publishing

HT 2005 will pilot CD-only proceedings
considering other fora for CD-only

more proactive event management

more proactive participation in steering committees
different vetting process for GCs

new membership services centered around web site, DL

"members-only" areas on web site
central location for conference wikis, etc.
ACM DL binders
Why I Belong to ACM
Hear from Bryan Cantrill, vice president of engineering at Joyent, Ben Fried chief information officer at Google, and Theo Schlossnagle, OmniTI founder on why they are members of ACM.
For Practitioners
ACM Queue's "Research for Practice" consistently serves up expert-curated guides to the best of computing research, and relates these breakthroughs to the challenges that software engineers face every day. This installment of RfP is by Anna Wiedemann, Nicole Forsgren, Manuel Wiesche, Heiko Gewald, and Helmut Krcmar. Titled "The DevOps Phenomenon," this RfP gives an overview of stories from across the industry about software organizations overcoming the early hurdles of adopting DevOps practices, and coming out on the other side with tighter integration between their software and operations teams, faster delivery times for new software features, and achieving a higher level of stability.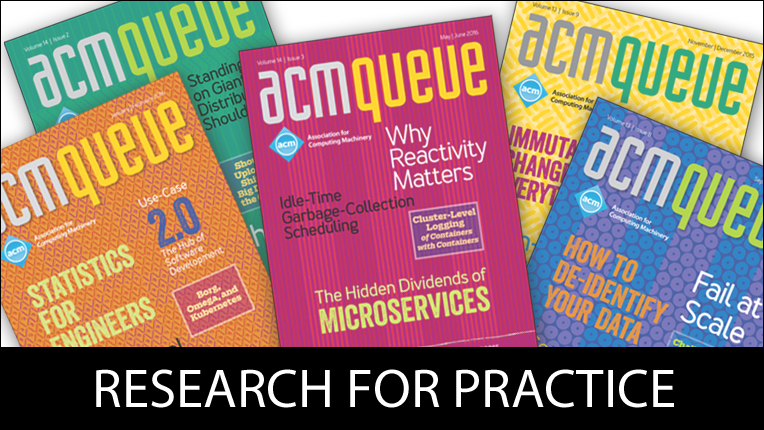 Career Resource
ACM offers lifelong learning resources including online books from Safari, online courses from Skillsoft, TechTalks on the hottest topics in computing and IT, and more.