What's up Lately at ACM India - Winter Edition
December 30, 2020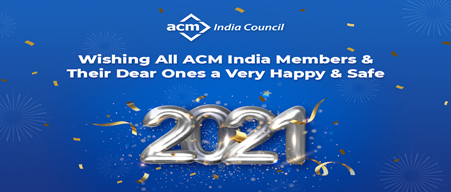 Dear friends @ ACM India,
Here is wishing you all a very happy new year! After an eventful but challenging year that we have gone through, there is much to look forward to from the new year 2021.
While the last two months marked a festive season across the country, it has also been a very active season for us at ACM India. Despite the adversities we have faced, thanks to the commitment and enthusiasm of our members and volunteers our activities have not lost any of their momentum. In fact we not only adapted to the online way of doing things, but also kicked off some new initiatives since we last had this communication.
ACM India Award Goes To…
Acknowledging an outstanding contribution is important for inspiring an individual further and motivating others. And what better than a prestigious award to celebrate the contribution? While the computing community in India is quite strong, there was a dearth of India specific awards of international repute, dedicated to recognizing significant contribution to Computing. So we introduced three individual awards for computing professionals this year. You may have seen the announcement of winners for the inaugural edition of ACM India awards. These awards supplement the student award for Best Doctoral Dissertation which was instituted in 2011. Please join me in congratulating the award recipients:
The awards will be given out during the ACM India Annual Event to be held online on 13 February 2021. But more about that later…
ACM Distinguished Members Announced
We are proud to have Sudip Misra of IIT Kharagpur appearing in the list of this year's Distinguished Members of ACM. Congratulations to Sudip on this achievement! We hope to see many more nominations and successes from India in this list next year and in the years to come.
Featured Member in People of ACM
Talking about global ACM level visibility of members from India, Meena Mahajan of Institute of Mathematical Sciences, Chennai was featured in the People of ACM series for her contributions to computational complexity theory.
Live Interaction Series Started
Our Industry and Education Webinar Series model is where we invite one eminent speaker for a talk. In order to have a flavor of conversation, we have supplemented it with a new Live Interaction Series where multiple experts of a technology area come together to answer questions in a "fireside chat" mode. So the focus is more on live conversation among themselves and the audience. We have received a very good response to the two sessions so far, on AI/ML in Networked Systems and Safety & Security in Cyberphysical Systems.
PhD Clinic Has Taken Off
Our brand new initiative to facilitate student research is growing in leaps and bounds. The purpose of the PhD Clinic is to help PhD students across the country to get feedback and suggestions on their work from subject matter experts. We believe having this third eye, in addition to the advisor(s), will give a great advantage to their research work. Any PhD student (not restricted to ACM members) can sign up for the Clinic. Already more than 100 students are deriving value from these PhD clinics, with over 30 mentors from India and abroad. You can find more information in the recent announcement inviting registrations for the January 2021 sessions.
Online Winter Schools Have Begun
The ever-popular Winter Schools are being offered in online mode this time around. Two schools have already in progress while other two start early next month. As usual, there is one school exclusively for women students. There are ~40 students per school who participate live in interactive mode. They will get a certificate from ACM India for having attended the school. We will of course make the school recordings publicly available once all the schools are done.
Education Symposium COMPUTE 2020
COMPUTE 2020, ACM India's flagship symposium on computer science education, was successfully conducted by VNIT Nagpur virtually from 9 to 12 December 2020. The conference included workshops on Algodynamics and Education Research. One of the keynote talks was by Sridhar Iyer, recipient of the ACM India Outstanding Contribution to Computing Education award.
Second Edition of CSpathshala's CTiS
CSpathshala is an ACM India initiative to bring computational thinking and modern computing curriculum to Indian schools. This time the Conference on Computational Thinking in Schools (CTiS 2020) was held in October, virtually for obvious reasons. Like last year, the response was overwhelming with 236 abstracts received from school teachers across India. The conference featured presentations of selected abstracts with sessions on implementation of computational thinking, fun activities and innovative examples used by teachers in classrooms.
National Level Coding Contest
We recently announced the results of ACM India National Level Coding Contest, which saw participation from more than 3,000 students. After three rounds of shortlisting, Kalyan Varma Nadimpalli of IIIT Bangalore was declared as winner while Ruturaj Atul Godse of BITS Pilani Goa Campus was declared as runner-up. Congratulations to the winners! Our thanks to all the contestants for their enthusiastic participation as well as ReliScore for their technical support.
Recent Activities of ACM-W India
In September, ACM-W India and ACM Nagpur Professional Chapter organized the first virtual edition of ACM India Celebration of Women in Computing (AICWiC 2020) in collaboration with local colleges and Persistent Systems. The objective for this event was to provide an explicit platform for women in technology to showcase their innovation and ideas, and motivate others to take up the challenge of making India "Aatma-nirbhar." Using a similar theme of Self-Reliant India, last week ACM-W India conducted the 5th National Level Hackathon, virtually hosted by ABES Engineering College Ghaziabad.
We invite you to catch up on all their activities through the event webpage, or better still, to participate in this important initiative focused on empowering women in computing.
Cisco Joins us as Silver Partner
Adding to the list of our institutional industry partners, we are pleased to announce that Cisco has joined us at the Silver tier. Support from our industry partners goes a long way in funding and sustaining our initiatives. Apart from financial support, our partners lead certain activities as well. For example Cisco has also taken an active role in our summer and winter schools on Cybersecurity by sponsoring them and having their experts participate as faculty. Let's extend a warm welcome to Cisco!
ACM India on YouTube
Do you know that ACM India now has an active YouTube channel? We have revived it with video content such as recent PhD Clinic AMA sessions and our Council members talking about what ACM India means to them. Do take a look, subscribe to it and expect many more video clips showing up there.
Welcoming 2021 in Style!
Having talked about some (certainly not all) of the recent developments, it is time to tell you what to expect in the initial part of the new year.
Anveshan Setu for PhD Students
ACM India is kickstarting a PhD student visitor program, Anveshan Setu, allowing students to visit faculty of their choice (mutually agreed between student, their adviser and host faculty) depending on the research interests to get an immersive experience of research. The announcement will happen next week.
ACM India Minigraphs
A minigraph (a shorter monograph) is a 20-25 page technical document outlining major aspects of an area, for the benefit of young industry professionals who are not working in that area, but want to get a good understanding of it. It will be a high quality publication, fairly self-contained (so that you don't have to look up too many references), authored by an expert, reviewed by a committee. The Minigraph Editorial Board plans to launch the first set of minigraphs within a quarter, so not too long a wait.
Industry Bootcamps
Continuing with our industry initiatives, we plan to launch the ACM India Bootcamp Series shortly. It had to be put in suspended animation last year. A bootcamp is a 3-day workshop designed exclusively for industry professionals who want to get an overview and practical knowledge of a technology area. We plan to organize the first of bootcamp series in virtual mode, on Blockchain in mid-February. It will include theoretical foundations, hands-on sessions and case studies delivered by expert faculty from academia and industry.
As usual, you don't have to be a member of ACM to register, but being a member certainly will make it easy to find out about these learning resources offered by ACM India.
Chapter Award Nominations are Open
It is now time to recognize the contribution of our student chapters across the country. We are inviting submissions for the Best Student Chapter Awards for 2020. The winner and runner-up awards are sponsored by icertis. Please visit https://acmindia-studentchapters.in for details on submitting, but remember that the deadline is 15 January 2021.
Upcoming Events and Conferences
Our international annual conferences in partnership with Special Interest Groups (SIGs) are around the corner: CODS-COMAD 2021, COMSNETS 2021 and ISEC 2021.
ACM India's ACM-W Workshop 2021, the student symposium ARCS 2021 (formerly IRISS) and the flagship conference Annual Event 2021 will take place virtually on 10-13 February. As you can see, the program of ARCS 2021 is already taking shape. As a teaser, I will only mention that this not-to-be-missed set of co-located events will feature opportunity of interaction with eminent computing leaders such as recent Turning Awards Laureate, ACM Award recipients and ACM leadership, both India and global. The ACM India awards function will also take place during Annual Event 2021. Stay tuned for the details and call-for-participation for these events soon. As the dates are already known, do mark your calendars now.
Finally, Calendar of Events
Calendar reminds me: with all these activities and events taking place, it has now become a necessity to have a calendar of ACM India events at one place which can be looked up easily. It's coming soon and will be linked from ACM India events site. Please stand by.
That was a not-so-brief overview of our achievements and plans. I will be back with next edition in another quarter or so. In the meanwhile, feel free to write to me with your suggestions and feedback.
Wish you a happy new year again. Please take care and stay safe.
Regards,

Hemant
Hemant Pande
Executive Director, ACM India Council
hemant_pande@india.acm.org