Outstanding Chapter Activities Award 2006
Moscow Institute of Electronic Technology ACM Student Chapter
About the MIET

Moscow Institute of Electronic Technology (Technical University) was founded in 1965. It is situated in Zelenograd – a cozy district of Moscow. The campus buildings are interconnected to form a single complex with original architecture. The complex provides great opportunities for education, recreation, sports and art. Ernst Neizvestny contributed to MIET unique architecture.
MIET training of superior quality is carried out by highly skilled faculty, including more than 100 Doctors of Sciences, over 300 PhDs along with a sound technical base, personal curricula and modern training methods. The University takes great pride in professionalism of the faculty, responsibility in fulfilling its duties and in its outstanding results.
The curricula of the departments provide fundamental training in physics, mathematics and computer science along with an in-depth study of a foreign language, high-quality training in management, marketing and profound professional training.
MIET has adequate technical base: well-equipped education and science laboratories, computer classrooms with modern networked computers connected to the Internet. The main library of the university has over a million books and periodicals, including those in foreign languages. The institute cooperates with leading universities of Europe and the United States, takes part in undergraduate, postgraduate and professor exchange programs. Full-time students do their practical work at MIET scientific laboratories and subdivisions, as well as at Moscow and Zelenograd companies. A program of elite professional training is carried out at MIET in cooperation with a number of foreign leaders in electronics industry: Cadence, Synopsys, Freescale Semiconductor, PTC, Mentor Graphics and others.
Chapter Activities:

Event #1:
General Meeting
Date: September 12, 2005
Number of people in attendance: 14
Description: It was an entrance to a big fruitful work. At the meeting the officers of the Chapter were introduced. Provost on IT who follows us up gave a short speech. Plans on the semester were provided. Various announcements were made.
Event #2:
Training for programming contests
Date: starting from October, every Tuesday, 2005 (every Thursday in 2006)
Number of people in attendance: usually not exceeding 15
Description: the chapter became the major force in the institute in preparing student teams for various programming contests held in Moscow or nationwide.
Event #3:
NEERC, Moscow Subregional (ACM ICPC 2005-2006 1/4 final)
Date: October 23, 2005
Number of people in attendance: 15
Description: 4 teams from MIET took part in Moscow subregional programming contest, which is part of north-eastern Europe regional contest (semifinal of ICPC). The competition was hold in Moscow State University and gathered more than 70 teams from universities and institutes in Moscow subregion.
Event #4:
Databases for EDA
Date: December 13, 2005
Number of people in attendance: 45
Description: This lecture uncovered modern trends in designing databases for electronic design automation (EDA) industry, their construction and application in computer-aided design systems. Experts from Cadence Corp. gave a talk. Information support was also supplied by Si2.
Event #5:
Computer history
Date: January 16, 2006
Number of people in attendance: 9
Description: two teams for participating in computer history competition were formed. Possible topics from history of the computers were discussed. Various web technologies were considered.
Event #6:
Conference Thesis Workshop
Date: February 17, 2006
Number of people in attendance: 17
Description: How to write thesis to a conference right? This very important challenge for students doing research or intending to do it in the near future was addressed by senior researcher from a department. Among topics covered were thesis topics, choosing appropriate title for thesis, thesis structure and main building blocks.
Event #7:
Expedition to the top of Europe
Date: February 26 - March 10, 2006
Number of people in attendance: 7
Description: It is actually boring to solve computer science NP-hard problems all the time while you are at school. So we decided to solve another one – to mountaineer the highest peak in Europe – the summit Elbrus (5642 meters above sea level). The purpose was to promote ACM among students. The photos of this event can be viewed at the following address.
Event #8:
VIII Moscow programming competition.
Date: April 2, 2006
Number of people in attendance: 11
Description: 3 teams from MIET took part in annual Moscow programming contest. The competition is traditionally held in Moscow State University. The whole number of participated teams exceeds 80.
Event #9:
Oberon day in Zelenograd
Date: April 7, 2006
Number of people in attendance: 42
Description: The central theme - project Oberon - trending in modern programming and conclusions for information technology education. Invited lecturer told audience about language Oberon, designed by ACM's A.M.Turing Award winner Niklaus Wirth. Modern design frameworks and design environments in Oberon were considered. Among ACM chapter attendees were K-12 teachers from Zelenograd high schools with whom various possibilities of encapsulating Oberon in CS curriculum were examined. The event drew interest from ACM's Computer Science Teachers Association. The chapter organized this event with Russian Academy of Sciences and Institute of Nuclear Research.
Event #10:
Microelectronics and Informatics - 2006
Date: April 19-21, 2006
Number of people in attendance: more than 400
Description: Chapter members took active part in organizing the 13th annual nationwide Russian conference in microelectronics and information technology for undergraduates and gradates, which was hold in MIET. The conference had 13 special sections, among them nanotechnology in electronics, design and technology of electronic components, mathematical models and algorithms in informatics, biomedicine and others. The conference collected participants from all over the country including those from Belarus.
The extended information of this event can be viewed on this website.
Event #11:
Coffee hour with Java creator Dr. James Gosling
Date: April 20, 2006
Number of people in attendance: 52
Description: During Sun Tech Days conference in Moscow and "Microelectronics and Informatics" conference (19-21 April) in Zelenograd was organized round-table discussion with Java creator, Vice- President of Sun Microsystems, Dr. James Gosling. In the agenda were perspectives of Java technology, OpenSolaris program, and other educational and scientific programs of Sun Corp. ACM's Java Engagement for Teacher Training program was also discussed there. Free lunch for attendees was funded by the Sun Corporation.
The photos of this event can be viewed at the following address.
Event #12:
Validation of highly-integrated SOC processors
Date: April 21, 2006
Number of people in attendance: 45
Description: an overview of the many compelling technical problems that impact validation of highlyintegrated SOC processors in 2010 and beyond was presented on open forum. The context of Intel Validation Research Lab's research in such topics as bug prevention, defect detection and containment, and system resiliency was presented too. Expert from Intel Corp. told about research spanning pre-silicon functional validation to post-silicon validation and test. Various topics on disciplines were discussed: architecture and microarchitecture, functional validation (including formal methods and dynamic simulation), silicon test technology, electrical and circuit marginality validation, and system and platform level validation.
Event #13:
Rock-climbing in Crimea
Date: May 1-9, 2005
Number of people in attendance: around 50
Description: some part of student campus stopped learning for a while and moved their activity to rocky region of southern Ukraine – Crimea mountains, where they found themselves climbing on rocks, swimming in a cold spring sea and dreaming of the summer. Funded by MIET and municipality of Zelenograd.
Event #14:
Workshop on design patterns
Date: May 13, 2005
Description: The workshop will cover basic elements of reusable object-oriented software. Various design patterns with examples in C++ will be presented.
Event #15:
Local Programming Contest
Date: May, 2006
Description: Organizing local programming contest is inseparable part of much broader work on training students for participating in national contests like NEERC and MSU. Certificates of merit will be given by the EECS department.
Event #16:
Career Day
Date: May, 2006
Description: Smooth transition of graduates to professional life is one of superior tasks of every educational institution. One step in accomplishing it will be done in a workshop conducted by our chapter in conjunction with MIET employment office.
It should be noticed that all events organized by MIETACM chapter were provided free, without fees from participants independently of their status (student/non-student) and membership in the chapter. Two large tutoring programs conducted by volunteers from the ACM chapter: training for programming contests and courses on design automation (synthesis of digital schemes), both holding weekly, got positive feedback from the institute authorities.
But most of all these events gave students an excellent opportunity to express themselves, evolve their creativity, advance and apply knowledge they've learned in classrooms.
Written by leading domain experts for software engineers, ACM Case Studies provide an in-depth look at how software teams overcome specific challenges by implementing new technologies, adopting new practices, or a combination of both. Often through first-hand accounts, these pieces explore what the challenges were, the tools and techniques that were used to combat them, and the solution that was achieved.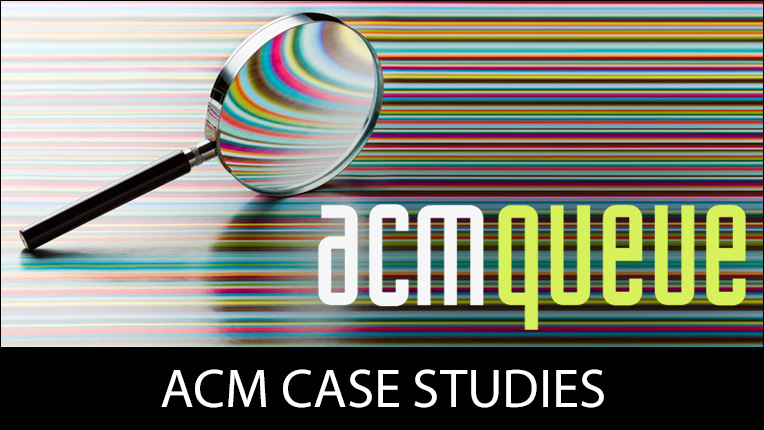 Career Resource
ACM offers lifelong learning resources including online books and courses from Skillsoft, TechTalks on the hottest topics in computing and IT, and more.