Outstanding Chapter Activity 2010-2011
ACM Student Chapter Excellence Award
April 9, 2011
1. Informations about the chapter
UCLouvain ACM Student Chapter
Louvain-la-Neuve, Belgium
http://uclouvain.acm-sc.be/
Officers:
Sébastien Combéfis, Chair (sebastien.combefis@uclouvain.acm-sc.be)
Damien Leroy, Vice-Chair (damien.leroy@uclouvain.acm-sc.be)
Laurent Lamouline, Secretary (laurent.lamouline@uclouvain.acm-sc.be)
Pierre Bouilliez, Treasurer (pierre.bouilliez@uclouvain.acm-sc.be)
Pr Olivier Bonaventure, Faculty Sponsor (olivier.bonaventure@uclouvain.be)
About the members:
The chapter is officially composed of the officers and of 20 active members. There are 11 more people that are under consideration for becoming member. We have so a total of 35 official members. Moreover, there are also a lot of supporting members that are not active, in the sense they do not participate directly in the organization of all the events, but help us occasionally and they follow very closely our activities. Among these members, there are PhD students in computer science and bachelor and master students having computer science or electricity as major. The members are between 18 to 30 years old.
About the university:
Our chapter is the one of the Université catholique de Louvain which is a full university in the french speaking part of Belgium. There are two programs which deliver degrees in computer science : a master in computer science and a master in computer science engineering. There is also a master program specialized in Natural Language Processing (NLP). Computer Science course are also followed as a minor by bachelor students from mathematics, physics, economics and management.
About the chapter:
The aim of our chapter is to promote computer science to people at large and to inform them about what is computer science, as a science and not only as a set of tools or technologies that people uses everyday. Our motto is naturally « Spread Computer Science, Inform People ». We target people at large, starting from small children in primary school to students in secondary and tertiary school, as well as families, and ICT professionals.
To reach our goal, we organize different kind of events targeted to different audience. We organize conference for people at large, more specialized tutorials for students and ICT professional, a scientific weekend for children and their families and a programming contest for high school students. Of course, all our events are opened to anyone having interest in computer science.
2. Outstanding Chapter Activities
Our members are very active and dynamic. The chapter started in october 2009, and a lot of quality events took place since then. We started from nothing, then we got a name, a logo, a website, a newsletter and people started to know us, to follow our activities. We passed from a situation where nobody knows that our association exists to a situation where people are following our activities and participate to them. The chapter is organized with six activities: Evening Thematic Conferences, Belgian Olympiads in Informatics, Scienceinfuse Festival, Tutorials/Trainings, Social Events and Programming contests. The remaining of the text describes the events organized from September 2010 to now.
A. LaTeX Training:
A complete training to LaTeX, a free system to compose professional documents, has been proposed. The first part was a two hours presentation given by one speaker and the second part was a two hours practical part in computer room, supervised by a team of 11 students whose goal was to mentor the attendees. We counted about 120 attendees for the first part and about 65 for the second.
The event took place during November 2010 and was focused to students, but was opened to everyone who was interested. We got some external attendees. The attendance was free.
http://uclouvain.acm-sc.be/latex
B. BEGRID Workshop:
That workshop aims at discovering how to use a grid which is an infrastructure composed of many computers on which it is possible to run computations and distributed applications. The one afternoon workshop was composed of a short theoretical introduction followed by a practical session on the BEGRID infrastructure (the Belgian grid managed by BELNET). There were about 20 attendees.
The event took place on December 14, 2010, from 2pm to 6pm and was focused on students studying computer science. The attendance was free.
http://uclouvain.acm-sc.be/activites/2010-2011/tutoriels/begrid
C. Agile Campus Tour:
The chapter hosted the first round of the Agile Campus Tour (http://agilecampustour.org/). The goal of the promotors of that tour is to inform people about the agile development methodology. As their goals fits well with ours, we decided to host that tour for the students of our university. The tour was composed of four 1-hour theoretical sessions and two 3-hours practical sessions (one on estimation and planification, and the other one on coding). There were about 60 attendees for the theoretical sessions and 30 attendees for the practical sessions (which was the limit due to room and staff constraints).
The event took place from February 10, 2011 to March 3, 2011. It was focused on students and researchers studying computer science.
http://uclouvain.acm-sc.be/agile-campus-tour
D. Programming contest:
The first programming contest we organized consisted in a 5-hour contest where the contestants were asked to solve the tasks of the International Olympiads in Informatics 2010 (IOI2010). That was an opportunity for the contestants to measure their level and compare it with the secondary school guys who participated to the IOI2010. There were 20 attendees.
The event took place on February 2, 2011, from 4pm to 9pm and was mainly opened to students and researchers in computer science. The attendance was free.
http://uclouvain.acm-sc.be/activites/2010-2011/concours/ioi-2010
E. Scienceinfuse Festival Weekend:
We organized a weekend full of activities to promote computer science to young people and their parents. During the weekend, three activities were proposed : workshops to make young people from primary school to secondary school discovering computer science as a science, without computer. There was for example a workshop on sort algorithms and another one on introduction to cryptography. The second kind of activity was an exposition with eight interactive stands. People came and visited the stands. There were stands on : games, programming a Lego robot, passing the turing test, disassembling/reassembling of a computer, discovering edubuntu, programming with Scratch, discovering the binary numbers, introduction to algorithms with bubble sort and introduction to cryptography. The last activity was a scientific show on the binary representation and on algorithmic. The show was made to please the small children (there were an indian, a cow-boy, a sherif...) but also to please the older children and parents with scientific content. About 60 children attended the workshops, about 150 people came and visited the stands and about 120 people attended the scientific show.
The event took place during the weekend of April 2 and April 3, 2011, from 2:00pm to 5:30pm. That was opened to everyone, and mainly targeted to young people from primary and secondary school, and their parents. The attendance was free. We got financial support from one sponsor: Comex.
http://uclouvain.acm-sc.be/scienceinfuse
F. Olympiads in Informatic:
Last year, our chapter founded and launched the Belgian Olympiads in Informatics, a programming contest targeted to secondary school student and first bachelor students, in the french part of the country. No such contest existed before that ! It's an excellent opportunity to promote computer science.
This year, along with the newly created Antwerp ACM Student Chapter (the second one in Belgium), we extended the contest for all the country. The organization of the contest started to become independent, but with the support of the two chapters. Our members helped for local organization of the local semi-final, the national final and the proclamation of the results. There were 252 contestants at the start of the contest, among which 109 were selected for the final. The detailed informations are on the dedicated website: http://www.be-oi.be.
The event took place on February 16, 2010 (semifinal), March 30, 2011 (final) and April 2, 2011 (proclamation). We got support from one sponsor: IBM.
http://uclouvain.acm-sc.be/olympiades
As you can see, we have a lot of events, and our members are very dynamic and active. We are already thinking about new activities for next year. A great team, a lot of energy, ... all that to get big results. That will surely motivate us to continue to grow and to extend our activities.
http://uclouvain.acm-sc.be/scienceinfuse
Written by leading domain experts for software engineers, ACM Case Studies provide an in-depth look at how software teams overcome specific challenges by implementing new technologies, adopting new practices, or a combination of both. Often through first-hand accounts, these pieces explore what the challenges were, the tools and techniques that were used to combat them, and the solution that was achieved.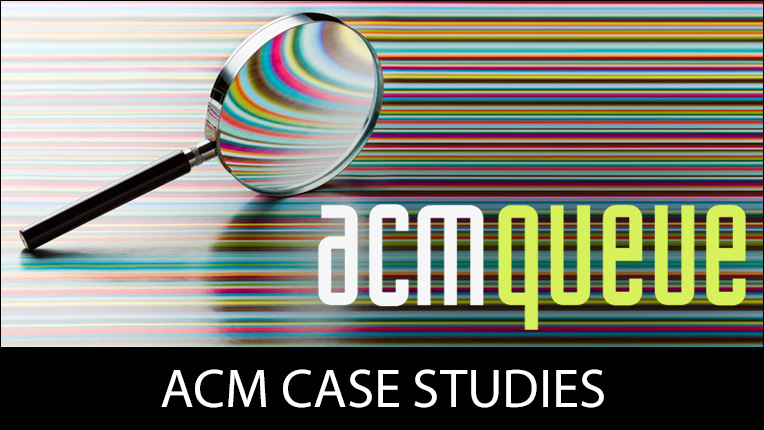 Career Resource
ACM offers lifelong learning resources including online books and courses from Skillsoft, TechTalks on the hottest topics in computing and IT, and more.