Outstanding Website Winner
Amity ACM Student Chapter
Amity ACM Student Chapter is considered to be one amongst the Outstanding Chapter Activities, Outstanding Chapter Website and Outstanding Recruitment Program Awards. Below is a brief description of our chapter followed by the applications for the 3 categories.
Institution: Amity School of Engineering and Technology, Amity University, Uttar Pradesh.
Address: Sector 125 Noida, Uttar Pradesh.
Office Bearers:
Faculty Sponsor: Prof. (Dr.) Abhay Bansal ([email protected])
Membership Chair: Ms. Shruti Gupta ([email protected])
Chairperson: Mr. Nalin Panwar ([email protected])
Vice Chairperson: Mr. Amlaan Bhoi ([email protected])
Treasurer: Ms. Noor Chowdhary ([email protected])
Secretary: Mr. Himanshu Goyal ([email protected])
Web Master: Mr. Athul Jayaram ([email protected])
Number of Chapter Members: 1766
Number of Faculty Volunteer: 60
Number of Student Volunteers: 80
Website URL: aasc.acm.org
DESCRIPTION OF SCHOOL
Amity University is amongst the top Universities of India. In the year 2014, Amity University has been named by Quacquarelli Symonds (QS) as one of Asia's top 300 universities. The institute provides smart learning and excellent oppurtunities to its students so as to explore the scope in any stream. Mostly, it focuses on providing its students with ethical values, morals, overall development, and importance of team work, unity, responsibility and respect towards your work.
Amity University has been ranked No. 1 Non-Profit Private University - India Today. Amity University has also given out more than 25000 scholarships to praise students for their hard work. We have 80 international universities as research partners and more than 570 patents have been filed by faculties in the last years.
Moreover, we have 300 Govt. funded research projects carried out by the faculty and 1001 case-studies developed by Faculty bought across 62 countries.
DESCRIPTION OF CHAPTER
Amity ACM Student Chapter (AASC) is one of the most active and popular chapters at Amity. Our team consists of very dynamic, creative and enthusiastic students, graduates and faculty members of Computer Science and Engineering Department, Amity University.
Apart from the professional development opportunities, AASC also provides students with personal, social, and community service opportunities, honing the overall collegiate experience. AASC started with just 4 members in three year but because of the student's and teacher's continuous hard work and dedication, we have grown to more than 1700 members and are on our way to become the world's largest chapter.
Number of students at our school who take computer science and related courses - 1800
A simple quote drove us during designing - "Make it simple yet elegant". The website had to be brusque, easy to navigate, and utmost important thing was make it completely compatible with different screen sizes to support present trend of increasing internet access from mobile devices.
We took time in deciding the colour scheme to make it eyesome and uniform. We chose to have a navigation bar present at the top of each page so that it was easy for the user to understand the components of website The website has:
1. Home page – Contains a latest news feed, upcoming events section, social network handles, event calendar and a pleasing stream of recent events photographs.
2. Team – It contains details of core, coders, web, media, sponsorship committees
3. Join Us – It allows personages who are keen on joining Amity ACM Student Chapter to know about us and perks of being in ACM with an elaborated guide for the process of enrolling to be an AASC member.
4. Events – Exhibits the event calendar to view upcoming events with a complete archive of the recent events held in Amity ACM Student Chapter.
5. Achievements – A list of the most notable and praiseworthy success stories of our members and their journey whom we a very proud of also with a few extraordinary achievements of Amity ACM Student Chapter itself.
6. Projects – A list of the abstracts of the innovative projects undertaken by our current students. A section where one can navigate to for getting excellent ideas and for ease the section is divided according to field sub-categories.
7. Youth Entrepreneurship – Amity ACM Student Chapter supports one of the major upcoming fields in the world. This section contains a list of all successful start-ups by our own esteemed members who through guidance and nourishment have made their way to glory.
8. Contact us – A list of people to be contacted for any query regarding any aspect of Amity ACM Student Chapter along with their email, phones and LinkedIn ID's so as to be connected all the time and we can guarantee that it is monitored regularly.
Hard work is done by every single one of our members to make our chapter the best among all, and we chose the website to be the platform which gracefully acknowledges that. We use the website to inform people not only about the achievements of our chapter, but also the achievements of our members separately, because we believe hard work deserves praise.
With the increase in our total members to a record breaking 1700, and paid members to a 100 members we have chosen to further expand the website to increase the functionality, as is being dictated by the demand. We want to add a news feed section which a student can access information about not only the events which are taking place, but also other necessary details regarding placement/internship opportunities and student information. Also we plan on starting a chat service where members can ask direct questions to any one or more of our senior members, and if deemed worthy, the details of which will be publicly shared as a very helpful Q&A section. However extensive testing is required to be done before these two services goes live.
Written by leading domain experts for software engineers, ACM Case Studies provide an in-depth look at how software teams overcome specific challenges by implementing new technologies, adopting new practices, or a combination of both. Often through first-hand accounts, these pieces explore what the challenges were, the tools and techniques that were used to combat them, and the solution that was achieved.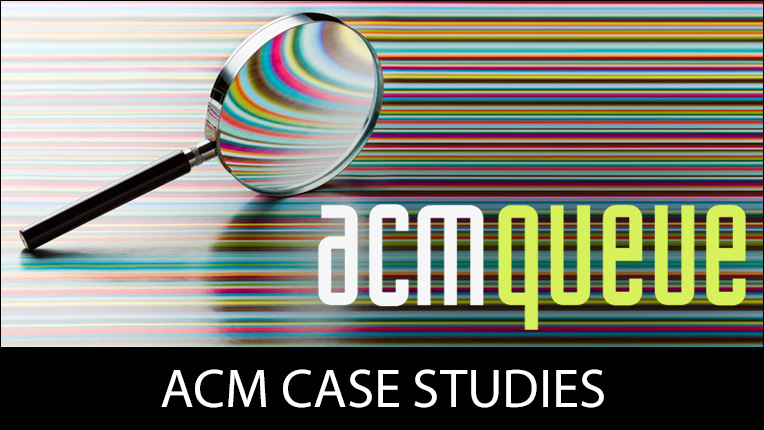 Career Resource
ACM offers lifelong learning resources including online books and courses from Skillsoft, TechTalks on the hottest topics in computing and IT, and more.