Online Registration Management Using the ACM Preferred Vendor
Once the hotel contract is executed, the committee can request a RegOnline account for conference registration. RegOnline is the organization's preferred vendor, allowing ACM to negotiate special rates and a direct billing process. When the committee is ready to set up their account simply email: regsupport@acm.org .
For your reference, our Regonline Support FAQs can be found at the link to the right.
We're getting close to the hotel cutoff date and our registration numbers are a bit low. Is there anything ACM can do to help us increase our registration?
You can contact your Conference Operations Liaison for assistance with advertising. They can request relevant SIG's to send out a Call for Participation via an email blast to their listservs. They can also run the CFP in ACM MemberNet.
An attendee informed me that his company requires a letter as proof of conference attendance. Is this something we can provide them with?
With verification from the Chair, your Conference Operations Liaison can draft a letter for the individual on ACM letterhead.
What should our early registration deadline be?
To take advantage of the best hotel pickup and avoid attrition penalties, we suggest having the early registration deadline coincide with the hotel booking cutoff date.
---
Onsite Registration Management
The committee will need volunteers to assist with onsite registration. This entails checking in attendees and providing them with their registration materials (program, name badge, etc). The volunteer(s) handling the registration desk need to be provided with a laptop, printer, and badge supplies.
Can the committee hire a vendor to handle onsite registration?
Yes, particularly if the conference has 300 + attendees. If a conference committee would like to consider using a registration management service, the Conference Operations Liaison can request quotes from ACM preferred vendors and assist with contracting. If the committee would like to hire a service, this should be considered and budgeted for during the approval process.
Why I Belong to ACM
Hear from Bryan Cantrill, vice president of engineering at Joyent, Ben Fried chief information officer at Google, and Theo Schlossnagle, OmniTI founder on why they are members of ACM.
Written by leading domain experts for software engineers, ACM Case Studies provide an in-depth look at how software teams overcome specific challenges by implementing new technologies, adopting new practices, or a combination of both. Often through first-hand accounts, these pieces explore what the challenges were, the tools and techniques that were used to combat them, and the solution that was achieved.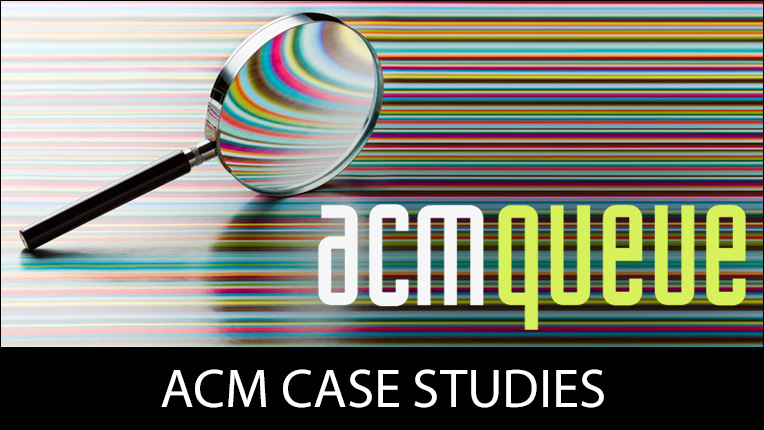 ACM Queue's "Research for Practice" is your number one resource for keeping up with emerging developments in the world of theory and applying them to the challenges you face on a daily basis. In this installment, Dan Crankshaw and Joey Gonzalez provide an overview of machine learning server systems. What happens when we wish to actually deploy a machine learning model to production, and how do we serve predictions with high accuracy and high computational efficiency? Dan and Joey's curated research selection presents cutting-edge techniques spanning database-level integration, video processing, and prediction middleware. Given the explosion of interest in machine learning and its increasing impact on seemingly every application vertical, it's possible that systems such as these will become as commonplace as relational databases are today.