ACM MemberNet - February 23, 2023
February 23, 2023
Welcome to the February 2023 edition of ACM MemberNet, bringing you the world of ACM and beyond. Explore the many facets of ACM with our newsletter of member activities and events. Read past issues of MemberNet online in our archive.
Read coverage of ACM in the news media.
Is there a person, event, or issue you'd like to see covered? Please email mn-editor@acm.org.
TOP STORIES
AWARDS
MEMBER RECOGNITION
SIG NEWS
SIG AWARDS
CONFERENCES AND EVENTS
PUBLIC POLICY
MEMBER PROGRAMS
LEARNING CENTER
EDUCATION
STUDENT NEWS
DISTINGUISHED SPEAKERS PROGRAM
MEETUPS
CHAPTERS NEWS
ACM-W NEWS
PUBLISHING NEWS
ACM CAREER & JOB CENTER
---
TOP STORIES
Vint Cerf Receives the 2023 IEEE Medal of Honor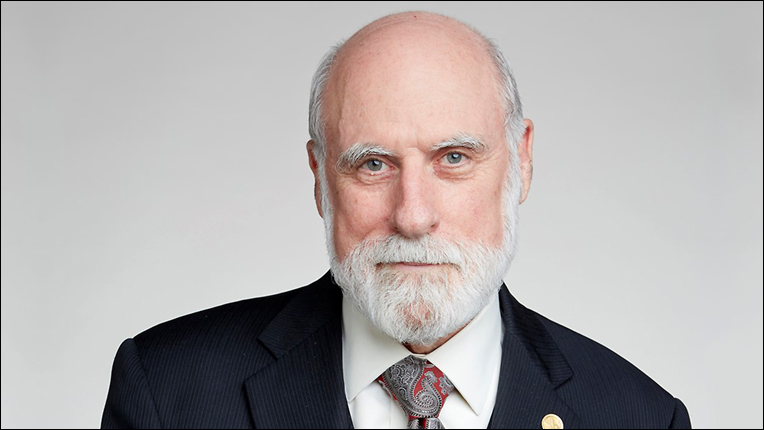 2004 A.M. Turing Award recipient Vint Cerf has been awarded the 2023 IEEE Medal of Honor for co-creating the internet architecture and providing sustained leadership in its phenomenal growth in becoming society's critical infrastructure. He received the A.M. Turing Award with Robert E. Kahn for pioneering work on internetworking, including the design and implementation of the internet's basic communications protocols (TCP/IP), and for inspired leadership in networking.
Hari Balakrishnan Receives the Marconi Prize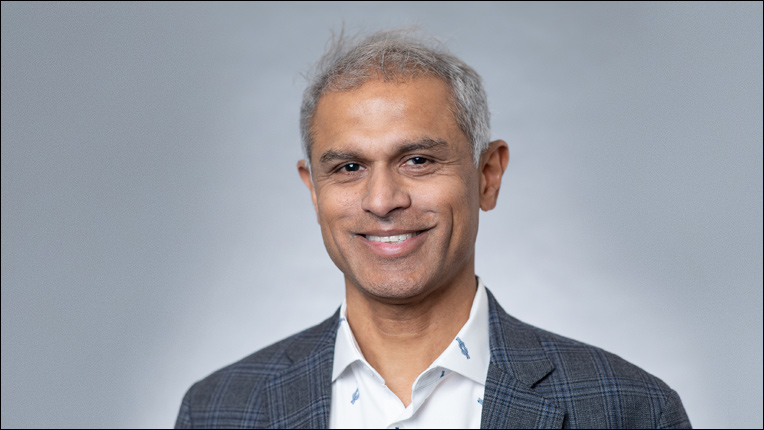 2008 ACM Fellow Hari Balakrishnan has received the prestigious 2023 Marconi Prize in recognition of the broad impact to society of his fundamental discoveries in wired and wireless networking, mobile sensing, and distributed systems. The Marconi Prize is awarded annually to innovators who have made a significant contribution to increasing digital inclusivity through advanced information and communications technology, and has been called the Nobel Prize for Communications. In receiving this award, Balakrishnan joins legendary innovators and top ACM awardees including Vint Cerf, Marty Hellman, Whit Diffie, and Sir Tim Berners-Lee among others.
Celebrate Black History Month with ACM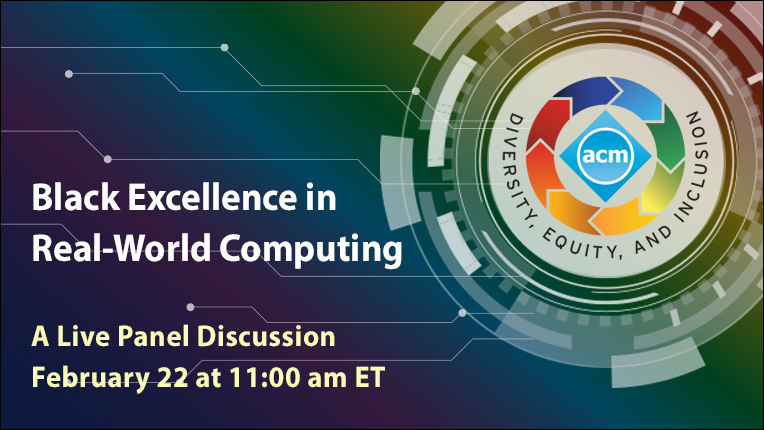 ACM celebrated Black History Month with a live panel discussion organized by ACM's Diversity, Equity, and Inclusion Council—now available on demand. Moderator Fay Cobb Payton and panelists Juan Gilbert, Diana Burley, Martez Mott, and Happy Sithole offered an hour of stories, insights, and actionable tips. Learn about the critical decisions that led them where they are, the unique challenges they navigate working at the intersection of computing, society, and identity, and how students, researchers, and practitioners of color are impacted by the pandemic and other current events.
Learn more about the panel and view the event here.
---
AWARDS
ACM Award Nomination Submission Procedures
Each year, ACM recognizes technical and professional achievements within the computing and information technology community through its celebrated Awards Program. ACM welcomes nominations for candidates whose work exemplifies the best and most influential contributions to our community, and society at large. ACM's award committees evaluate the contributions of candidates for various awards that span a spectrum of professional and technological accomplishments.
Please take a moment to consider those individuals in your community who may be suitable for nomination. Refer to the award nominations page for nomination guidelines and the complete listing of Award Subcommittee Chairs and Members. And read ACM Past President and former Awards Committee Chair Cherri Pancake's article in Communications of the ACM, "Dispelling Common Myths about ACM Awards and Honors."
The deadline for nominations for the main awards has passed. Other deadlines: ACM-IEEE CS Eckert-Mauchly Award, March 30; Gordon Bell Prize, April 15; ACM-IEEE CS George Michael Memorial HPC Fellowship, May 1; ACM-IEEE CS Ken Kennedy Award, June 30.
ACM Gordon Bell Prize for Climate Modelling Now Accepting Nominations
To highlight and encourage more research focused on modelling the devastating impact of climate change, ACM has established the ACM Gordon Bell Prize for Climate Modelling. The new award aims to recognize innovative parallel computing contributions toward solving the global climate crisis. As Gordon Bell explained, "With more carbon dioxide in our atmosphere than at any time in human history, sea levels rising faster than ever before, and extreme weather events that destroy everything in their wake, there is no denying that we are in a climate crisis. Climate modelling can't reverse this trend. But it offers us the best possible blueprint to understand where we are and where we're heading."
Climate scientists and software engineers will be evaluated for the award based on the performance and innovation in their computational methods. Nominated projects should demonstrably improve climate modelling and enhance the understanding of the Earth's climate system. Nominations may be submitted online here. The deadline to apply for the inaugural award is April 15, 2023.
For more information, read the news release.
---
MEMBER RECOGNITION
Call for ACM Senior Member Nominations
The Senior Member advanced grade of membership recognizes ACM members with at least 10 years of professional experience and 5 years of continuous ACM Professional membership. Nominations are accepted on a quarterly basis. The deadline for nominations is March 3, 2023.
---
SIG NEWS
SIG Elections
In accordance with ACM Bylaw 6, the following SIGs will hold elections in 2023: SIGAPP, SIGARCH, SIGCAS, SIGDOC, SIGENERGY, SIGEVO, SIGMETRICS, SIGMICRO, SIGOPS, SIGSPATIAL, and SIGWEB.
ACM's Policy and Procedure on SIG Elections requires that those SIGs holding elections notify their membership of candidates for elected offices. To see the slate of candidates, please visit the 2023 ACM SIG Elections site.
In accordance with the ACM SIG Bylaws, additional candidates may be placed on the ballot by petition. All candidates must be ACM Professional Members, as well as members of the SIG. Anyone interested in petitioning must inform ACM Headquarters, Pat Ryan and the Secretary of the SIG of their intent to petition by 15 March, 2023. Petitions must be submitted to ACM Headquarters for verification by 31 March, 2023.
*ACM SIGGRAPH's election will commence on 15 June, 2023.
FCRC 2023, June 16–23, 2023
The 2023 ACM Federated Computing Research Conference will assemble a spectrum of affiliated research conferences and workshops into a week-long, co-located meeting in Orlando, Florida, USA. This model retains the advantages of the smaller conferences while at the same time facilitating communication among researchers in different fields of computer science and engineering. Each morning FCRC will feature a joint plenary talk on topics of broad appeal to the computing research community. The technical program for each affiliated conference will be independently administered, and each is responsible for its own meeting's structure, content, and proceedings. To the extent facilities allow, attendees are free to attend technical sessions of other affiliated conferences co-located with their "home" conference.
SIG AWARDS
2023 SIGCHI Awards Announced
The SIGCHI Executive Committee has announced the SIGCHI Awards for 2023:
Lifetime Research Award: Gregory Abowd
Lifetime Practice Award: Deborah Mayhew
Lifetime Service Award: Elizabeth Churchill and Loren Terveen
Societal Impact Award: Shaowen Bardzell, Munmun De Choudhury, and Nicki Dell
Outstanding Dissertation Award: Megan Hofmann, Dhruv Jain, and Kai Lukoff
SIGCHI Academy: Hrvoje Benko, Marc Hassenzahl, Steve Hodges, Cliff Lampe, Uichin Lee, Regan Mandryk, Florian Mueller, and Phoebe Sengers
Best Paper Awards Given at Recent ACM SIG Conferences
ACM's Special Interest Groups (SIGs) regularly cite outstanding individuals for their contributions in 38 distinct technological fields. Some awards presented (or to be presented) at conferences:
You can find them all here.
---
CONFERENCES AND EVENTS
HRI 2023, March 13–16
The ACM/IEEE International Conference on Human Robot Interaction attracts researchers from around the world to present and exchange ideas about the latest theories, technology, data, and videos furthering the state of the art in human-robot interaction. The conference theme for HRI 2023 is "HRI for All." Workshops include "Human-Robot Conversational Interaction," "Perspectives on Moral Agency in Human-Robot Interaction," and more. Keynote speakers will be Chieko Asakawa (IBM Fellow), Ericka Johnson (Linköping University), and Andrea Thomaz (Diligent Robotics). The event is being held in Stockholm, Sweden.
SIGCSE 2023, March 15–18
The SIGCSE Technical Symposium provides a forum for educators to discuss issues related to the development, implementation, and/or evaluation of computing programs, curricula, and courses, as well as syllabi, laboratories, and other elements of teaching and pedagogy. Panel topics include "Accessibility and Disability in CS Education," "Computing for Social Good Mentor and Mentee Training," and more. Keynote speakers are astronaut Robert Thirsk, Renée McCauley (College of Charleston), Susan Rodger (Duke University) and Nichole Pinkard (Northwestern University). The event is being held in Toronto, Canada.
CHIIR 2023, March 19–23
The ACM SIGIR Conference on Human Information Interaction and Retrieval invites submissions focused on user-centered approaches to the design and evaluation of systems for information access, seeking, retrieval, and use. Contributions may explore improvements to existing systems and interfaces; propose novel theories, models, and systems; or focus on understanding individual and group interactions with information and information systems. The keynote speakers are Elizabeth Churchill (Google) and J. Stephen Downie (University of Illinois at Urbana-Champaign). The conference is being held in Austin, Texas, USA.
ASPLOS 2023, March 25–29
The conference for Architectural Support for Programming Languages and Operating Systems is the premier forum for interdisciplinary systems research, intersecting computer architecture, hardware and emerging technologies, programming languages and compilers, operating systems, and networking. Workshops include "Immersive Visual Computing From Sensing and Computing to Humans," "Real-World Processing-in-Memory Systems for Modern Workloads, "Workshop on Languages, Tools, and Techniques for Accelerator Design" "Predicting and Optimizing Runtime Performance of Deep Learning Models, and more. The conference will be held in Vancouver, Canada.
IUI 2023, March 27–31
The annual meeting of the Intelligent User Interfaces community serves as a premier international forum for reporting outstanding research and development on intelligent user interfaces. ACM IUI is where the Human-Computer Interaction (HCI) community meets the Artificial Intelligence (AI) community. Workshops and tutorials include "Designing Effective Conversational Interfaces," "Human-AI Co-Creation with Generative Models," and more. Keynote speakers are Joyce Chai (University of Michigan), Mark Sagar (Soul Machines), and Grace Chung (Google). The event is being held in Sydney, Australia.
SAC 2023, March 27–31
The ACM/SIGAPP Symposium on Applied Computing gathers computing professionals engaged in the development of new computing applications. Tutorials include "Interaction Design for Behaviour Change," "Microservice API Pattern Detection With Call Graphs," "Safe and Certifiable Software Design for Trustworthy AI-Enabled Cyber-Physical Systems," and "Microservice-Based System Visualization Methodology." Keynote speakers are Ted Chang (Quanta Computer) and Pekka Abrahamsson (Tampere University). This year the symposium is being held in Tallinn, Estonia.
---
PUBLIC POLICY
Coming Soon: March 1 HotTopics Webinar to Preview Department of Justice Website Accessibility Standards Mandate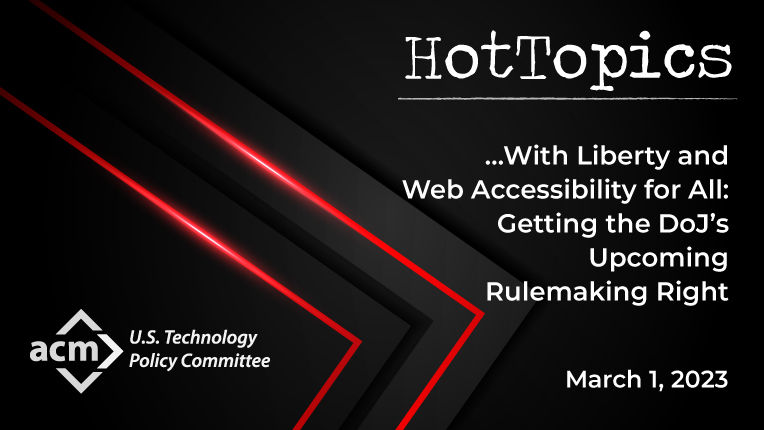 Early last year, backed by USTPC's own recommendations, more than 180 disability rights organizations wrote to the Department of Justice (DOJ) calling on its Civil Rights Division to finally complete a rulemaking process begun in 2010 but later abandoned to formally adopt detailed regulations governing the design of truly accessible websites under the Americans with Disabilities Act (ADA). The appeal worked! The DOJ recently announced that public comment on proposed web accessibility rules will be invited this May on what legal requirements must be met for local and state government websites to be considered accessible and fully compliant with Title II of the ADA.
What should, and shouldn't, new rules look like? What assistive technologies—present and future—must they enable, and can new rules really meet the needs of the one in four Americans affected by some form of disability?
Join us on March 1 at 5:00 pm EST (10 pm UTC) for "With Liberty and Web Accessibility for All: Getting the DOJ's Upcoming Rulemaking Right," a spirited 90-minute panel discussion of these issues and more with panelists Lorraine Kisselburgh (Moderator), Tim Elder, Stephanie Enyart, and Jonathan Lazar.
Connect with ACM's Tech Policy Groups!
To learn more about upcoming programs and the work of ACM's Technology Policy groups, follow @USTPC and @EuropeTPC on Twitter. If you're interested in contributing to the work of ACM's Europe or US Technology Policy Committees, please email acmpo@acm.org.
---
MEMBER PROGRAMS
Become an Ambassador for ACM—You Could Be a Grand Prize Winner!
The Ambassadors for ACM program rewards ACM members like you for encouraging new members to join. Your first-hand experience with ACM's valuable career development and continuous learning programs makes you a perfect envoy to share your ACM experiences with prospective members. The Ambassadors for ACM program offers opportunities for you to earn new prizes, rewards, and bonus gifts with each referral. Submit the ACM Referral Form, and your referrals can join ACM at a special discount rate. Our members are our greatest asset. Your support of ACM is critical to our continuing efforts to advance computing as a science and a profession. Please consider becoming an Ambassador for ACM.
Featured Member Benefit: Travel Discount Program
Winter and Spring vacation season is here! ACM is pleased to offer exclusive hotel, car rental and entertainment discounts to our members through Local Hospitality. Save time and money on your next trip by visiting the ACM Travel Discount Program page.
ACM Academic Department Membership Option
The ACM Academic Department Membership option allows universities and colleges to provide ACM Professional Membership to their faculty at a greatly reduced collective cost. ACM offers a membership for academic department faculty at the cost of $49 per person, more than half off the standard ACM professional membership fee of $99 per year. Through this program, each faculty member will receive all the benefits of individual professional ACM membership, including Communications of the ACM, member rates to ACM Special Interest Group conferences, member subscription rates to ACM journals, and much more. To learn more, visit the ACM Academic Department Membership page or contact Cindy Ryan.
---
LEARNING CENTER
Pluralsight Training Now Available for ACM Members
ACM is happy to announce the latest member benefit for lifelong learning: the award-winning Pluralsight platform. You can access ACM's custom collection of more than 2,000 courses, skill assessments, learning paths, and certification exam prep in the ACM Learning Center. ACM worked with Pluralsight to select resources that cover the most in-demand technical skills, frameworks, and certifications, and will periodically rotate in new content to ensure currency and breadth of coverage. Later this year, content is expected to be added from A Cloud Guru, the world's largest hands-on cloud learning library.
To access the Pluralsight library, visit the ACM Pluralsight page, click on Pluralsight in the top right corner, and log in with your member credentials.
ACM ByteCast Interviews Team V Bionic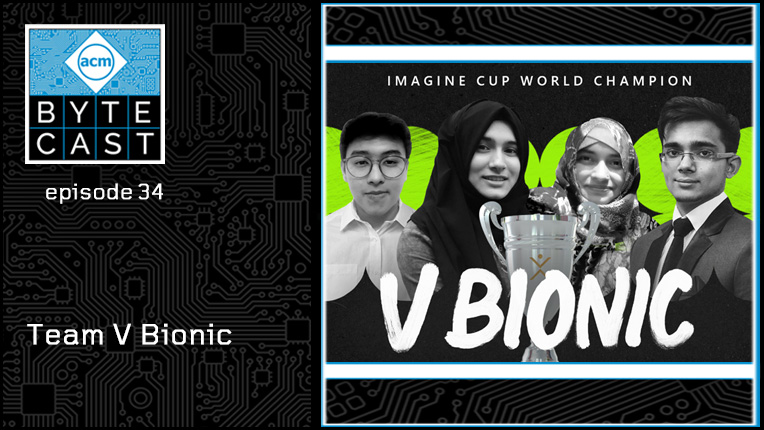 ACM ByteCast is ACM's series of podcast interviews with researchers, practitioners, and innovators who are at the intersection of computing research and practice. In the latest episode of ACM ByteCast, host Rashmi Mohan hosts members of Team V Bionic, who won the Imagine Cup 2022 Grand Prize for ExoHeal, a modular exoskeletal hand rehabilitation device that utilizes neuroplasticity and Azure technology to provide adaptive and gamified rehabilitation exercises to people with hand paralysis. The team includes Zain A. Samdani, Faria Zubair, Asfia Jabeen Zubair, and Ramin Udash. The guests describe their backgrounds, how they got involved in computing and robotics, how ExoHeal works, the biggest challenges the team faced while building it, how it is powered, how they've been able to make it portable and affordable, and much more.
Listen to ACM ByteCast interviews here, or wherever you get your podcasts.
Watch ACM TechTalk With Zhamak Dehghani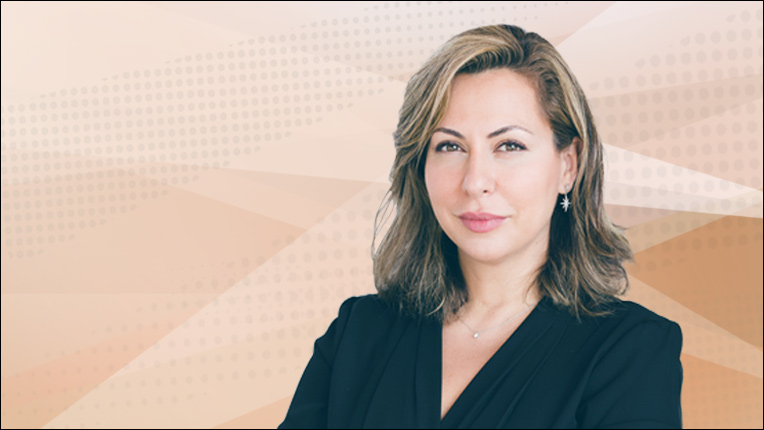 Register now for the TechTalk, "State of Data Mesh" with Zhamak Dehghani, founder and CEO of Nextdata, taking place March 7, 2023 at 12:00 pm ET (5 pm UTC). Standing at an inflection point is a magical experience. It's where we look at what has come before, learn from it, and choose a new path. Data Mesh has motivated many organizations to stand at an inflection point. It has surfaced the underlying conditions for slow and costly attempts in getting value from data, and it has set the eyes on a new destination. But the motivation alone is not enough. In this talk, Zhamak tells a short story of why we are here and what has happened before the inflection point of Data Mesh.
Visit the TechTalks Archive for our full archive of past TechTalks.
---
EDUCATION
2023 Computer Science Curriculum Guidelines Revision
A joint task force of ACM, the Institute of Electrical and Electronics Engineers-Computer Society (IEEE-CS), and the Association for the Advancement of Artificial Intelligence (AAAI) is currently revising Computer Science curricular guidelines which were last updated in 2013. The task force is updating the knowledge model and designing a complementary competency model of the curricula, and invites CS professionals to provide feedback and suggestions on all aspects of the curricula. It plans to have the curricular recommendations reviewed in March and again in July 2023 and also invites nominations and self-nominations of reviewers.
For additional information and to contribute to this effort, visit the CS2023 website.
View on Demand: "Is OER Right for Your Computing Classroom?"
ACM2Y, a group for those interested in computing education in two-year programs, hosted an online panel, "Is OER (Open Educational Resources) Right for Your Computing Classroom?" The panelists were Jeffrey Elkner (Arlington Public Schools), Teri Lane (Mountain Empire Community College), Lisa Payne (Brightpoint Community College), Robert Tureman (Paul D. Camp Community College), and Markus Geissler (Cosumnes River College). The moderator was Carrie Tang, (Portland Community College).
View on demand here.
Contribute Instructional Materials to EngageCSEdu
Did you know that the ACM Education Board has a special project that allows you to share outstanding instructional materials from your classes? EngageCSEdu publishes high-quality, engaging, classroom-tested Open Educational Resources (OER's) for computer science education. A key value of EngageCSEdu is to broaden participation in computing. To this end, OER's accepted for publication must use at least one research-based engagement mechanism aimed at increasing diversity and inclusion, e.g., culturally responsive pedagogy or an engagement practice from the NCWIT engagement framework. Materials should be free of stereotypes and references that might evoke stereotype threat. General submission information can be found here.
---
STUDENT NEWS
Upcoming ACM Student Research Competitions: Submission Deadlines
ACM Student Research Competitions (SRCs) offer a unique forum for undergraduate and graduate students to present their original research at well-known ACM-sponsored and co-sponsored conferences before a panel of judges and attendees. The most recent SRC winners were presented at POPL '23. The next conferences accepting submissions are:
Graduating Students Eligible for Special Transition Rate
ACM offers a special ACM Professional Membership for $49 USD (regularly $99) to help graduating students make the transition to professional careers, and take advantage of continuous learning opportunities, including free online books and courses and access to ACM's Career & Job Center. This one-year-only transition rate includes all the benefits of Professional Membership plus the option of purchasing a Digital Library subscription for $50. Recent graduates can access this special transition offer through ACM's convenient online renewal form, or by following the instructions on the paper renewal form. For more information, visit the Reasons to Transition to Professional Membership page.
---
DISTINGUISHED SPEAKERS PROGRAM
About the ACM Distinguished Speakers Program
Book the speaker for your next event through the ACM Distinguished Speakers Program (DSP) and deliver compelling and insightful content to your audience. ACM will cover the cost of transportation for the speaker to travel to your event. Our program features renowned thought leaders in academia, industry, and government speaking about the most important topics in the computing and IT world today. Our booking process is simple and convenient.
See ACM Distinguished Speakers in action on our Flickr page.
Featured ACM Distinguished Speaker: Madhusudan Singh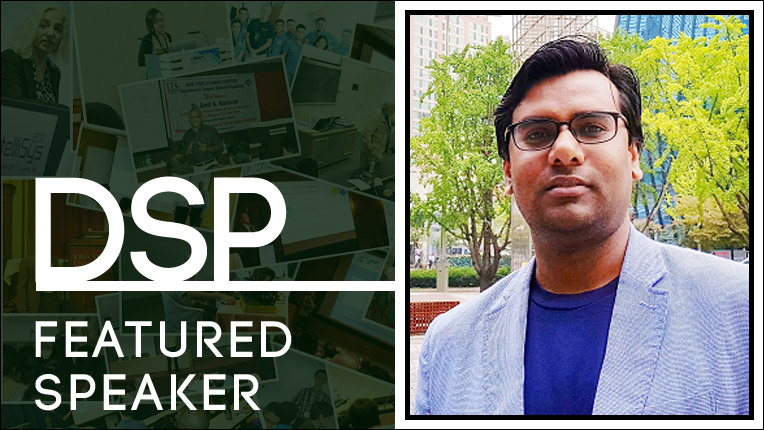 Madhusudan Singh is the Director of the ReBlockchain Group and a faculty member at ECIS, Woosong University, South Korea. He also serves as the Chief Technical Officer at Coikosity Pvt Ltd. His fields of interest are Cyber-Physical Systems, Blockchain Technologies, and Industry 4.0. He is a Springer Nature series Editor of Blockchain Technologies and also the author of several books, patents, and articles. In the past, he has worked as a Research Professor at YICT, Yonsei University, South Korea, and as a senior engineer in the R&D Division of Mobile Display at Samsung Display. His lectures include "Automotive Cyber Security: Perspective and Challenges," "Decentralized Trusted Platform for Requirement Engineering," and more. He is available to speak through the ACM Distinguished Speaker Program. He is available to speak through the ACM Distinguished Speaker Program.
For more information about Singh, please visit his DSP speaker information page.
---
MEETUPS
ACM Local Meetups
ACM Local Meetups connect smart technical people at local city events. They are informal groups that meet regularly to discuss a diverse array of computing topics. The following local ACM Meetups have been scheduled:
DC/Chicago: The Non-Protoplasmic Sentience Driving DABUS, March 1
Attendees must register via Zoom in order to attend the virtual talk. Zoom registration URL can be found in the "Online Event" field in the Meetup event.
San Francisco: Scaling Computer Vision Workloads with Ray Workshop, March 11–12
A two-day virtual/in-person workshop intended to teach how to an architect reliable scalable AI solutions with Ray. Fee required.
San Francisco: Human-Centered Design for VR Training, March 15
This talk focuses on designing for training results where VR can add the most value. It discusses the importance of communicating with your target audience and the challenges of different types of training.
ACM Local Meetups are active in Atlanta, Boston, Chicago, Kansas City, Los Angeles, Melbourne, Mumbai, New York City, Pittsburgh, Raleigh, Rio de Janeiro, Sacramento, San Francisco, Surabaya, Washington DC, and Youngstown. If you are interested in organizing a Meetup in your locale, please contact Andrew Conklin at adconk@staff.acm.org.
---
CHAPTERS NEWS
Welcome New ACM Chapters
Chapters are the "local neighborhoods" of ACM. The regional ACM Professional, Student, ACM-W, and Special Interest Group (SIG) chapters around the globe involve members locally in competitions, seminars, lectures, workshops, and networking opportunities. ACM welcomes the new chapters that were chartered January 13 through February 9, 2023:
ACM Student Chapters:
Air University Multan ACM-W Student Chapter, Multan, Pakistan
FCUSD ACM Student Chapter Rancho Cordova, California, USA
Kettering University ACM Student Chapter, Flint Michigan, USA
Orange Coast College ACM Student Chapter, Costa Mesa, California, USA
PHU ACM Student Chapter Amman, Jordan
RAIT ACM-W Student Chapter, Navi Mumbai, India
SRGEC ACM Student Chapter, Gudlavalleru, India
Stevens IT ACM Student Chapter, Hoboken New Jersey, USA
TCET ACM SIGAI Student Chapter, Mumbai, India
University of Akron ACM Student Chapter, Akron, Ohio, USA
---
ACM-W NEWS
Diversity Heroes: Lori Russell Dag
As a community, ACM-W Europe embraces diversity which makes us better and stronger. All of ACM-W Europe's heroes are applauded for their diversity whether they are members, volunteers, or experts in their field. ACM-W Europe has been talking with a number of women about their tech career journeys, perspectives on intersectionality, and reflections on initiatives for equality. This month's guest is Lori Russell Dag. Read more about her experiences here.
Telling Our Stories: Ihsan Kamil
Each year we meet incredible women at womENcourage celebrations, and ask participants to tell their stories in blog posts. We continue this in 2023 with Ihsan Kamil, who was a final year Product Design and Technology student at the University of Limerick in Ireland. She attended the conference in 2021 when the event was held virtually. Read more about Kamil's story here.
womENcourage: Trondheim, Norway, 20-22 September 2023
The 10th ACM Celebration of Women in Computing: womENcourage 2023 will take place at the Norwegian University of Science and Technology (NTNU) in Trondheim, Norway, on 20-22 September, 2023. The theme of the conference is "Computing Connecting Everyone." Open to all genders, womENcourage was initiated by ACM-W Europe and aimed at connecting women from diverse technical disciplines and encouraging them to pursue their education and profession in computing. WomENcourage brings together women in the computing profession and related technical fields to exchange knowledge and experience and provide special support for women who are pursuing their academic degrees and starting their careers in computing. Through a program packed with insightful topics and engaging educational and networking activities, womENcourage provides a unique experience of the collective energy, drive, and excellence that professional women share to support each other.
ACM Scholarships for Women Computing Students to Attend Research Conferences
With Research Computer Science Conference Scholarships, ACM-W provides support for women undergraduate and graduate students in computer science and related programs to attend research computer science conferences around the world. This exposure to computing research can inspire a student to continue onto the next level of their academic or professional career. The ACM-W scholarships are divided between scholarships of up to $600 for intra-continental conference travel, and scholarships of up to $1,200 for intercontinental conference travel. Scholarship applications are evaluated in six groups each year, in order to distribute awards across a range of conferences. Learn more about ACM-W scholarships and how to apply here.
Join ACM-W's Membership Email List
Did you know that ACM-W offers a general email distribution list for its members? This ACM-W public list is a communication channel for disseminating general information about ACM-W, bulletins, and upcoming events, which can be joined here. Also read the ACM-W Connections newsletter for updates on ACM-W programs, local celebrations, scholarships and awards, chapters, and more.
PUBLISHING NEWS
acmqueue: "Taking Flight with Copilot"
A group of researchers at Microsoft and GitHub Next present their findings about usage of AI-powered pair-programming tools such as GitHub's Copilot. Over the next five years, AI-powered tools likely will be used for tasks such as code review, directing reviewers to parts of a change where review is most needed or even directly providing feedback on changes. Models such as Codex may suggest fixes for defects in code, build failures, or failing tests. These models are able to write tests automatically, helping to improve code quality and downstream reliability of distributed systems. This study of Copilot shows that developers spend more time reviewing code than actually writing code. As AI-powered tools are integrated into more software development tasks, developer roles will shift so that more time is spent assessing suggestions related to the task than doing the task itself.
TOMACS Seeks New Editor-in-Chief
ACM Transactions on Modeling and Computer Simulation (TOMACS) is seeking a new Editor-in-Chief for a three-year term beginning on April 1, 2023. The EiC appointment may be renewed at most one time. Nominations are due February 26, 2023. More information is available here.
eLearn Magazine Call for EIC
eLearn Magazine, ACM's Web-only publication serving the field of online education and training, is seeking applications for an Editor-in-Chief (EiC), or co-Editors-in-Chief. It is an open-access, "blind" peer-reviewed publication at the intersection of eLearning research and practice. Established in 2001, eLearn Magazine is freely available and has built a strong following and reputation for its high-quality editorial content from many of the thought leaders and practitioners in the field. We are searching for a dynamic and reputable individual with an active interest in Education Technology innovation who can help steer the publication forward. This is an entirely voluntary position, but ACM will provide administrative support. Applicants should submit a short resume and a vision statement. The deadline for submissions is February 28, 2023. The editorship will commence on July 1, 2023. More information is available here.
New ACM Journals Open for Submissions
Proceedings of the ACM on Networking (PACMNET) is a journal for research relevant to multiple aspects of the area of computer networking. The journal seeks papers presenting significant and novel research results on emerging computer networks and its applications, especially submissions that present new technologies, novel experimentation, creative use of networking technologies, and new insights made possible using analysis. PACMNET is also looking for papers on network properties such as policy and economics, security and privacy, reliability and availability, performance, energy efficiency, etc.
ACM Journal on Responsible Computing (JRC) will publish high-quality original research at the intersection of computing, ethics, information, law, policy, responsible innovation, and social responsibility from a wide range of convergent, interdisciplinary, multidisciplinary, and transdisciplinary perspectives. The journal welcomes papers using any or a combination of computational, conceptual, qualitative, quantitative, and other methods to make contributions to knowledge, methods, practice, and theory, broadly defined.
ACM Journal on Autonomous Transportation Systems (JATS) aims to cover topics in design, analysis, and the control of autonomous transportation systems. The area of autonomous transportation systems is at a critical point where the issues of data, models, computation, and scale are increasingly important. Multiple disciplines are approaching the problems of traffic operations, road safety, sustainability, and efficient road traffic and vehicle management which require communication cooperation. Interdisciplinary research in communications and networking, control systems, machine learning, traffic engineering, transportation systems, and unmanned aerial systems are also of interest.
ACM Games: Research and Practice (GAMES) offers a lighthouse for games research—a central reference point that defines the state of the art on games and playable media across academic research and industry practice. Inclusive in community, discipline, method, and game form, it publishes major reviews, tutorials, and advances on games and playable media that are both practically useful and grounded in robust evidence and argument, alongside case studies, opinions, and dialogues on new developments that will change games. It embraces open science and scholarship and actively champions new and underrepresented voices in games and playable media.
Inspired by the broad agenda of the United Nations Sustainable Development Goals (SDGs), ACM Journal on Computing and Sustainable Communities (JCSS) aims to publish significant and original research from a broad array of computer and information sciences, social sciences, environmental sciences, and engineering fields that support the growth of sustainable societies worldwide, especially including under-represented and marginalized communities. JCSS aims to explicitly promote interdisciplinary research work including new methodologies, systems, techniques, applications, behavioral, qualitative, and quantitative studies that address key societal challenges including sustainability, gender equality, health, education, poverty, accessibility, conservation, climate change, energy, infrastructure, and economic growth, among others. We also welcome research on the ethics of technology, especially from a critical perspective, that explores limitations and concerns with technology-led solutions for sustainable societies.
ACM Open: Several Universities Sign New Agreements
ACM is delighted to announce new ACM Open agreements with Singapore Management University, as well as with several members of the Amigos consortium, New Mexico State University, Fontbonne University, Lamar University, New Mexico Institute of Mining & Technology, Northwest Missouri State, Texas A&M University-Central Texas, Texas A&M University-Kingsville, Texas Christian University, and the University of Dallas.
Through these agreements, researchers and students at participating institutions receive unlimited access to the ACM Digital Library and have the opportunity to publish an unlimited number of research articles Open Access. ACM thanks these institutions for their support of our Open Access publishing.
ACM Open is ACM's transformative open access publishing model for transitioning ACM to become a sustainable open access publisher with the goal of making research publications in the ACM Digital Library fully open access upon publication. A full list of institutions that have signed on to the ACM Open program can be found here.
ACM CAREER & JOB CENTER
ACM Career & Job Center Connects You With Career Opportunities
Connecting with the right employers in computing can be a daunting task. Thankfully, the world's leading companies, colleges and universities come to the ACM Career & Job Center to find the best candidates. By creating an account on the ACM Career and Job Center, you'll gain access to a wide range of tools to help you find the perfect job:
Finding a Job - Use the job search tools to find a job that matches your search criteria.
Create and Manage Email Alerts - Stay on top of the latest job openings. Receive an email when new jobs match your search criteria.
Create/Post Resumes - Get noticed by employers. Create or upload a resume with our easy-to-use tools so employer can get in touch with you.
View Saved Jobs - Save jobs that interest you, add notes, share with friends, and track your applications to keep on top of your job search.
For any assistance with the ACM Career and Job Center, please contact ACM's Advertising Sales Manager, Ilia Rodriguez.
Copyright © 2023, ACM, Inc.