ACM SGB Meeting Materials Agenda October 5, 2012
SIG Governing Board
Friday, October 5, 2012
8:30 am – 4:00 pm
Chicago, Hilton O'Hare
Wireless information:
Network name: oharemeeting5
Password: greatday5
8:30 am – 9:00 am
Continental Breakfast
9:00 am – 9:15 am

1.0 Welcome

1.1 Welcome, Introductions (Altman, Madden)

9:15 am – 10:00 am

2.0 Report from the ACM CEO (White)

10:00 am – 10:15 am

Break

10:15 am – 11:45 am
11:45 am – 12:00 pm
12:00 pm – 1:00 pm
Lunch
1:00 pm – 2:00 pm

5.0 Viability Reviews

2:00 pm – 2:20 pm

6.0 SGB EC Administrative Reports

6.1 SGB EC Update (Altman)

6.2 Task Force Updates (Madden)

6.3 ACM/AMIA Task Force Report (Konstan)

6.4 SIG Proposals (Wood)

2:20 pm – 2:35 pm

Break

2:35 pm – 4:00 pm
7.0 Best Practices Session (All)
For Practitioners
ACM Queue's "Research for Practice" serves up expert-curated guides to the best of computing research, and relates these breakthroughs to the challenges that software engineers face every day. This installment, "The DevOps Phenomenon" by Anna Wiedemann, Nicole Forsgren, Manuel Wiesche, Heiko Gewald and Helmut Krcmar, gives an overview of stories from across the industry about software organizations overcoming early hurdles of adopting DevOps practices, and coming out on the other side with tighter integration between software and operations teams, faster delivery times for new software features, and achieving higher levels of stability.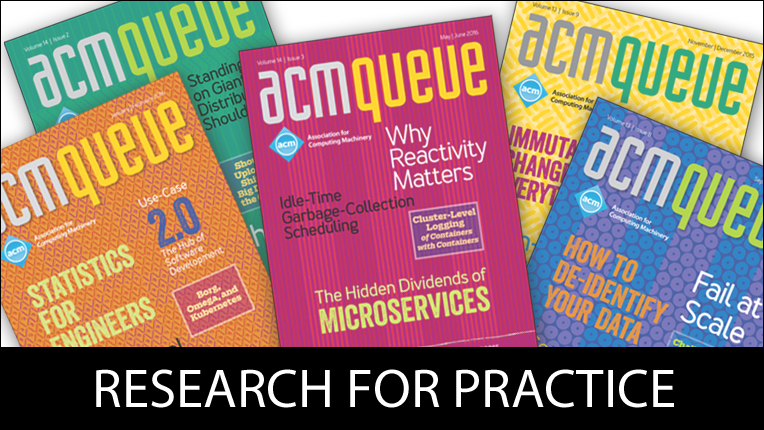 Why I Belong to ACM
Hear from Bryan Cantrill, vice president of engineering at Joyent, Ben Fried chief information officer at Google, and Theo Schlossnagle, OmniTI founder on why they are members of ACM.