People of ACM European Chapters - Bulletin Archive
"People of ACM European Chapters" highlights the unique scientific accomplishments and compelling personal attributes of ACM chapter members in Europe who are making a difference in advancing computing as a science and a profession. These bulletins feature ACM members whose personal and professional stories are a source of inspiration for the larger computing community.
2020
2019
2018
2017
People of ACM Interview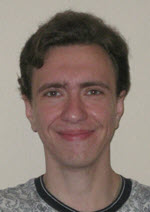 Vladimir Faerman is a lecturer at Tomsk State University of Control Systems and Radioelectronics, as well as a visiting researcher at Tomsk Polytechnic University in Tomsk, Russia. His main research interests include digital signal processing, digital communications, and networks. Faerman is the Chair of the recently-formed Tomsk ACM Professional Chapter.