People of ACM European Chapters - Bulletin Archive
"People of ACM European Chapters" highlights the unique scientific accomplishments and compelling personal attributes of ACM chapter members in Europe who are making a difference in advancing computing as a science and a profession. These bulletins feature ACM members whose personal and professional stories are a source of inspiration for the larger computing community.
2018
2017
People of ACM Interview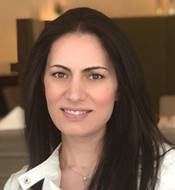 Pelin Angin is an Assistant Professor of Computer Engineering at Middle East Technical University (METU) in Ankara, Turkey. Her research interests include high performance mobile cloud computing, cloud computing privacy, distributed systems sensitivity and assistive technologies.
Angin received the Best Paper Award at the 6th International Workshop on Dependable Network Computing and Mobile Systems (2015) and the Best Paper Award at the 16th CERIAS Security Symposium (2015). She is the faculty advisor for the ACM Student Chapter affiliated with the university's Computer Engineering division, which is based in Ankara (METU CEng).