People of ACM European Chapters - Bulletin Archive
"People of ACM European Chapters" highlights the unique scientific accomplishments and compelling personal attributes of ACM chapter members in Europe who are making a difference in advancing computing as a science and a profession. These bulletins feature ACM members whose personal and professional stories are a source of inspiration for the larger computing community.
2019
2018
2017
People of ACM Interview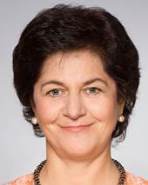 Viera Rozinajova is an Associate Professor at Slovak University of Technology, Vice Dean of the faculty, responsible for research, projects and industry cooperation, and Director of the Industrial Research Centre and head of the BIG Data Analysis group. She is a member of the International Federation for Information Processing (IFIP) TC8 (Information Systems) as a national representative of Slovakia, the Secretary of the Slovakia ACM Chapter, and a member of the Slovak Computer Science Society.